General manager Brad Treliving and the Calgary Flames turned heads this offseason when they signed goaltender Jacob Markstrom to a six-year, $36 million deal. By all accounts, it was a great signing, given the 31-year-old's reputation as one of the league's better netminders, and while six years was maybe a bit lengthy, most viewed it as the price the Flames had to pay to get a player of his calibre. What made it even better was that their main rival, the Edmonton Oilers, were reportedly in on Markstrom as well but were outbid by Calgary. 
To begin the 2020-21 season, the contract looked like a bargain. Markstrom was the team's best player in January, giving them a chance to win every game as many players failed to pull their own weight. Through six games that month, he had a sparkling 2.18 goals-against average (GAA), a .929 save percentage (SV%) and a 3-2-1 record. Unfortunately, his game has not been the same since.
February to Forget
The following month was the exact opposite for Markstrom. Despite a record over .500 in nine games in February (5-4), he had a much less impressive 3.37 GAA and a .896 SV%. Those stats took a beating after a shellacking at the hands of the Oilers, which resulted in a 7-1 loss. However, despite that start, he failed to post an SV% above .900 in four of his other eight starts that month.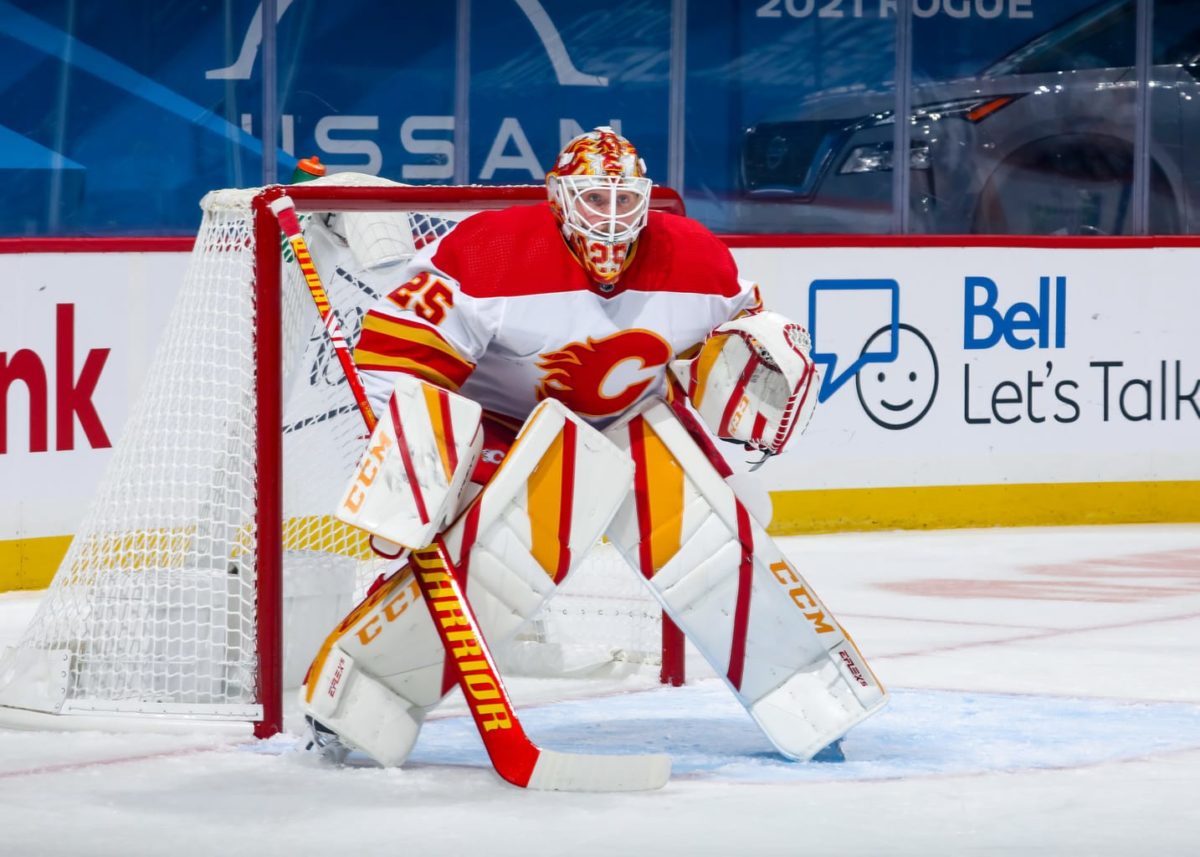 To make matters worse, he was forced to miss six games from Feb. 22 to Mar. 4 due to an upper-body injury. While he has since returned and played in Calgary's last two games, he has failed to get back to his early-season form. In two starts this month, he has a 2.91 GAA, a .891 SV% and a 0-1-1 record.
Put those stats together, and you have a 2.88 GAA, a .907 SV% and an 8-7-2 record. Markstrom has been very good at times this season, and the team has failed him at others, but the bottom line is the Flames brought him in to be a top-tier goalie and help the team win. So far, he hasn't been able to do that consistently.
Make no mistake, Calgary's record is not Markstrom's fault. The team has been inconsistent and has often lacked the effort needed to win. However, when you are the eighth-highest paid goalie in the league, you need to be on your 'A' game every single time you step on the ice.
Advanced Stats
Further proof of Markstrom's struggles is his advanced stats, which rank near the league average, if not slightly worse. In particular, his goals saved above expected (GSAx), which LastWordOnSports describes perfectly:
This stat evaluates how many goals a goalie saved above what he was expected to based on the shot quality he faced. The formula is simply expected goals against minus goals against. Unlike goals saved above average, goals saved above expected (GSAx) accounts for the quality of shots a goaltender faces and levels the playing field for goalies on good defensive teams and bad defensive teams. This is why it appears to be one of the best metrics for goaltenders.
Among the 44 goaltenders who have played in 10 or more games this season, the Tampa Bay Lightning's Andrei Vasilevskiy leads the category by a wide margin with a GSAx of 17.2. The Ottawa Senators' Matt Murray, on the other hand, is at the bottom with a shockingly bad -17.6. Markstrom is near the middle, ranked 27th with a -4.2. His partner, David Rittich, has fared better with a -2.4.
Another cause for concern is his wins above replacement (WAR), which also ranks 27th among the 44 goalies with 10 or more games played. Obviously, a positive WAR means you are helping your team win games, while a negative can often, though not always, prove the opposite. Markstrom's WAR through 17 games is -0.70. For comparison's sake, Vasilevskiy leads this category with 2.86, while Murray is at the bottom with -2.94.
Paid to Be Elite
I am not suggesting that Markstrom is having a terrible season. In fact, he has been outstanding in stints. However, there have also been times when he's been average or worse, and that isn't what the Flames are paying him for at $6 million a year.
The Flames are sixth in the North Division with 26 games played, though they need not worry about the Vancouver Canucks, who are fifth with 29 games under their belt. They should be concerned about the Montreal Canadiens, who occupy the fourth and final playoff spot in the North Division with 29 points in 24 games played. While the Habs are still within reach, Calgary needs Markstrom to play at an elite level if they hope to claw their way back into that spot.
---
---