It's often said that it's good to be wanted. For Calgary Flames prospect Brandon Hickey, things must be really good right now, because he seems to be in high demand.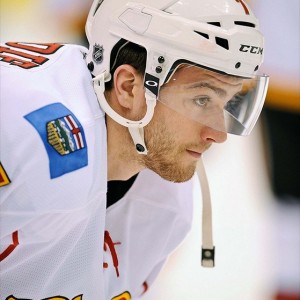 A third round selection of the Flames at the 2014 NHL Draft, Hickey made his second trip to Calgary this summer for Hockey Canada's national junior team development camp – he was also in attendance at Flames development camp in mid-July. Of the 40 players invited to camp, Hickey was the only one from outside the Canadian Hockey League system.
A smooth-skating, mobile defender, Hickey's been praised for his defensive play and strong positional defense. While his skating style has drawn some comparisons to Flames standout T.J. Brodie, he admits that he's more adept at the defensive end of the game and isn't yet considered a high-end offensive threat. To that end, the Canadian coaching staff tried him out on the penalty kill and in defensive situations, suggesting that's how he'd be used if he makes the trip with Team Canada to Finland at Christmas for the World Juniors.
Last season, Hickey made his debut in the NCAA with the Boston University Terriers, making the jump to college after spending a couple of seasons in the AJHL with the Spruce Grove Saints. In his freshman year, the Terriers went to the NCAA Championship game, losing a close contest to Providence College. As an Alberta player, Hickey was eligible to be drafted into the WHL and was chosen by the Tri-City Americans in the 2011 Bantam Draft. During the Hockey Canada development camp, his rights were traded to the Red Deer Rebels – the host of the 2016 Memorial Cup tournament.
Rebels acquire rights to Brandon Hickey from @TCAmericans. Read more…. http://t.co/2GXDpD8olH

— Red Deer Rebels (@Rebelshockey) August 5, 2015
Traditionally, Memorial Cup hosts try to load up on talent in preparation for the tournament, which sees them face off against the league champions from the WHL, OHL and QMJHL. The announcement of the trade for Hickey's rights triggered some speculation that he may be either signing with the Flames (and voiding his NCAA eligibility) or merely leaving school to play closer to his home in Leduc, Alberta.
"It's nice to be wanted, it's never a bad thing when teams want you to come play for them," said Hickey, following Canada's 3-2 exhibition loss to Russia.. "It's pretty cool that Red Deer does want me, but my intentions are still going back to Boston University. My coach kind of freaked out today, thought I was signing, but had to let him know that nothing's changed, I'm still going back to school."
In an attempt to clear the air about his playing status, Hickey took to Twitter.
Playing hockey again is making me so excited to get back to BU #goterriers hi @mcarm_

— Brandon Hickey (@BHickey14) August 5, 2015
Hickey joked that his Team Canada camp-mates Haydn Fleury and Connor Bleackley attempted to entice him to join the Rebels – suggestions from the media that he might have more fun living in Red Deer than Boston were met with polite laughter. While Hickey is obviously very happy to be in such high demand, he emphasized that he's going back to school in the fall to further his education and play with the Terriers.
"They've got a great team [in Red Deer] and they're going to have a great year this year, I guess we'll see how the year goes, but I'm for sure going back to Boston," declared Hickey.
Ryan Pike has covered the Calgary Flames and the NHL Draft extensively since 2010 as a Senior Writer for The Hockey Writers and Senior Contributing Editor of FlamesNation.ca. A member of the Professional Hockey Writers Association, he lives in Calgary.