For the Calgary Flames the 2013 NHL trade deadline was headlined by dealing long-time captain Jarome Igina. Though parting ways with Iginla, who spent 16 years with the Flames, was a groundbreaking move, people often forget that just five days later Calgary also dealt defenceman Jay Bouwmeester to St. Louis. Now almost four years later, Bouwmeester is still very much an important piece of the Blues, who sit third in the Central Division.
In return for Bouwmeester, Calgary received goaltender Reto Berra, prospect Mark Cundari and a first-round pick which the Flames used to select junior hockey star Emile Poirier. But with none of the players that the Flames picked up in the trade on their roster, it seems clear that Calgary got the short end of the stick in the deal.
Jay Bouwmeester
Though his career is starting to wind down, Jay Bouwmeester is still one of the top defencemen in the Western Conference. Bouwmeester represented Canada at the World Cup of Hockey in September, and plays the second-most minutes of any Blues' player only behind Alex Pietrangelo, averaging 22:20 minutes per game. Since joining the Blues in 2013, Bouwmeester has scored 11 goals and 85 points and carries a plus/minus rating of plus-25 in 285 games. With his contract only expiring in the summer of 2019, Bouwemeester is going to play a big role with St. Louis as they continue to look towards a Stanley Cup, which isn't so far out of reach.
Reto Berra
When Calgary got Reto Berra from the Blues, he was a piece that was supposed to help the Flames after Miikka Kiprusoff's retirement. Was Berra supposed to replace Kiprusoff? Of course not. But unfortunately his play wasn't even good enough to warrant a permanent NHL spot. Berra split the 2013-14 season between Calgary and the minors, and struggled with a .897 save percentage and a 9-17-2 record with the Flames.
Calgary traded him later in the season for prospect Rocco Grimaldi who never played a game with Calgary. Since then, Berra has once again gone on to split time between the NHL and AHL, playing in Colorado after leaving Calgary. He's been half-decent, but Berra not working out in Calgary was strike one as far as the Bouwmeester return goes.
Mark Cundari
In 2010, Mark Cundari was one of the top defenceman in the Ontario Hockey Leauge, playing for the Windsor Spitfires alongside the likes of Taylor Hall, Cam Fowler and Ryan Ellis. In his time with Windsor, Cundari won back-to-back Memorial Cups in 2009 and 2010, and look poised for success in the NHL.
After spending the majority of his next three seasons out of junior with Peoria of the AHL, Cundari was impressive when he came to Calgary. He split six games between the Flames and the AHL, during which time he had three points in two games in the minors and then tallied a goal and two assists with the Flames. However, the next season, he played only four games with Calgary before returning to the AHL, where he spent the better part of three more seasons. This year, he signed to play in the DEL, where he skates on the same team as former high-end Flames prospect Ben Hanowski. That's strike two.
Emile Poirier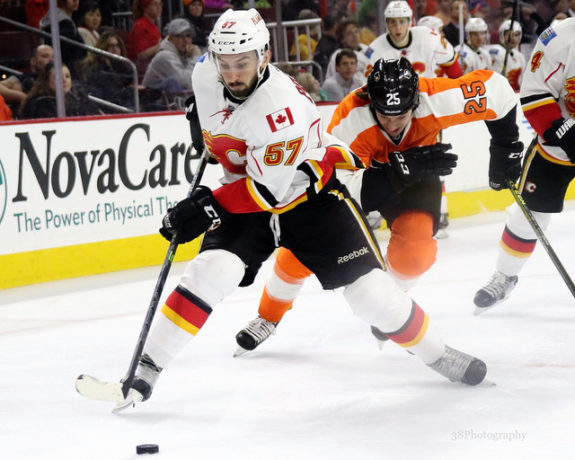 A career in the AHL wasn't what the Flames were looking for when they drafted Emile Poirier in 2013 with the pick acquired for Bouwmeester. The first-round pick was the main chip in the trade, but it looks like the Flames missed big. Poirier has played only eight games for the Flames so far in his NHL career.
Drafting Poirier looked like a great move at the time, as he ended his second season in the QMJHL with 32 goals and 70 points in 65 games. Poirier had three great seasons with the Gatineau Olympiques before scoring four points in two games when he was brought up for a stint in the AHL. In 2014-15, he had a successful season in the minors and was even brought up for six games with the Flames. He looked poised for NHL success.
But last year, Poirier stuggled in the AHL with Stockton, where he had just 29 points in 60 games and no points in two more games with the Flames. This year, he's continued the trend with with just six goals in 33 games. Now, when you take a second to look at Poirier's production in his last few seasons, you realize he will probably never get a full-time position on Calgary's roster. Since being drafted four years ago, he hasn't even reached double-digits in terms of NHL games. That's strike three.
With Bouwmeester still thriving in the NHL and Poirier, Cundari and Berra failing to materialize, it's clear that Calgary lost out on the Bouwmeester trade. Now, four years later, the Flames are in a battle for a wild card spot, but who knows where they'd be if any of these players worked out.