If you're looking for a major reason as to why the Calgary Flames find themselves currently sitting atop the Pacific division standings you need to look no further than the outstanding play of their top line . Elias Lindholm continued what's so far been a terrific first year in Calgary by netting both goals in a hard-fought 2-0 triumph over the visiting Minnesota Wild. Linemate Johnny Gaudreau notched a pair of assists as the Flames were able to run their current win streak to four games.
The top unit of Lindholm, Gaudreau and Sean Monahan have been clicking on all cylinders so far this season. The home victory over the Wild helped carry over the positive momentum from a successful two-game road trip that ended with a wildly entertaining 9-6 come-from-behind triumph over the Columbus Blue Jackets.
The stellar trio combined for 10 points in that contest in Ohio and they've contributed 102 points collectively to a potent attack this season, including 44 goals between them. The Flames have compiled an impressive 18-9-2 ledger so far and things are looking up even further when you consider the 31-save shutout performance that was turned in by Mike Smith against the Wild.
Lindholm Proving to be a Perfect Fit
When the Flames swung a deal with the Carolina Hurricanes this past offseason to reunite Lindholm with former bench boss Bill Peters, no one could've envisioned just how smooth a transition that the talented Swede would make to the top line. After inking a six-year, $29.1-million deal with the club, the 24-year-old Lindholm is well on his way to enjoying the best statistical NHL campaign of his career. He's been a highly productive performer on the top line and a significant contributor on the team's power-play. Lindholm has consistently managed to find his way to prime scoring areas and his talented linemates have been able to find him in order to capitalize.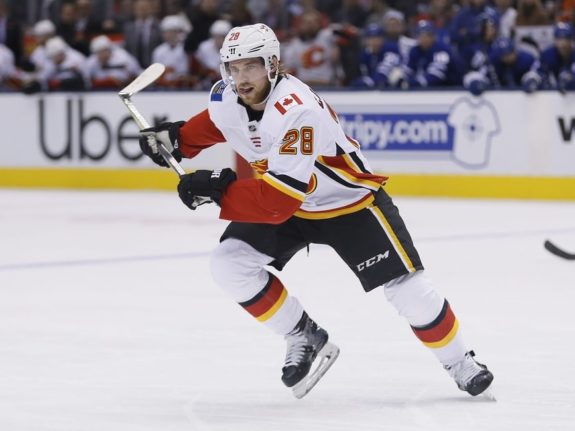 Lindholm has accumulated 32 points so far this season and is on pace to dwarf his career-best numbers if he can stay healthy. After 44 points in 81 games with the Hurricanes last season, Lindholm is currently on a point-per-game pace and is a solid plus-12 on the season. He's bulged the twine now in three straight contests and is just one goal away from matching the entire 16 goal total that he produced last year. It's clear that when Lindholm was brought in that top Flames brass felt he would be a key piece of the current core puzzle, and he's exceeded expectations. Not only has Lindholm been racking up the points, but he's showcased his all-around puck smarts and responsible defensive play.
Gaudreau Continues to Shine
Gaudreau has established himself as one of the game's most exciting performers and has proven to be an absolute steal as a fourth round draft pick from back in 2011. What the 5-foot-9, 165 pounder lacks in size is more than made up by his speed, shiftiness and acute awareness. Gaudreau is a sight to behold for Flames fans, as he seems to do something spectacular on an almost nightly basis. He was definitely feeling it against the Wild showcasing his flash and dash and play-making abilities on multiple occasions.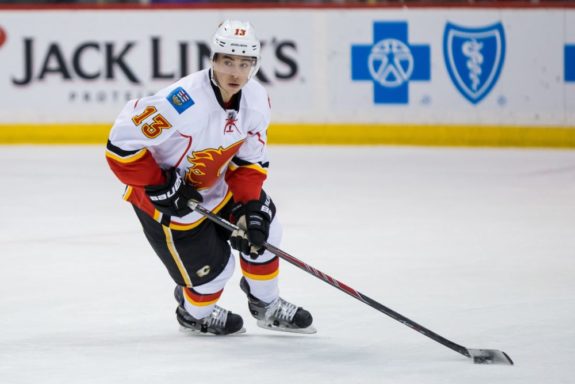 Gaudreau has been a reliable point-a-game performer for the last few seasons and currently sits sixth in overall league scoring with his 37 points so far. He's also proven to be quite a good luck charm, the Flames sport a nearly perfect 9-0-1 record in games where he has registered a goal.
Monahan Remains as Solid as a Rock
The 24-year-old Monahan has been a consistent threat since being picked selected in the first round back in the 2013 draft. He's been a reliable 25-30 goal contributor and has shown a knack during his time with the organization for being red-hot streaky and producing game-winning goals. After an injury plagued end to last season, the hard-working Monahan has definitely returned in excellent form.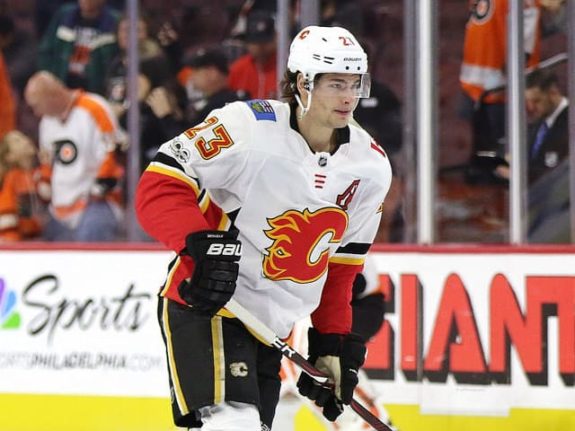 He already has 17 goals so far this season and is giving the look of an individual more than capable of eclipsing his career-best mark of 32. Monahan's quick release and ability to tip pucks and go to the tough areas of the ice have been hallmarks for his success. His chemistry with Gaudreau was already well entrenched before Lindholm arrived on the scene and his productivity has seemingly been bolstered even further thanks to the newcomer's seamless transition.
Flames Emerging as Pacific Division Threat
While the Flames have gotten some other strong offensive contributions from the likes of Matthew Tkachuk and Mark Giordano this season, it's definitely the big three that routinely set the table. There's a clear overall offensive swagger when it comes to this group, as the Flames have only been blanked once all season.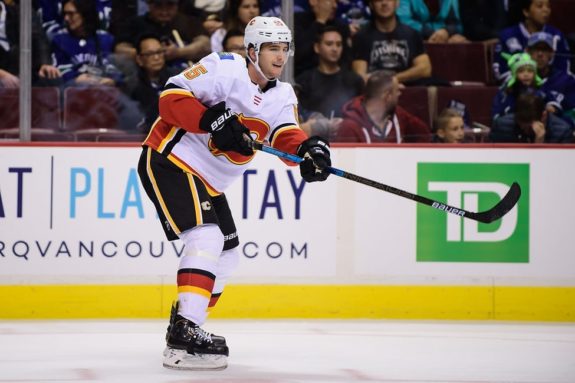 They've erupted for five goals in a period on a whopping four separate occasions, which is an indicator of just how hot they can get when things start rolling. The team is second in the Western Conference with 102 goals for, which trails only the Colorado Avalanche and they've shown great resiliency. The Flames are truly never out of any game and they haven't suffered in the standings despite not getting high-level goaltending at times from Smith. With backup David Rittich giving Smith a run for his money the situation between the pipes isn't settled just yet when it comes to a true No. 1 , although the veteran's impressive outing against the Wild was a highly encouraging development.
Flames' Future Looks Bright With Key Major Pieces
The line of Gaudreau, Monahan and Lindholm has been quick to establish itself as one of the most difficult combinations to contain in the entire league. There have only been two games this season where all three players have been kept off the scoresheet. One of those occasions was a 2-0 setback in Las Vegas in a contest where goalie Marc-Andre Fleury had to be absolutely spectacular. They seem to produce scoring chances each and every night and have a knack for getting goals at pivotal moments. The instant chemistry for this top unit should hopefully pave the way for a bright Flames future, as at a total combined age of just 73, the sky would appear to be the limit for this trio.