Heading into Thursday night's game against the now 13-12-4 Detroit Red Wings, Toronto was on a five-game winning streak and had the second-best record in the NHL, chasing only the Atlantic Division leading Tampa Bay Lightning, All this without young star forward William Nylander; and, in fact, many games without super-talented, but injured Auston Matthews.
The Game: What Happened?
In this game, Andreas Johnsson and Kasperi Kapanen each had a goal and an assist. John Tavares and Zach Hyman scored. Much maligned Jake Gardiner had two assists. Garret Sparks, after a rocky start, made 27 saves and held the team in the game long enough for them to mount a third period comeback – then overtime.
In overtime, Dylan Larkin scores on Tavares' bad-luck turnover – five hole, game over. First time all season the Leafs have given up four straight goals, and first time they have lost in overtime. I noted in a previous post that not losing in overtime was rare this late in the season: I hoped that rarity would last. It didn't. The Red Wings scored, and the Maple Leafs' record now sits at 20-8-1.
Related: Nylander to Make Season Debut With Matthews and Marleau
Was It Nylander's Fault? No.
Certainly, the loss wasn't Nylander's fault. But, he didn't help either. To say "he wasn't a factor" is sort of stretching it. His immediate ordination into the top line with Matthews and Patrick Marleau kept someone more prepared from being there, and that choice did made a difference in the game. Less than a minute after Kapanen's wrister for an early first period lead, things started to go south – down the 401. The Maple Leafs looked out of synch. And, at least part of that's on Nylander.
The score sheet showed that Nylander played for 12 minutes 29 seconds, but didn't see any game action in the game's final 14:35.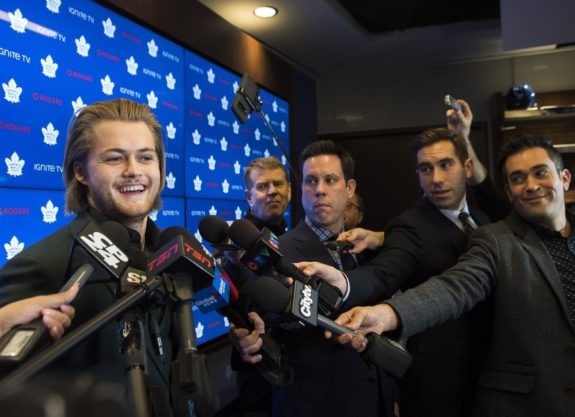 If I were Mike Babcock, I would have played it exactly the same way. I would have thrown Nylander into the mix and would have hoped for magic. That magic didn't happen, and there was no rabbit in the helmet – well, short-term pain. We play again soon.
As Babcock said, 'They were just better than us," "They played harder." To questions about why Nylander was on the bench: "It has nothing to do with Willy, it has to do with me and trying to win the game. Any time you've missed that amount of hockey, it's going to be hard."
What Did Babcock Mean?
I want to consider Babcock's answer: "It has nothing to do with Willy, it has to do with me and trying to win the game." Is it too goofy to read between the lines and find Babcock's comments a bit "pointed?" Interestingly, in my post yesterday, I researched and found a liturgy of insights from other NHL coaches who said Babcock was obsessive, carefully thought about every move he made, never did anything by accident – and so forth, forever.
Babcock had to know Nylander might not be able to keep up – gosh, he's (Babcock) been around long enough to have seen repeats of this situation. Would a coach who has a longer-term vision (the Stanley Cup) than the fans be trying to teach a lesson that no player is more important than the team?
Clearly, Babcock came to believe Nylander would do nothing to help the Maple Leafs win. So he dumped him on the side of the road – watching from the bench. My question: when did Babcock come to believe his young star "would do nothing to help the Maple Leafs win?" Was it Thursday during the second period when Nylander fell from grace – moved from top line, to line three, to no line (the bench). Or, might a thinking-mans's, never-miss-a-chance-to-teach coach have figured that out by Tuesday or Wednesday?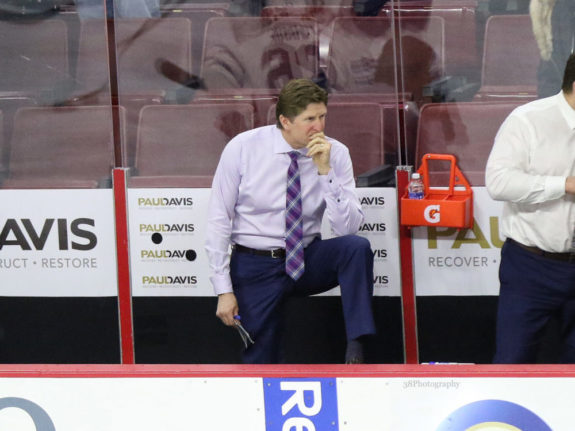 Nylander might have been, as Babcock noted before the game, the "freshest guy in hockey." He just wasn't the readiest. Nylander's lack of time with the team showed. There is no blame here about Nylander's play. There is no blame here about Babcock's decisions along the way – whatever or whenever they might have been. This is the NHL.
Related – Maple Leafs' Coach Mike Babcock: Pedigree or Problems?
What Does It Mean to Crawl into Shape?
In short, Nylander wasn't ready to play well; his timing was off; he started on the top line, but was demoted to the bench. He played four shifts in the third period – sat the overtime. The Maple Leafs are a fast team; they depend on speed. Nylander's game couldn't keep up. As Babcock reminded us, he has lots of time to get back into shape.
How long will that take? As Babcock's wryly put it, "they'll crawl their way back to being the players they should be." Again, considering the way Mike Babcock thinks and coaches, there's nothing to be read into his line "they'll crawl their way back to being the players they should be." Or, is there?