More than three and a half years ago, on May 20, 2015, the Toronto Maple Leafs' signed Mike Babcock to be their Head Coach. With his hire, they immediately added pedigree to a proud franchise that – for the previous decade – had been the poster child for mediocre.
A History of Success
How successful has Babcock been as a coach? Babcock is the only coach to win the Triple Gold Club. He coached the Detroit Red Wings to the Stanley Cup in 2008; he led Team Canada to gold at the IIHF Ice Hockey World Championships in 2004; and, he coached Team Canada to Gold Medals in two Winter Olympics (2010 in Vancouver and 2014 in Sochi, Russia).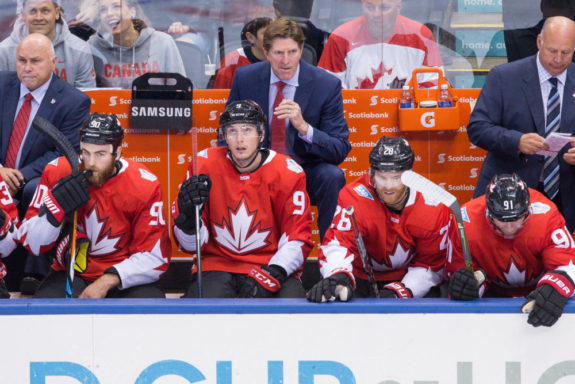 Before that, more success! Babcock coached his teams to gold at the 2016 World Cup of Hockey and the IIHF World Junior Championships in 1997. Years earlier (1994), his University of Lethbridge's Pronghorns won the CIS University Cup.
What Is Mike Babcock Like?
Interestingly, Babcock graduated from McGill University with a Bachelor of Education and thoughts of becoming a teacher. I admit, the pictures in my head of Babcock teaching – say – Grade 8 math (after doing the research I have done) make me smile. How would he react to a student's lament – "I just don't get this algebra?"
Steve Simmons reported that those who know Babcock, and who worked closely with him, describe him as "focused, relentless, detailed, driven, dogged, harsh, and honest." He coaches every day, often every minute. And, he expects the same from others. (from "Relentless? Obsessive? Driven? What makes Mike Babcock tick?", The Globe and Mail, 4/23/18)
Related: What We Learned from the Maple Leafs' Win Over the Sabres
What Do Former Players Say?
In Detroit, Babcock was rumoured to be an obsessive coach, demanding that the front office make player changes and trades. Such intensity doesn't always make life easy for players – particularly veterans. In his article, Simmons cites Jimmy Devellano, currently senior vice-president and alternate governor of the Detroit Red Wings, as saying:
"Mike can be like a race car driver, he only knows one speed and he keeps his foot on the gas all the time. He's like that so he expects everyone else to be like that. I don't think he cares whether the players like him or not. He cares about results." (from "Relentless? Obsessive? Driven? What makes Mike Babcock tick?", The Globe and Mail, 4/23/18)
Not everyone connected with the Red Wings agrees with Devellano that Babcock was a great coach. Some ex-players came down hard on their former coach. In 2017, Hall of Famer Chris Chelios noted that free agents "didn't want to play for Babs." In Chelios' words, Babcock was "a tough guy to play for if you're a veteran. If you're a young guy, I think it's great because of the accountability. If you don't play [properly], you're not going to play."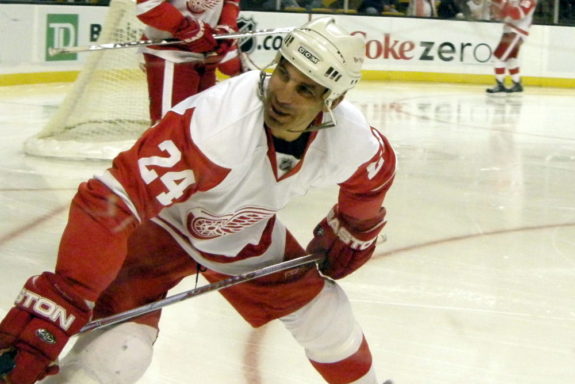 Former Red Wings' captain Henrik Zetterberg added, when Babcock moved to Toronto in 2015, "I want to thank Mike for the time he had here, but I think both him and us probably decided it was time."
Zetterberg and Chelios are not alone: perhaps Babcock's most flamboyant critic was Mike Commodore, whose angry Twitter rant [reported by Josh Cooper (Puck Daddy)] on Oct. 9, 2015, ironically said, "Welcome back to the rink where everyone that met you hates you."
What Do Current Players Say?
That was in Detroit and in the past, but what about now? In an April 2017, article in The National Post, Babcock's current young players talk about playing for him as a coach. From Connor Brown: "He knows how what to say, how to act." "He's done a good job of giving us enough leash that we know what we've done wrong and how we can improve. But he's not (benched us), he's kept sending us out the door." (from "'Being age-sensitive matters': Mike Babcock a 'great coach and communicator' for Toronto Maple Leafs' youngsters", The National Post, 3/13/17)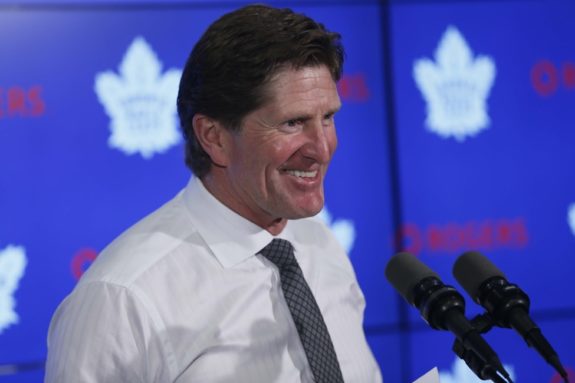 Zach Hyman, who has remained a fixture in Babcock's line-up – regardless of his offense, added, "You'll get the good and the bad." "It's straightforward and that's what you want to hear. There's no sugar-coating. He's a great coach and communicator. He knows what he wants, you know what to expect from him."
What Do Other Coaches Say About Babcock?
Sportsnet's Doug MacLean, himself a former NHL coach, suggested that Chelios' free agent comment was wrong. In his experience, "free agents look for three things. First thing is money. Second thing they look for is a chance to win. And the third thing they look at is the city. I don't hear a whole lot with free agents that get into talking about coaches. You know why? They come and go."
Edmonton Oilers' current coach Ken Hitchcock, who coached with him at two Olympics, raved about Babcock's coaching IQ: "I've never worked with a person who had the singular focus he has. He does nothing by accident. He has the ability to shut out the world and focus on the game. I've worked with a lot of people in my life and he's one of the few who can watch every clip of every part of the game break it down and study it, absorb it and know what every player on the ice is doing. I've never seen a guy who can do that, who can process all that information."
Hitchcock noted, "I loved working with him. I loved the way he was once the puck was dropped." Adding, that Babcock "loves people who challenge him …. he'll test you all the time." "I loved that back and forth. It's coaching, at its best."
Related – NHL Rumors: Hitchcock, Duchene, Skinner, Panarin, More
What Does Babcock Say About Himself?
Last year, Babcock talked about coaching his young Maple Leafs. His take? "The No. 1 thing as a coach (of young players) is that they're not looking for a friend." "They're looking for someone to make them better, someone to love them, make them accountable and push them to be better. That's what we're trying to do here the best we possibly can. They're going to need lots of support and we're going to provide that." (from 'Maple Leafs' Babcock leans on kids to connect with younger generation of players, The Toronto Sun, 4/13/17)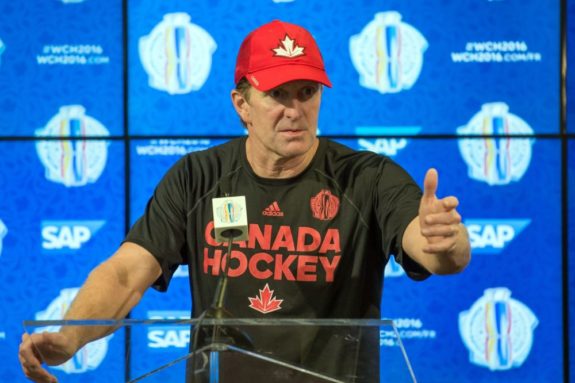 In a comment that hints at why Kyle Dubas signed Nylander to such a lucrative deal, Babcock noted about young players "You think when you're a young guy, 'Oh next year, next year.' Next year never comes in sport, you make good on the opportunities you get. You put everything into it and if it doesn't go your way you re-group."
In the End?
Obviously Babcock has a history of success, both before and since the Maple Leafs. And, most Maple Leafs' fans are happy he's in charge of this team of young stars. In a Globe and Mail article, written just after Babcock was hired, Cathal Kelly asked the rhetorical question: "Why do we think Mike Babcock is the NHL's best coach?" (from 'Kelly: Why do we think Mike Babcock is the NHL's best coach?', The Globe and Mail, 5/15/18)
His answer? Babcock has a "golden shine" about him. He looks like what we think an NHL head coach should look like – "scarred and square-jawed." His language and stories are filled with Canadian and family stereotypes. "He's homespun. He defers to his wife. He's prickly, but never cruel. He's as careful about showing up his employees as his employers. He's smart, but careful never to come off as too smart."
Finally, Kelly noted about Babcock "For the most part, he doesn't say anything at all – which is the quickest way to convince people you're a genius." (from 'Kelly: Why do we think Mike Babcock is the NHL's best coach?', The Globe and Mail, 5/15/18)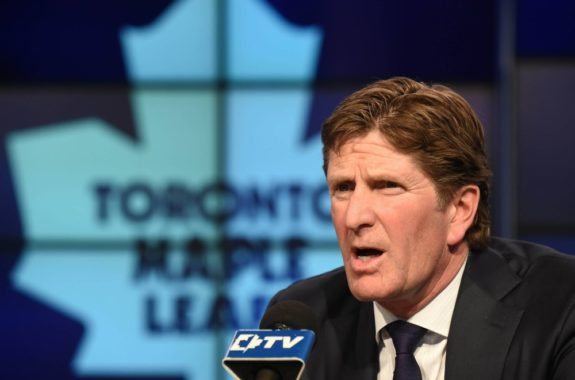 So, is Maple Leafs' coach Mike Babcock a genius? He's come with pedigree, but he's not without rumours of problems – especially those noted by veteran players. That said, the Maple Leafs' roster is not led by veterans. It's filled with young players, who are also young men. Like young men everywhere, they benefit from steady wisdom and a target that isn't always moving.
Related: What We Learned from the Maple Leafs' Win Over the Sabres
Say all you want about Babcock, my research suggests that he is a guy whose target doesn't move. He might just be the perfect coach to lead this young team into the Stanley Cup playoffs.