Slowly but surely, the Boston Bruins are getting healthier. Last night saw the return of defender Charlie McAvoy to the lineup and it won't be too long now before we see Zdeno Chara and Patrice Bergeron work their way back into things. All that said, even when the B's get healthy they'll need help up front.
Far too often this season, the Bruins have relied exclusively on their top line to provide the offense. It has prompted people, myself included, to call the B's a one line team. Yes, they have the best line in hockey and it should be enough to make the playoffs, but if the Bruins want to compete for the Cup they will need at least one more line to get it done.
The Bruins' Biggest Hole
When they are on, no one compares to the trio of Brad Marchand, Patrice Bergeron and David Pastrnak. After that? Consistent offense is nearly impossible to find inside TD Garden. Yes, Jake DeBrusk is a good young player and can play top-six minutes, while David Krejci is a solid center in his own right. That said, they need at least one more piece to form a solid second scoring line, and that piece just isn't on this roster.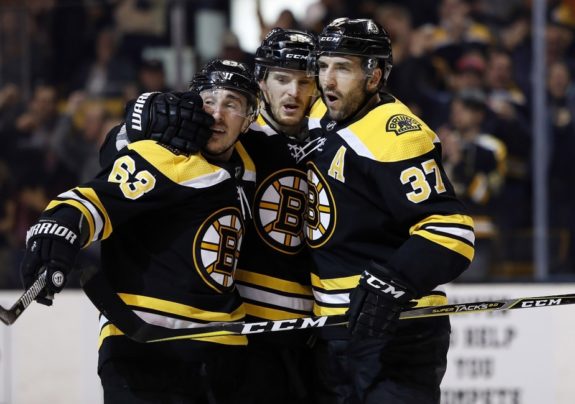 I applauded Don Sweeney for holding his cards this summer and keeping the powder dry. He didn't panic when John Tavares went to the Maple Leafs and didn't panic when the rumors had Erik Karlsson packing his bags for Tampa Bay. Now, however, it is pretty apparent that he needs to make a move.
No one stepped up for the Bruins, and that is the unfortunate fact of the matter. Anders Bjork couldn't get himself established, while Ryan Donato and Danton Heinen have not played well in the first third of the season. I'm not sure Sweeney and company can wait anymore for someone to step up and emerge, it is time to test the market.
Eberle the Answer?
Jordan Eberle has been nothing but consistent since entering the league with the Edmonton Oilers in 2010. He's a natural goal scorer and a proven top-six forward that is slated to test the free agent market on July 1. The Oilers sold low on Eberle after a down 2016-17 season, but he's rebounded nicely with the Islanders and could be a great fit for a contender should the Isles take a step back as this season goes along.
Eberle has just 13 points this season in 26 games, lighting the lamp only six times so far. He did score 25 goals last year, however, and has scored at least 20 goals in every full season of his career sans his rookie here. Even in his down year, he reached the 20 goal plateau. Again, nothing but consistent.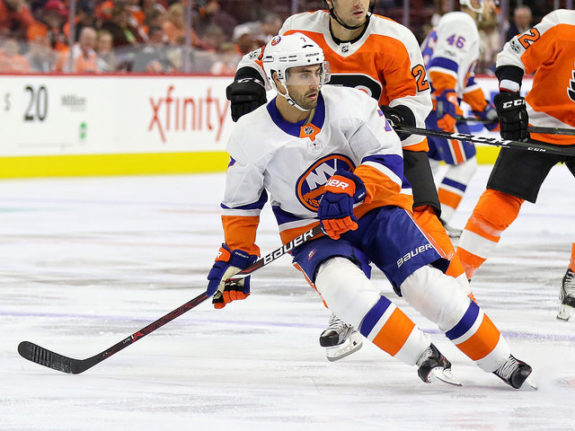 Eberle won't bring size and won't bring physical play to Boston, but he would give the Bruins some things they sorely lack. That is speed, skill and goal scoring ability. You'd have to think that Eberle will be revitalized playing on the Bruin powerplay while seeing consistent top-six minutes with a strong center like Krejci.
A pending free agent making $6 million per season, this would likely be a pure rental for a team like the Bruins. The good news about Eberle's slow start? It probably lessens the blow when it comes to acquisition cost. A good template for a Eberle trade is the deal that sent him to New York in June of 2017, which saw the Isles send Ryan Strome to the Oilers. Would Danton Heinen and a third round pick be enough for Eberle?
Another Terrier?
Colleague Brandon Share-Cohen touched on the possibility of Coyle being a Bruins' trade target back in November and I think it makes a ton of sense. The Athletic's Joey McDonald touched on Coyle being a target for the B's as well back in November, saying that the club had interest in him back during the off-season. (from 'With Patrice Bergeron out, Bruins weighing a trade. But they may stick with what they have in-house' Joey McDonald, The AthleticNHL – 23/11/18)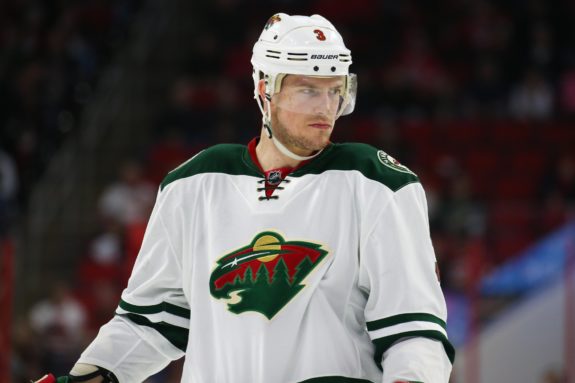 I'm not sure the Wild would move Coyle, but he makes a ton of sense for the Bruins if they do decide to go that route. The former Terrier registered 37 points in 66 games a season ago, and has routinely been at about a half point-per-game over the course of his career. He's not a top-line option, but he's a pretty solid second line forward for a club and wouldn't be tasked with carrying a line in Boston.
His contract runs through 2020 with a cap hit of $3.2 million, so he is quite affordable. McDonald speculated that the ask on Coyle could be a young player like Ryan Donato and a draft pick, which is probably a price I'd be willing to pay if I were Sweeney.
Minnesota, however, is in a playoff spot and is likely to stay in the race. I doubt they move Coyle.
Seeing Maroon
When the Edmonton Oilers were looking to move Patrick Maroon a season ago, the Bruins were interested in his services. They ended up paying the price for Rick Nash, however, and Maroon was moved at a discounted rate to the Devils right before the buzzer. Maroon played well for the Devils, recording 13 points in 17 games with the club.
Maroon took less money and went home to St. Louis on a one-year deal this past July, but is a prime candidate to be moved as we approach the New Year. Why is that? Well, the Blues were considered by many to be a favorite out west but have been nothing but a tire fire early on. Injuries have played a part, but this team simply has not been good in the season's first two months.
Maroon hasn't had the homecoming he wanted, he only has eight points in 20 games, but he's still doing good things and I don't think he's getting the same push he did with the Oilers and Devils. Maroon's style fits perfectly with the Bruins as he's a physical power forward but can play with skill and has the hands to put the puck in the net.