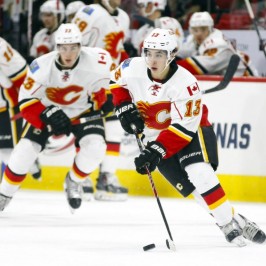 It's been a drastic summer in Alberta with both the Calgary Flames and Edmonton Oilers being two of the biggest movers and shakers this off-season. With all the changes each club has made, which team is ready to claim victory this season in the Battle of Alberta?
Reviewing 2014-15
The Calgary Flames blew everyone's expectations out of the water in 2014-15 going 45-30-7 for 97 points making the playoffs for the first time since 2008-09.
They even upset the Vancouver Canucks in six games before falling in the second round to the Anaheim Ducks in five games.
Jiri Hudler led the Flames with 76 points and Sean Monahan had a breakout year scoring 31 goals and 62 points for career years.
But it was Johnny Gaudreau who captured the spirit of the fan base with highlight-reel performances, finishing with 64 points and narrowly losing the Calder Memorial trophy voting for rookie of the year to Florida Panthers defenseman Aaron Ekblad.
Mark Giordano had a Norris Trophy-worthy season before falling to injury, but TJ Brodie took a huge step forward in his absence, as did Kris Russell.
Bob Hartley won the Jack Adams Trophy and Hudler took the Lady Byng.
A banner year for the Flames to build on.
Things were the polar opposite in northern Alberta where the Oilers used five different inconsistent goaltenders, lost Taylor Hall for 29 games, saw Leon Draisaitl go pointless for almost a month in his rookie year before sending him back to junior and ended up having to fire their fourth coach in six years.
Edmonton finished the year 24-44-14 for 62 points which was essentially like going back to where they were at the end of 2009-10 when they drafted Taylor Hall first overall.
Fortunately enough, their misfortunes gave them a fourth first-overall pick at the draft in Connor McDavid, who is being dubbed as the next great generational player.
---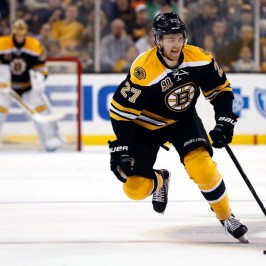 Offseason Changes
Both teams made some big moves this offseason and are two of the more improved teams heading into 2015-16.
Calgary re-signed Karri Ramo, traded for Dougie Hamilton and then signed Michael Frolik to solidify their roster.
Edmonton essentially traded for everyone with a pulse.
The Oilers have brought in Cam Talbot and Anders Nilsson to shore up the crease and push Ben Scrivens.
A former fourth-overall pick in Griffin Reinhart comes from the NY Islanders, Darnell Nurse looks ready to push for a roster spot and Erik Gryba adds toughness.
Add in Lauri Korpikoski and Mark Letestu and the Oilers could have eight new players on the opening night roster.
---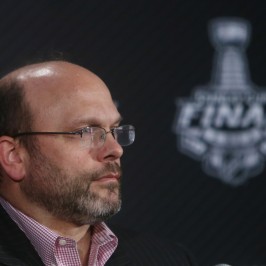 Management & Coaching
It was a changing of the guard in Edmonton with CEO Bob Nicholson restructuring the Oilers front office, formerly known as "The Old Boys Club" (OBC). Yes, Kevin Lowe and Craig MacTavish were given promotions, but the addition of a former-Stanley Cup-winning GM in Peter Chiarelli gives the new management team some legitimacy.
Add in that Chiarelli has more control over the roster and there is less decision-making power in the "OBC", things are turning around – finally for real this time.
The same can be said for Brad Treliving in Calgary who enters his second season as GM.
In back-to-back offseasons Treliving has made sweeping changes to aggressively alter the culture of the organization.
Both general managers were left with messes to clean up from the previous regimes. In the short term, both have made enough moves to give their organizations hope for the makings of something special in the province of Alberta.
In Edmonton, Todd McLellan replaces Todd Nelson and Dallas Eakins before him. Nelson is off to coach the AHL Grand Rapids Griffins, rejoining the Detroit system he left at the end of 2002-03.
In hindsight Eakins may have been over his head and not as experienced as management originally thought. They have righted that wrong in signing McLellan who brings along Jay Woodcroft and Jim Johnson from his staff in San Jose.
Calgary boasts the Jack Adams Award winner as coach of the year in Bob Hartley, so as a Flames fan, you can't complain about the coaching.
Hartley pulled the most out of a group that wasn't even seen as a playoff team, let alone a team that could make the final four in the Western Conference last year.
Advantage: Tied
---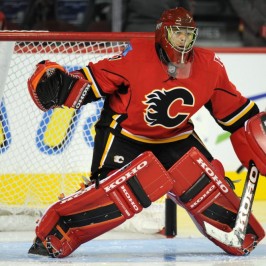 Goaltending
Both teams will go with two goalies sharing the starts in 2015-16. Last year the Flames' duo of Jonas Hiller and Karri Ramo was inconsistent but far superior to the Oilers' duo of Ben Scrivens and Viktor Fasth, a pair who posted some of the worst goaltending statistics in the league.
Hiller and Ramo will be back with both vying for the starting position. The Flames will have to make a choice at some point this year because both will be UFAs at the end of the season.
To make matters even more complicated, prospect Joni Ortio must clear waivers this year. Treliving will have to either carry three goalies this season or risk Ortio clearing waivers in order to spend the year in the minors.
Chiarelli recognized how bad the Oilers goaltending was last year and traded for Cam Talbot out of New York.
| | |
| --- | --- |
| CALGARY FLAMES | EDMONTON OILERS |
| Jonas Hiller ($4.5M) | Cam Talbot ($1.3M) |
| Karri Ramo ($3.8M) | Ben Scrivens ($2.3M) |
| Joni Ortio ($600K) | Anders Nilsson ($1.0M) |
Talbot gets his first year as a starter but even with the high praise of performing well under difficult zone shots, it's still his first year as an NHL starter so the jury is ultimately still out.
Scrivens will have to have a bounce back year or find himself on the trade block because the Oilers brought in Anders Nilsson from the KHL. Nilsson, 25, was a former NY Islanders third-round pick in 2009 who couldn't secure an NHL job on the island or with the Chicago Blackhawks. He went to the KHL, knocked it out of the park and is primed for an NHL backup job.
Advantage: Flames
---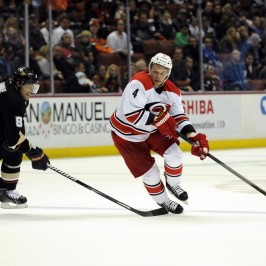 Defense
Last year the Flames defense was outstanding with TJ Brodie and Mark Giordano cementing themselves as top-pairing defenseman.
To bolster the defense corps even more, the Flames went out and traded for Dougie Hamilton and immediately signed him to a long-term deal giving them potentially three top-pairing defenders and arguably one of the best defense units in the NHL.
The Oilers?
Edmonton hopes to have newly-acquired Andrej Sekera to eat top-pairing minutes to take the pressure off the Oscar Klefbom – Justin Schultz pairing that showed promise but needs some softer minutes to develop.
The Oilers have two potential top-pairing defenders on the roster in Sekera and Klefbom but it's still uncertain if either of them can handle playing tough minutes against the oppositions top lines.
Sekera got stronger as 2014-15 went on but his playoff performance wasn't overly impressive. Klefbom on the other hand had consistency issues.
CALGARY FLAMES

EDMONTON OILERS

TJ Brodie

($4.6M)

Mark Giordano

($4.0M)

Andrej Sekera

($5.5M)

Mark Fayne

($3.6M)

Kris Russell

($2.6M)

Dougie Hamilton

($5.7M)

Oscar Klefbom

($894K)

Justin Schultz

($3.9M)

Deryk Engelland

($2.9M)

Dennis Wideman

($5.2M)

Eric Gryba

($1.2M)

Andrew Ference

($3.2M)

Ladislav Smid

($3.5)

Ryan Wilson

(PTO)

Nikita Nikitin

($4.5M)

Griffin Reinhart

($863K)
Schultz and Kris Russell are comparative players in each team's top four. Both were one-dimensional players but luckily for the Flames, Russell has improved his defensive play while Schultz still struggles and requires those sheltered minutes. It's a show-me year for Schultz.
Eric Gryba should help the PK and provide some much-needed toughness, but the Flames third pairing can rival the Oilers top pairing in some situations.
Both teams have some trade pieces but the contracts of Dennis Wideman, Ladislav Smid, Andrew Ference and Nikita Nikitin combine  for $16.2M of ill-advised spending. Wideman carries the most value and shouldn't be as difficult to move as the others.
Advantage: Flames
---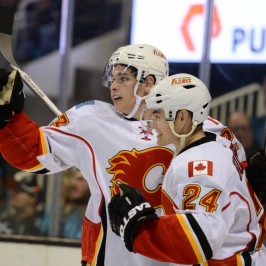 Forwards
The Flames were able to roll four lines for much of 2014-15 and that depth is the reason they upset the Vancouver Canucks in the first round of the playoffs.
Add a versatile forward in Michael Frolik, a full season from Sam Bennett and another strong season from their top line of Johnny Gaudreau, Sean Monahan and Jiri Hudler and there is no doubt the Flames will be a force in the Western Conference.
Not to be out done, the Oilers have a group of forwards up front that has the potential one day to be the best in the NHL.
The off-season addition of Connor McDavid,with Ryan Nugent-Hopkins returning,  gives them a solid one-two punch at center with two legitimate first-line centres .
CALGARY FLAMES

Johnny Gaudreau

($925K)

Sean Monahan

($925K)

Jiri Hudler

($4.0M)

Mason Raymond

($3.1M)

Sam Bennett

($925K)

Michael Frolik

($4.3M)

Lance Bouma

($2.2M)

Mikael Backlund

($3.5M)

Joe Colborne

($1.2M)

Michael Ferland

($825K)

Matt Stajan

($3.1M)

David Jones

($4.0M)

Brandon Bollig

($1.2M)

Josh Jooris

($975K)

Paul Byron

($900K)
Lauri Korpikoski and Mark Letestu will improve the Oilers defensive play but it'll be their ability to play strong at both ends of the ice that will ultimately decide their fate in 2015-16.
Taylor Hall enters the season healthy and has 35-40 goal potential. Another strong year from Jordan Eberle, who led the team in scoring last year, gives the Oilers a dangerous top six.
EDMONTON OILERS

Taylor Hall

($6.0M)

Connor McDavid

($3.7M)

Teddy Purcell

($4.5M)

Benoit Pouliot

($4.0M)

Ryan Nugent-Hopkins

($6.0M)

Jordan Eberle

($6.0M)

Lauri Korpikoski

($2.5M)

Anton Lander

($987K)

Nail Yakupov

($2.5M)

Rob Klinkhammer

($725K)

Mark Letestu

($1.8M)

Matt Hendricks

($1.8M)

Luke Gazdic

($800K)

Leon Draisaitl

($925K)

Tyler Pitlick

($761K)
The wildcard?
Everyone is still waiting for Nail Yakupov to break the 20-goal mark, could this finally be the year?
Advantage: Oilers
---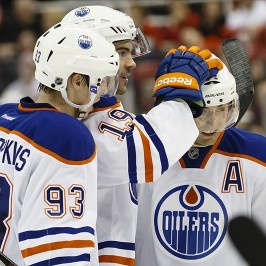 Special Teams
The Flames power play is destined to take a step back simply because too many players over achieved last year. Mind you, they had the 13th-best power play  in the NHL.
Things are a little different in Edmonton though – a new coaching staff and the addition of a generational talent in McDavid gives the team two balanced units.
Edmonton's power play ranked 18th last season and there is no way they end this year with a below average ranking. There are just too many good things that have happened this offseason to allow it.
That said, the penalty kill was 28th last year and Letestu is a lateral move from the departing Boyd Gordon. Still, Sekera coming in to eat minutes and limit the dependency on Andrew Ference is an improvement.
The Flames weren't all that better and their penalty kill was 21st in the league. Expect much of the same.
Advantage: Tied – Oilers PP, Flames PK
---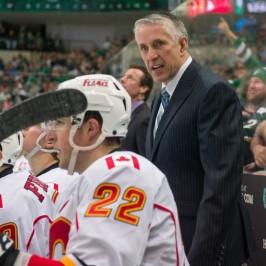 2015-16 Outlook
There is talk that the Flames may regress this season because almost everyone on the roster over-performed last year and they "caught lightning in a bottle".  However, there are just too many good things happening here to say the Flames can't once again make the playoffs again this year.
Things are on the upswing in Edmonton, but for real this time.
A new GM, a new coach and a new face of the franchise. Throw in what could be the best starting goalie the Oilers have had since Dwayne Roloson backstopped  them to the 2006 Stanley Cup Finals and the Oilers might finally have it together.
Even if the Flames are about the same team they were last year the Oilers would still have to make up a difference of 35 points.
If the stars align and everything goes right, at the most the Oilers would be an 80-point team that would still be shy of a playoff spot.
The Flames, however, are playoff contenders, barring a major breakdown in 2015-16.
Conclusion: Flames