After the most exciting offseason for the Red Wings in recent memory, fans are eagerly anticipating the 2015-2016 season. With the likes of Brad Richards and Mike Green donning the Winged Wheel for the first time, this season is met with much optimism, cautious as it may be.
The Red Wings enter this season with a rookie head coach – sort of – in Jeff Blashill. The Detroit, MI native will be the head coach for his hometown team for the first time. However, he has already coached many of these players at the AHL level. Fans are hoping that his time in the Red Wings organization and his level of familiarity with many of its players will make up for Blashill's lack of NHL experience.
Ken Holland decided to open up the Illitch's chequebook this offseason and sign some big name players. On one hand, this is fantastic news for the Red Wings. On the other hand, those players were big names from five years ago. Both Mike Green and Brad Richards have seen their offensive totals slip from the 2009-2010 season. Richards won a Stanley Cup with the Blackhawks last year, while Green had 35 assists, something he hadn't done since that 2009-2010 season. Both players took a pay cut to play with the Wings, and expectations for each will be quite different.
RELATED: Analyzing the Potential Impact of Brad Richards on Detroit
LAST SEASON'S RECORD: 43- 25-14, 100 PTS
Key Additions
Mike Green
Brad Richards
Key Subtractions
Stephen Weiss
Mike Babcock
Marek Zidlicky
Jonas Gustavsson
Forwards

Gustav Nyquist
After his stunning 2013-2014 season, Nyquist had a lot to prove. This past season, his offensive numbers per game decreased, but he was still in the top 30 in the NHL for goals, and 13th among players aged 25 and under. He may not be a superstar yet, but playing with Brad Richards may mean he gets the puck more often.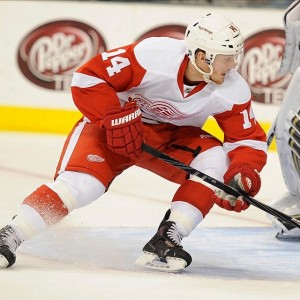 Pavel Datsyuk
The Magic Man doesn't seem to age. He may be injured to begin this season, but Datsyuk still managed to put up over a point per game last year, something he has done in seven of his last ten seasons. Datsyuk has two years left on his contract, so we may be witnessing the last few seasons of magic from the 37-year-old Russian.
Brad Richards
It seems as though the Blackhawks always have an exodus of players when they win the Stanley Cup, and this year, Brad Richards made his way to the Red Wings. While his 37 points last season is a far cry from what he usually produces, Richards is now 35 years old, and his best years may be behind him. Blackhawks fans were sad to see him go, noting that he never gives up on a play and is more defensively astute than he is given credit for. This season, if Richards plays with the likes of Nyquist and Tatar, we may see his vision paying dividends for the two wingers, and the man himself. Maybe this is the third institution of the Two Kids and an Old Goat line?
Riley Sheahan
While the Red Wings don't quite trust Sheahan to anchor the team's second line this season, Sheahan can sit comfortably in the 3C position, and jump up to 2C while Datsyuk is injured. Sheahan doubled his shots taken this past season, and saw his average time on ice jump by a full minute as well. Having played under Blashill in Grand Rapids means that there is built up trust between the first-year head coach and Sheahan. He will be an interesting piece to the Red Wings puzzle as he jumps around the lineup.
Defence
Danny Dekeyser
With the news that the recently signed Mike Green would be tried on a pairing with Dekeyser, Danny's stock went up. The 25-year-old had a career-high 31 points last year, and fans got to see what a full season from the Western Michigan product would look like: it was impressive. Dekeyser is the farthest thing from flashy, but he is quite a steadying presence on the Red Wings blue line. He had a plus/minus of +11, and all of his advanced stats numbers improved compared to the season before. He has adjusted to the NHL, and this season he will get to play with Mike Green, who will no doubt challenge Dekeyser defensively, but also see his point total increase.
Mike Green
Speaking of Mike Green, the expectations put on the soon-to-be 30-year-old are varying. Some fans see him as the answer to the Red Wings right-handed shot needs and the saviour of the blue line. Others will note that he hasn't played a full 82 game season since 2007-2008, and posted a minus-16 rating only two seasons ago. There are many people torn on what Green can bring to the team this year. His points per game total last season (0.63) was his second best since his huge 2009-2010 year (good luck hitting 1.01 again), and his advanced stats were all above average. While he is not the Mike Green of old, he is a dangerous power play weapon, and a good partner for Danny Dekeyser to learn from. Oh, and a right-handed shot.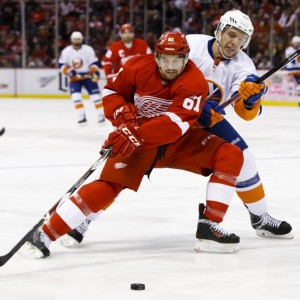 Kindl/Lashoff/Marchenko/Sproul/Ouellet
With the addition of Green, and the lack of departure of any of last year's starting six, where does that leave the rest of the guys? The general consensus is that Kindl with either be the seventh defenceman, or be traded to shed some salary. Lashoff, Marchenko, Sproul, and Ouellet are all knocking on the NHL door and are dying to see playing time. As soon as injuries happen on the backend, these guys are ready to step up to the challenge. Eventually Holland is going to have to make room for these players to come up and play full-time.
Goal
Jimmy Howard
Jimmy Howard has a lot to prove this year. He has gone from being the Red Wings undisputed number one goalie, to a question mark. While his record of 23-13-11 doesn't look terrible, we have to remember that those overtime/shootout losses are still losses, so his record looks more like 23-24. Of his seasons where he has played 50 games or more, last season he had his second lowest win total (23), his second lowest save percentage (.910%), his third lowest goals against average (2.44), and his second lowest amount of quality starts. Not a glowing review for the 31-year-old, who was near the bottom of all goaltending categories when compared against goalies in their 30s.

Petr Mrazek
This season with make or break Petr Mrazek's career, in my eyes. Mrazek will either take the starting reins from Howard, or will be relegated to team back up. Babcock wasn't a guy who enjoyed rolling two starting goalies, and I can't imagine Blashill is any different. All of Mrazek's stats this past season were only marginally better than Howard's, but he is also eight years younger. Is he the goalie of Detroit's future? This season will play a large part in determining that.
Season Outlook
Ultimately, this team's season success is based on how the youth movement in Detroit steps up, and how these  aforementioned players fill their roles. With new arrivals like Richards and Green landing all over the expectations spectrum, they will simultaneously meet and fall short of all of those same expectations that Red Wings fans have for them. There's a mix of veterans and young players once again in Detroit; a plan that has worked well for the Wings in past years, that management is looking to see repeated once more. One hundred points on the season is not out of the question for a team with the likes of Nyquist, Zetterberg, Howard and Kronwall.