An organization under fire from its fan base during the worst period in its 56-year history showed no sense of urgency to take action at the 2023 NHL Trade Deadline. The Philadelphia Flyers netted only two late-round draft picks and Brendan Lemieux during one of the most active trade seasons in NHL history. General manager (GM) Chuck Fletcher failed to move James van Riemsdyk, essentially considered a given as a trade deadline casualty, because a deal with the Detroit Red Wings fell through in the final hour before the March 3 deadline.
Related: 2023 NHL Trade Deadline Tracker – Live Updates
"The one offer that I did get on JVR (van Riemsdyk) happened at 1:40 this afternoon and it was a conditional offer," Fletcher said. "I didn't know what the market would be, but I thought there would at least be some offers that we could have to consider or not consider. It's the nature of the business, I guess. It is what it is. We'd probably rather have a good pick and allow JvR (van Riemsdyk) the opportunity to play in the playoffs, but the market spoke."
---
---
The ineptitude of Fletcher and the organization has created an outrageous level of dissatisfaction within the Philadelphia fan base. The Flyers continue to avoid making changes because they don't recognize the full severity of how bad their situation has gotten, and their misguided perception continues to dig their hole deeper.
Fletcher Fails at NHL Trade Deadline
"It's going to be a longer process than maybe what we might want, but I think we're starting to build the right way and integrate a lot of young players into our team," Fletcher said on Feb. 28.
His repeated use of the word "process" and his emphasis on looking to get younger were part of an attempt by the organization to show fans their intention to sell at the traded deadline without using the word rebuild. Moving veterans on expiring contracts ahead of the trade deadline for future draft picks or prospects is one of the simplest concepts involved in helping a team get younger.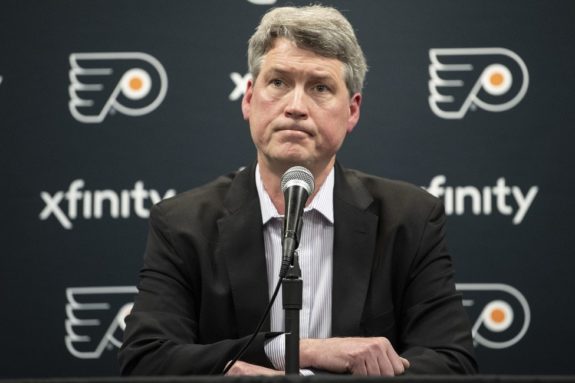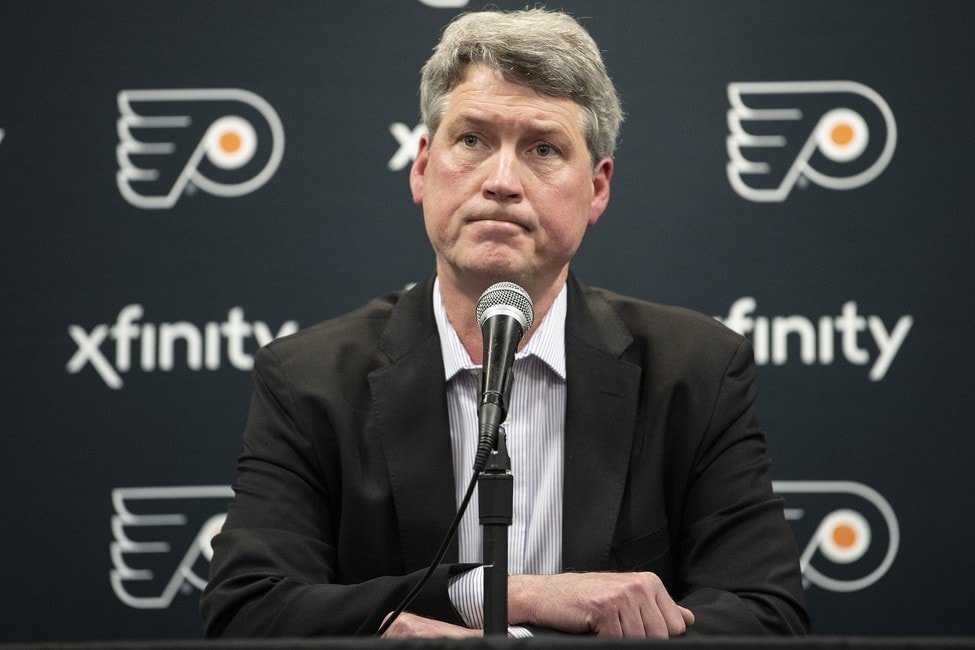 Moving van Riemsdyk looked like a given. The former second-overall pick was the prototypical trade deadline acquisition. He's a 33-year-old veteran on an expiring contract with a long NHL pedigree as a goal scorer and a great reputation in every locker room he's ever been in. Trade talks surrounding the Flyers leading up to the deadline mostly had to do with more intriguing names like Kevin Hayes and Ivan Provorov or the potential return package for van Riemsdyk.
Fletcher's failure to move such a sensible trade chip for any return package whatsoever indicates the incompetency of a GM unfit to negotiate NHL trades. His mistakes have dug the Flyers into an enormous hole with a roster that lacks the talent to compete for a spot in the Stanley Cup Playoffs, a detrimental salary cap situation, a lack of top-end talent in the prospect pipeline, and a lack of rich draft capital likely to improve the situation. He blatantly blew an easy chance to improve one of those weaknesses by acquiring a mid-round pick or an average prospect for van Riemsdyk.
The questionable decisions the Flyers made over the summer cost them more draft capital and financial flexibility. Fletcher dealt three future picks for Tony DeAngelo, who has become a defensive liability on the blue line. Despite a self-admitted lack of top-end talent, he ignored star winger Johnny Gaudreau's obvious interest in coming to Philadelphia because of concerns about a long-term contract. However, he's handed out expensive long-term contracts to lesser contributors like Travis Sanheim, Rasmus Ristolainen, and even Nicolas Deslauriers (with a lesser financial investment) within the past year.
---
Latest News & Highlights
---
While Flyers fans have spoken loudly about their dissatisfaction, Fletcher continues to make moves that damage the chances the franchise has of returning to Stanley Cup contention. When he took over for Ron Hextall in 2018, he inherited a situation with reasonable cap flexibility, one of the top-rated prospect pipelines in the NHL, and established first-line talent with long track records of success in the NHL.
He has allowed the Flyers to crash and burn over the past five years. After one reasonably successful season in 2019-20, Fletcher now faces one of the worst cap situations in the league, a limited supply of draft capital because of shortsighted trades for veteran players, an underwhelming prospect pool, and an expensive roster that never realistically had a chance to compete in 2022-23. He could've taken the first step to improve the situation with sensible deadline moves to bring in younger players or draft picks. However, he just didn't execute it properly.
Flyers Must Take Action
John Tortorella has spoken during his first season as head coach in Philadelphia with a more honest sense of the direction of the franchise than Fletcher. He made a candid admission about the organization during a radio interview on 97.5 The Fanatic on March 2. 
"I just think when people are there a long time, players, staff, everything, there's a sense of entitlement. Listen, we're pretty much nonexistent in the National Hockey League as far as respect. We need to earn the league's respect, and that's about staying together, getting the right people involved in all this, and doing it the right way, and understanding that noone is above anybody else, no matter how long you've been there: player, personnel, staff, whatever it may be," Tortorella said.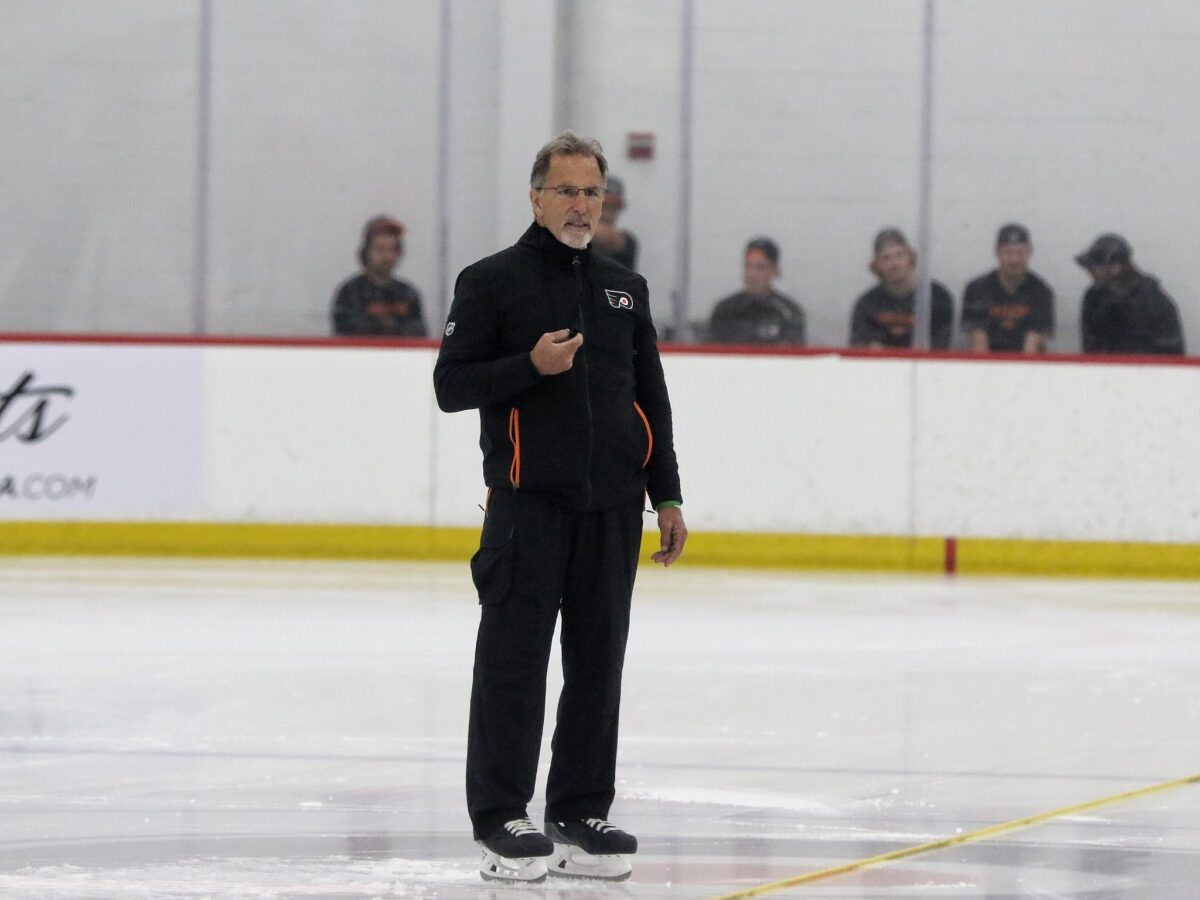 The Flyers place a significant amount of trust in an advisory staff made up of franchise Hall of Famers Bobby Clarke, Bill Barber, and Paul Holmgren and veteran NHL executive Dean Lombardi. They've taken heavy criticism for their reliance on people that led past eras of success and their inability to adapt to the modern era of the NHL.
Tortorella does not have final say in player personnel moves, but his voice is ringing loudly about the need for major changes. He consistently points to the lack of talent on the roster needed to compete for a playoff spot, and he's been more open about the extent of long-term problems that need to be solved. The fan base demanded the same type of change before Tortorella stepped behind the bench in Philadelphia.
Fletcher has not shown the same type of recognition of major problems with the Flyers. His moves lack creativity, and he hasn't taken action to get the organization out of its current disaster. He continues to point to injuries and other outside factors that limit his ability to make effective roster moves. While his sentiment on Feb. 28 pointed toward a better long-term process, he immediately showed an inability to execute a strategy aimed toward long-term success. 
You don't have to look far to see how Fletcher pales in comparison to rival teams or to the rest of the league as a whole. The New York Rangers acquired Patrick Kane and Vladimir Tarasenko ahead of the deadline. The Devils added Timo Meier. The Tampa Bay Lightning gave up five draft picks and one player to the Nashville Predators for Tanner Jeannot, who has five goals and nine assists in 56 games in 2022-23. However, the Flyers couldn't come up with a way to move van Riemsdyk, who has more goals and more assists in fewer games, for any compensation whatsoever.
Flyers Hoping for Better Future
"It's going to be a longer process than maybe what we might want, but I think we're starting to build the right way and integrate a lot of young players into our team," Fletcher said this week.
He openly admitted a willingness to think about long-term moves that will help the Flyers acquire young talent. However, he failed to make any franchise-altering moves during the 2022 offseason and at the 2023 Trade Deadline. A starved fan base in Philadelphia will now wait longer for a GM without a winning NHL pedigree to approach the 2023 offseason. They have very little reason to be optimistic.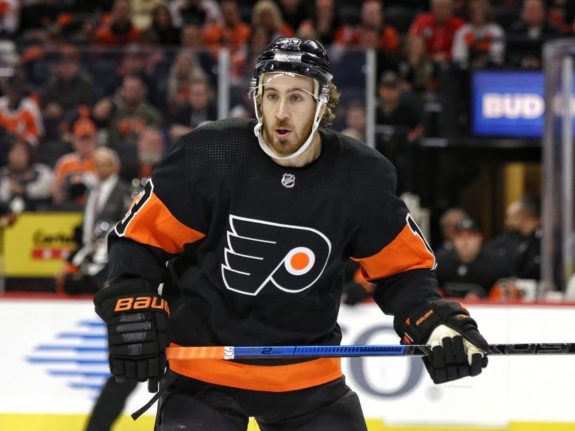 Craig Button spoke on TSN about moves that aren't made at the deadline and how they sometimes lead to future opportunities.
"The seed is being planted for further down the road. When we get to the draft, teams now have disappointed. They haven't gone as far as they wanted to go. Where you've had discussions with teams, you rekindle them," he said.
There's logic to his statement. The salay cap restrictions have limited the flexibility of NHL GMs to make moves the past three years, and it's not farfetched to think that Hayes or Provorov could move during the offseason for substantial trade packages. However, the track record of Chuck Fletcher and the Flyers offers no reason to think that effective trades will come during the offseason.
Fans of the Philadelphia Flyers have hung tough through nearly a half-century without a Stanley Cup, nearly a decade of mediocrity after 2012, and three seasons of embarrassing futility from 2020-21 through 2022-23. They don't owe the organization the benefit of the doubt concerning potential offseason moves, and they don't owe them much of anything at all.