Kermit the Frog said it best when he sang his infamous ballad proclaiming the hardships of his identity. It's not easy being green, and it's not easy playing in a market that doesn't appreciate your sport. Or, that has to grow to like it when you're successful.
"It's not that easy, being green. Having to spend your day, the colour of the leaves."
Blending in with the rest of the surroundings, sure, it's a feat every day to stand out. Being overlooked by NHL fans as a sub-par team, being counted out of all competitive questions. Who picks the Florida Panther's to make the playoffs last year? Few.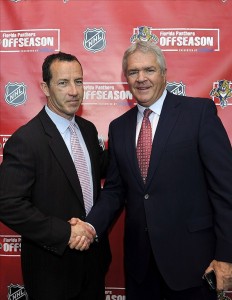 Having a budget, it's never easy. Dale Tallon worked with that budget to deliver a dominant, and productive line of Fleischmann, Weiss, and Versteeg. I guess you could say they were blending in with the rest of the green leaves before they were acquainted.
'Who's the superstar?' many would ask, but to be honest, a superstar is a marketing tool for your team, not necessarily the key to a championship. So Florida doesn't have a Sidney Crosby, or Alex Ovechkin. Big deal, they have a team that made the playoffs, and has tremendous upside, AND they reside in Florida. That's a sweet deal.
"When I think it could be nicer, being red, or yellow, or gold…"
Hey, The Panther's colours. It would be nicer to be a panther in the dead of winter, playing at home in Sunrise, Florida. Golf all year round, a little anonymity for the players and their families, all upsides to playing for the Panthers. Kermit was right to think it's easier to be red, or yellow, or gold.
"It seems you blend in with so many ordinary things, and people tend to pass you over, 'cause you're not standing out like flashy sparkles in the water, or stars in the sky."
So your team doesn't have a Phil Kessel, a Steven Stamkos, one of those Staal brothers, or a twin. As a Panther, you still have a very experienced and knowledgeable Jovanovski to mentor your budding all-star Gudbranson. You still have your stellar top line. You still have your glue guys, in George Parros, Scottie Upshall, and Scott Clemmensen. So you don't have a typical perennial all-star like Malkin, or Kaberle – and let's be honest, how Kaberle was there every year is mind boggling. But the Panther's have a team they have proven can win. That's more than other teams can say for themselves.
"When green is all there is to be, it can make you wonder why, but why wonder, why wonder. I'm green, and it'll do fine… And I think it's what I want to be"
Why bring up the fact that the Panthers used to be a losing team missing the playoffs in 10 straight seasons? Why bring up the fact that their fan-base has been streaky and non-existent at times? Why keep hammering the same go-to facts about the franchises following, and finances? The only thing that matters, is the Panther's are a winning team. That should take precedence over everything else. No stars? No problem, they win. Not a full house every night? No problem, they win.
If being green is what the Panther's are, then it's working for them. Hey, they get to live in Florida year-round and play professional hockey in the NHL. If being green means you're over-looked, and underestimated, then proving yourself will be rewarding when you hit the ground running. The Panther's have all the pieces in place, when they make some noise, I wouldn't be surprised at all.