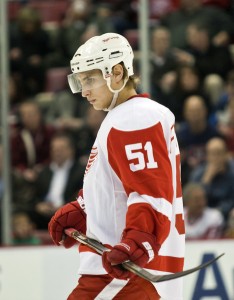 Just four days into the latest Gary Bettman orchestrated NHL lockout and four Detroit Red Wings are confirmed to be headed overseas.
Russian paper Sovietsy Sport reports that all-star forward Pavel Datsyuk has signed a contract to play with CSKA Moscow of the KHL for the duration of the lockout.
And according to a report from Finnish news outlet Ilta Sanomat, Valtteri Filppula is expected to sign a contract with the SM-liiga's Jokerit shortly.
Meanwhile Jakub Kindl himself announced he'll be playing in the Czech Extraliga while CBA negotiations continue.
Looks like deal is done for now going to play in Pardubice pic.twitter.com/yJVIp5TC

— Jakub Kindl (@JKindl4) September 19, 2012
They join Red Wings newcomer Damien Brunner, who will play for EV Zug in the Swiss National League A until the AHL season kicks off, in heading across the Atlantic while the NHL's latest labor war rages on.
They'll assuredly be just the first of many Wings players to sign in other leagues should the dispute between the NHL and NHLPA last for any significant length of time. Youngster Cory Emmerton has publicly expressed interest in signing elsewhere immediately, while many of his teammates appear content (for now) to wait and see how negotiations pan out. Brendan Smith, Gustav Nyquist, and the aforementioned Brunner will all take the ice for the Grand Rapids Griffins once the AHL's season opens in just a few short weeks.
While the exodus of players to foreign ice doesn't come unexpectedly, it would appear to be a discouraging sign that many players don't believe they'll have a NHL team to play for any time soon.  The NHL owners appear unwilling to budge from their demands of a significant salary cut for the players, and Detroit's likely captain Henrik Zetterberg says the Players Association isn't willing to bear the entire financial burden like they did last time around.
"I think we did enough last time, in '04. Basically, we gave them everything they wanted, and one of the reasons we did that was that we didn't want to be in this situation again, and here we are again."

"It's the third lockout in I don't know how many years now. Ever since Bettman came into the league offices, that's been his way to handle the stuff. That's not a fun thing, but that's how he approached this. We've been ready. We're ready to have a fight here."
How long the fight will last is unknown. The sides have not met face to face (officially at least) for several days. Many have predicted an agreement will be reached around American Thanksgiving, giving enough lead up time to the 2013 Winter Classic for HBO's 24/7 series to be filmed and produced as planned. The league stands to make a significant profit off of the annual event, something they surely won't want to lose if team economics are as poor as they claim. Should the lockout last beyond the outdoor festivities, it's likely that an entire season could once again be lost, something clearly no one wants.
UPDATE: According to a post from the Macomb Daily's Chuck Pleiness, which quotes Red Wings GM Ken Holland, prospect Tomas Tatar will head home to play in his native Slovakia until the AHL season begins. He also suggests that there's a chance Gustav Nyquist could be allowed to do the same with a team in his home country of Sweden as well.
UPDATE: It looks as if new Wing Damien Brunner may not be coming to the AHL after all. According to MLive's Ansar Khan, Brunner's former team, EV Zug, has stated that they released him from his contract to play in the NHL only. To quote Ken Holland, things are "up in the air."
Tomas Tatar has also confirmed earlier reports that he'll be heading to Slovakia prior to the start of the AHL season.
it's official.signed for few weeks in new Slovak Team till AHL start.Huge thanks to RedWings organization to leting me go#hockey#SlovakFans

— Tomas Tatar (@TomasTatar90) September 19, 2012
The Detroit News is also reporting that Jan Mursak will likely sign with a European team in the near future, in addition to the previously mentioned Cory Emmerton's intentions of doing the same.