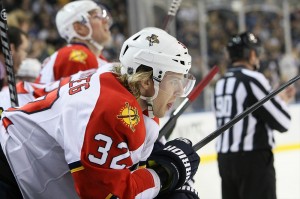 On March 12, 2013, things were not looking good for Kris Versteeg and the Florida Panthers. He completely tore up his knee in a game against the Tampa Bay Lightning. The injury would require him to receive ACL surgery and force him out for the rest of the season, as he watched his Panthers finish dead last in the NHL. His absence was truly felt.
While many thought the recovery time from the surgery would keep him out well into the 2013-14 season, Versteeg learned from his doctor that he has been cleared to play. If you do simple math, it has been just over six months since the surgery occurred. How in the world did he recover so fast?
Versteeg told Harvey Fialkov of the Sun-Sentinel that "he studied videos and researched the ACL comebacks of Vikings running back Adrian Peterson, Evgeni Malkin,Tomas Kopecky, Scottie Upshall and Robert Griffin III, and that he has recommitted his life to hockey because he missed it so much."
"I've talked to a lot of guys who have had it done like Kopecky and Upshall, you just trust their opinion, more so you got to trust  your doctor, trust your surgeon what he did to you is going to make you better first, and understand that and go through your physical therapy. The staff here in Florida did a tremendous job with me the first two months, then I went home (to Lethrbridge) and worked with a guy named Tim back home and my own trainer and they got me to where I am today. Even my mom cooking for me every day, changed my diet, stuff like that, there's so many people who played a part in helping me get back to where I need to be that it's overlooked. It's definitely a lot of commitment. I'm excited to what I can do this year.''
Versteeg will return to the ice on Thursday night in preseason action as the Panthers head to Estero, FL to take on the Lightning. Ironically, his return comes against the same team that put him out of commission for over six months.
Matt Schreiber is the Florida Panthers Lead Writer for The Hockey Writers. He grew up just outside of Washington, DC before moving to Boca Raton, FL, where he currently resides. He also covers the NHL for Bleacher Report.