One of the biggest question marks surrounding the Colorado Avalanche, going into the 2013-2014 season, is the defense. Head coach Patrick Roy took a step towards answering part of the question surrounding the defense when he released his top-six defensemen heading into the regular season. The pairings have been shaken up a bit since training camp as more and more players continue to be reassigned until the Avalanche get to the 23-man roster.
The parings are as follows:
Andre Benoit – Erik Johnson
Ryan Wilson – Tyson Barrie
Jan Hejda – Corey Sarich
Roy also stated that he plans to keep eight defensemen on the roster,  meaning there are two other spots to be had for defensemen as the healthy scratches or rotational players, depending on how Roy wants to proceed. For now, let's have a look at each of these pairings.
Andre Benoit – Erik Johnson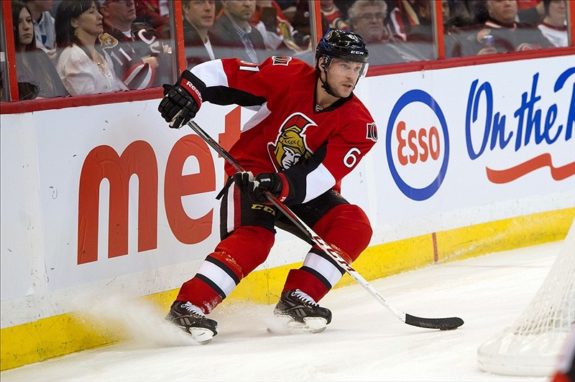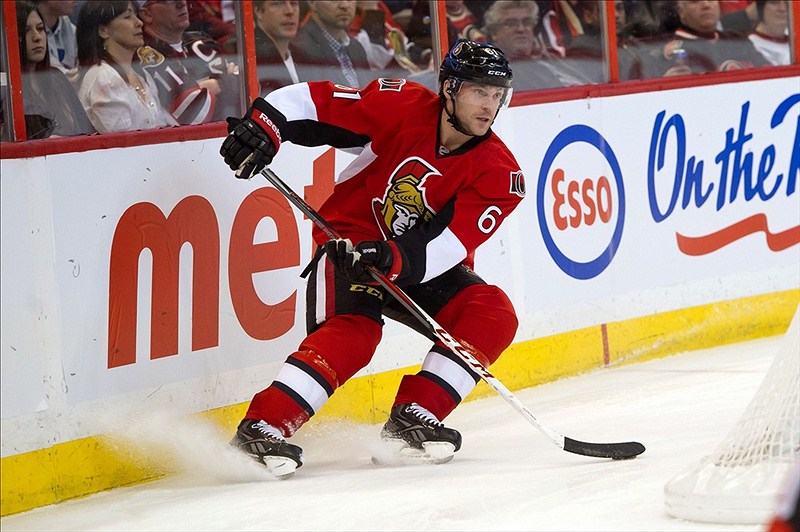 As it has been for the past couple of seasons, this top pairing remains a big question mark. Erik Johnson looked very strong throughout camp and seems to have a certain spring back in his step, but one of the bigger things holding him back is that he's never really had a partner that allows him to play to his full potential. It got to the point where Johnson would be trying to assert himself offensively only to have to try to bail out his partner later because they weren't players that should be a part of a top pairing. This has been a huge part of Johnson's struggles.
Benoit, by all accounts, has looked good during training camp, but seems to fall right into that same pattern of partners that just shouldn't be playing on the top pairing. Benoit hasn't had a lot of NHL experience and is now paired on the defensive pairing that will likely be out against the opposition's best line. It's possible that he might be fine, or at least good enough to minimize mistakes, but that is something he has yet to prove in the NHL. Color me skeptical.
Ryan Wilson – Tyson Barrie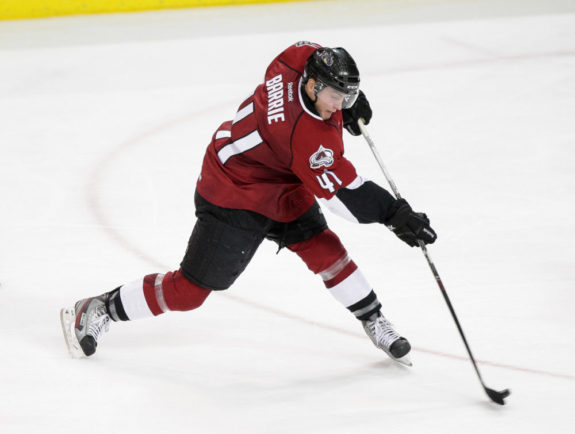 This is a combination that I like, a lot. Of course, Ryan Wilson is currently nursing an injury but will hopefully be ready by opening night. Nonetheless, this is a solid combination of complimentary defenders. Wilson plays a much more defensive style, where Barrie enjoys being involved in the offensive side of things. Wilson plays a physical games and can lay a big hit, where Barrie will beat you with speed, good positioning and a quick stick. Both players are also very strong passers that can really get a good transition game going. Both players communicate well on the ice and should be a strong combination.
The big challenge for this pairing lies with Tyson Barrie in his own zone. He took some strong steps forward a season ago, but still had a few games where his greatest weakness showed, his strength. Last season, if Barrie was in a situation where he needed to muscle somebody off of a puck, or had to physically challenge somebody to win a puck in the corner, chances were good that he would lose that battle. He was far too easy to out-muscle last season, and that is something that needs to improve. That and Wilson needing to stay healthy for a change.
Jan Hejda – Corey Sarich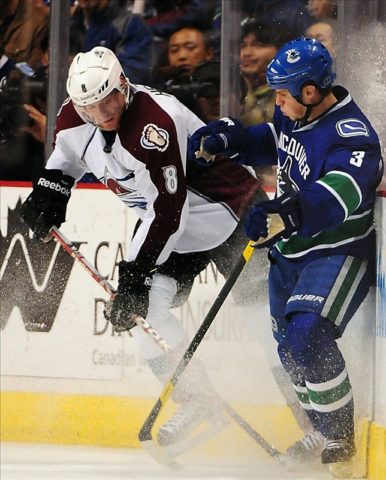 This is another pairing that I like. Don't get fancy with your third pairing, get big. Both Hejda and Sarich are big bodies that play a physical game but can also skate well. Hejda definitely has the skating edge over Sarich, but Sarich isn't exactly a pylon out there. The third pairing might be the most important pairing of the team because you don't want two guys that will make you panic every single time you're out there, like Greg Zanon and Matt Hunwick, you want guys that know how to play solid defense, and that's exactly what these two will give you. You don't want them out against an opponent's top line for an extended amount of time, but you are pretty sure they could handle it until you can get a quick change if the situation arises.
Sarich is the wild card on this pairing in that he's new to the team and we haven't seen a ton of him in action during camp. While I was attending training camp, I didn't really noticed him on the ice during scrimmages at all. I take that as a good omen because you don't want to notice a guy who plays his defensive style of game, if you notice him it's usually because he's getting beat.
This collection of defenders has a lot to prove for the Avalanche this season, but there is at least one positive way to look at them. There is almost no way this group could play as poorly as a whole as the defense did a season ago, at least I hope not.
I'm a Denver native who has been a fan of the Avalanche since they came to town and a fan of the game before that. I started writing my own blog a couple years ago before moving to Bleacher Report and becoming a Featured Columnist there. You can also find me the Burgundy Brigade Podcast