Oh how things can change in the span of a year. At this time in 2011 the Florida Panthers were on a spending spree, handing out lucrative contracts to the likes of Tomas Fleischman and Tomas Kopecky as well as acquiring Brian Campbell from the Blackhawks and Kris Versteeg from the Flyers in an attempt to bolster a lineup that finished dead last in the Eastern Conference.
Those moves clearly paid off, propelling the Panthers to the top of the Southeastern Division in 2011-2012 and into the playoffs for the first time since the 1999-2000 season. After such a dramatic turnaround it would be easy to sit back and bask in the joy that comes with success, but that won't be happening for the Panthers organization. Not when your future looks as bright as the Panthers does.
For the past few seasons the Panthers have been a work in progress, a team for the future. They stockpiled an abundance of top end prospects through the draft with the belief that one day they would create a team similar to the Pittsburgh Penguins or Chicago Blackhawks of the NHL who used the draft to become perennial Cup contenders.
That plan, although solid in thought, has always been a tricky one to pull off. Countless teams attempted to rebuild through the draft only to realize that their scheme had failed from the very beginning. Botched evaluations, unsuccessful prospects, injuries; anything could derail a rebuilding project and that very threat always loomed over the Panthers organization until the 2011-2012 season rolled around and the first wave of prospects emerged in the NHL.
Erik Gudbranson, the third overall pick in the 2010 draft, looked his age throughout the majority of the season but turned a corner in the playoffs and reminded everyone why he was considered to be a cornerstone piece in the Panthers youth movement. Top goaltending prospect Jacob Markstrom stepped in for an injured Scott Clemmensen and posted a 2.66 GAA and a .923 SV% before being sent back down to San Antonio.
With the first wave complete it's time to introduce everyone to the second wave of prospects. Some of these prospects will make their debuts this year while others may need another year of seasoning at the Junior level but they all have one thing in common; they are the future of the Florida Panthers.
_________________________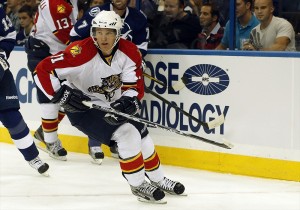 Jonathan Huberdeau
Age: 19
Position: Center
Drafted: 1st Round, 3rd Overall, 2011
Chances are you've heard of Huberdeau before. If not, get used to his name because you'll be hearing it often for the next decade or so.
Huberdeau is considered by many to be one of the top prospects in the NHL and it's easy to see why. In the past two seasons he has posted 177 points in just 104 games with Saint John Sea Dogs of the QMJHL.
His hands are incredible, allowing him to maneuver the puck between defenders with ease but it's his vision and creativity that makes him such an offensive wizard. Too put it simply, he is a playmaker in it's purest form.
If there is one thing that he must work on it's his strength. It seems like such a cliché thing to say for a prospect of his caliber but putting on mass will allow his body to cope with the physicality of the NHL.
Pay special attention to Huberdeau, he is a superstar in the making and will be asked to inject offensive flair into a team that finished 27th in goals per game last season.
Hockey's Future Profile: http://www.hockeysfuture.com/prospects/jonathan_huberdeau/
_________________________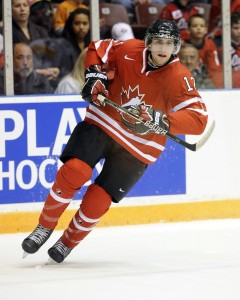 Quinton Howden
Age: 20
Position: Forward
Drafted: 1st Round, 25th Overall, 2010
Along with Huberdeau, Howden seems to be the likeliest of prospect to join the 2012-2013 Panthers squad. His combination of size and speed will transition well into the NHL and his offensive upside should help out the anemic Panthers offense.
The question surrounding Howden is whether or not he will be willing to play the power forward game. Even with his size he is timid when it comes to fighting along the boards and doesn't throw his body around as much as he should.
He'll be given the opportunity to prove himself during training camp and if he can show a willingness to fight in the corners and grind with opposing defenders then he should be given a chance to play alongside Huberdeau in the NHL this season.
Hockey's Future Profile: http://www.hockeysfuture.com/prospects/quinton_howden/
_________________________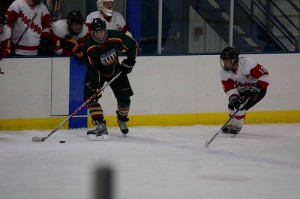 Nick Bjugstad
Age: 20
Position: Forward
Drafted: 1st Round, 19th Overall, 2010
If not for opting to return to the University of Minnesota for his Junior season Bjugstad would be wearing a Panthers jersey. Every aspect of his game, from his size to his skating and even his hockey IQ is NHL ready.
It's rather hard to pinpoint a weakness in Bjugstad's game. He has proven himself to be a dynamic two way player in the NCAA and has quieted his critics who questioned whether he could succeed against tough competition.
If he continues to gain strength and add a bit of physicality to his game then the sky is the limit for Bjugstad. The question is not if Bjugstad will be a NHL star, it's just a matter of when.
Hockey's Future Profile: http://www.hockeysfuture.com/prospects/nick_bjugstad/
Other players to keep an eye on: Rocco Grimaldi (Center), Alex Petrovic (Defensemen)