The NHL trade landscape is easily the most prominent off-ice hockey topic. Arm-chair GM's cast hypothetical trades into the blogosphere on a daily basis; some onlookers watch intently – even hopefully – while others see it as a pointless venture, at best. Then there are the "insiders" – big-time hockey pundits like Pierre Lebrun, Darren Dreger, and others, who have networks of anonymous contacts who fill them in on trade discussions, players of interest to certain teams, disgruntled stars, etc. Between these two sources, hockey fans are inundated with a myriad of potential transactions, most of which never see the light of day.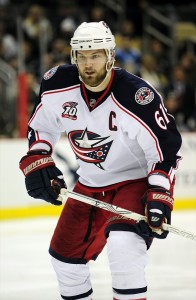 But the dearth of truly significant deals makes it so much more exciting when one finally goes down. Take for instance the most recent blockbuster trade – the Rick Nash deal. Now based on the return Columbus received for Nash, I use the term "blockbuster" loosely. Don't get me wrong – the Blue Jackets got some talented players who are or can become good NHL players. But the minute I saw the deal coming together on twitter – Dreger – there are 4 pieces in the deal…first 3 are Dubinsky, Erixon, and a 1st…last piece is in, it's Anisimov – my heart sank a bit for the Blue Jackets. I was instantly reminded of the old trade axiom, "the team that gets the best player wins the trade".
Without the luxury of hindsight, my best guess at this point is that this is a huge win for New York, or at the very least, a big loss for Columbus from an asset-management standpoint. It reminds me completely of the Joe Thornton deal to San Jose, where the Bruins acquired a package of moderate talent, none of which stuck around for more than a few years. (Brad Stuart, Marco Sturm, and Wayne Primeau; though the Bruins managed to snag some big UFAs shortly after – Chara & Savard – and not only righted the ship, but won the cup within 5 years). Regardless of how the respective teams perform post-trade, the deal is such a steal for New York, as they got one of the league's top power forwards in exchange for a 2nd line winger coming off an awful year (Dubinsky), a potential 2nd line centre who has only shown flashes (Anisimov), a talented but completely unproven young defenceman (Erixon), and a late 1st round pick which, based on past drafts, is very unlikely to be an impact player. And with the emergence of Chris Kreider and Derek Stepan, Dubinsky and Anisimov were completely expendable, so even if Nash were to fizzle on Broadway, they wouldn't be kicking themselves.
—
Anyway, the Nash deal got me thinking of the big trades the Stars have made in recent years. So here they are: the Dallas Stars' top-5 post-lockout deals, in chronological order:
(1)    Sept 30, 2006: Dallas receives Mike Ribeiro and a 6th rd pick from Montreal for Janne Niinimaa and a 5th rd pick
Hindsight is a funny thing. At the time of this deal, I recall that Ribeiro was perceived – rightly or wrongly – as just another young, talented cry-baby, who caused more trouble than he was worth. Happy to be rid of him, the Habs also thought they were addressing their need on defence by getting Niinimaa. Unfortunately, they didn't realize that Janne was well past his prime, or that Ribs could take his game to another level. Niinimaa played only one season in Montreal, with a putrid 3 assists and -13 over 41 games, while Ribeiro posted 407 points over 461 games in Dallas, including an 83 point campaign in 07-08. Nice work by Doug Armstrong in his final season as Stars' GM. Big oops by former Stars' GM Bob Gainey in Montreal.
(2)    Feb. 26, 2008: Dallas receives Brad Richards and Johan Holmqvist from Tampa Bay for Mike Smith, Jeff Halpern, Jussi Jokinen, 4th rd pick in 2009
A deadline deal in 2008, which took place at a time when Tampa was having serious ownership problems and budgetary constraints. Richards was the first big piece of that cup team to leave town, while Dan Boyle was forced out a few months later, in July. The key player going back was goaltender Mike Smith, as Tampa needed stability in goal and many around the league saw starter potential in him. Jussi Jokinen – at the time the NHL shootout king – looked like another nice piece on one of the top-two lines, and Jeff Halpern was a quality 3rd line centre at this time. Not unlike the Thornton deal mentioned in the intro, Dallas clearly got the best of this deal. Boosted by the addition of Richards', as well as strong play from Morrow, Ribeiro, and Turco, the Stars made it all the way to the Conference Finals in 2008, where they lost to the eventual Stanley Cup winning Red Wings in 6. Richards would go on to have a few very productive years in Dallas, and aid in the development of current young stars like Loui Eriksson and Jamie Benn. Meanwhile, the key pieces for Tampa are long gone – Smith struggled a bit in Tampa (though he certainly has found himself in Phoenix), and Jokinen was put on waivers in 2009 and later traded to Carolina.
(3)    Feb. 9, 2010: Dallas receives Kari Lehtonen from Atlanta for Ivan Vishnevskiy and 4th rd pick in 2010 (Ivan Telegin)
After years of waiting for the talented Finnish keeper to realize his immense potential, the Thrashers finally tired of Lehtonen's injury woes and conditioning issues, and sent him off to Big D in exchange for defenceman Ivan Vishnevski and a 4th rounder. And while the emergence of Ondrej Pavelec makes the deal a bit easier to stomach, Lehtonen has found his game in Dallas, playing two mainly injury-free seasons, and setting career bests in g.a.a and save percentage. Meanwhile, Vishnevskiy – a former late 1st round pick – has since been traded a second time, and now plays back home in Russia. The only saving grace for Atlanta – now Winnipeg – is that Ivan Telegin has considerable talent, but he's a boom-or-bust type of prospect.
(4)    Feb. 28, 2010: Dallas receives Alex Goligoski and Matt Niskanen from Pittsburgh for James Neal
The only trade on this list which is a sore spot for Stars fans. While I won't belabour the point, it's hard to ignore James Neal's resurgence in Pittsburgh, with 40 goals and 81 points last year. Granted he is playing on Evgeni Malkin's wing, but the numbers still sting. Meanwhile Goligoski struggled last season in Dallas, with only 30 points in 71 games. To add insult to injury, Matt Niskanen looked like a fringe NHLer in his last days in Dallas, but has become a fairly reliable #4/5 d-man in Pittsburgh. You win some, you lose some.
(5)    July 2, 2012: Dallas receives Derek Roy from Buffalo for Steve Ott and Adam Pardy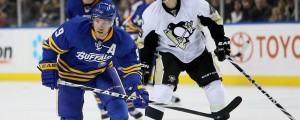 Hard to evaluate this trade yet, but if Derek Roy can get back to his 60-to-70 point form, and if the Stars can lock him up for a few more years (UFA 2013), this could be a big-time win. Fans and teammates will certainly miss Ott's grit and moxie, but having Benn and Roy up the middle would help solidify that top-6 for years to come. At this point, Pardy looks like a throw-in, as he's nothing more than a 3rd pairing d-man.
* June 22, 2012: Dallas receives Cody Eakin and a 2nd round pick from Washington for Mike Ribeiro
Not in the top-5 at this point, as Eakin is a work-in-progress, and Ribeiro was a pending UFA in 2013 anyway, but worth mentioning. We'll see how each fares over the next few years.
But that's not all – here are the two biggest trades in franchise history:
(1) December 19, 1995: Dallas receives Joe Nieuwendyk from Calgary for Corey Millen and Jarome Iginla
In contrast to the transactions listed above (save the recent deals which are too early to evaluate) – this is one of those extremely rare trades where both teams truly benefitted. At the time, Nieuwendyk wanted out of Calgary, and was actively holding out. The Flames were a strong team that was just starting to see the cracks of a once-strong foundation, and getting a young stud like Iginla set the course for their franchise and paid huge dividends down the road. (G7, 2004). Meanwhile, Dallas was a team in transition, with a pretty good core that wasn't yet complete. And though there were other important additions made in Belfour, Zubov, and Hull, Nieuwendyk was perhaps the most key of all, as he won the Conn Smythe as playoff MVP in their 1999 cup victory.
(2) June 26, 1996: Dallas receives Sergei Zubov from Pittsburgh for Kevin Hatcher
The Stars' had many important defenders around this time, including Sydor, Matvichuk, and team captain Derian Hatcher, but no one was more important to that group than Sergei Zubov. On a team that was built primarily on shut-down hockey, Zubov was the straw that stirred the drink offensively, as he led the powerplay, and brought a skill-set that was otherwise absent on the back-end. Over his career, all In sum, all he did was play in Dallas from 1996 until his retirement in 2009, collect 591 points in 892 games, earn three all-star game appearances, and retire as the highest scoring Russian defenceman in NHL history.  Meanwhile Hatcher – the elder brother of Derian, and a good, hard-nosed, two-way defenceman, was near the end of his prime, and retired in 2001.