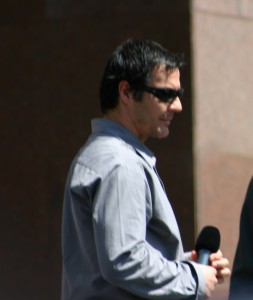 Before he was traded to the Calgary Flames in 2010, gritty defenseman Steve Staios was one of the faces of the Edmonton Oilers. After signing as a UFA in 2001, Staios was a staple on the Edmonton blueline, and his style of play made him a favorite among fans and teammates alike. Staios was the kind of player that would leave everything out on the ice. He sacrificed for the guys around him and stuck up for his mates without reservation. His hard nosed style of play took a tole on his body, as the latter part of his NHL tenure was marred by injury. He spent 7 and a half years of his 18 year career in an Oilers uniform and was part of their miraculous Stanley Cup run in 2006. He played last season with the New York Islanders.
Today, Staios officially announced his retirement as a player. But, it was also revealed that he won't be taking any time off from the game. The Toronto Maple Leafs announced that they have hired Steve Staios as a player development adviser. His role will include advising the team on prospects, as well as some scouting.
"The time is right for me and my family to step away from the game that I love to play and move on to a new chapter in my life," Staios, who turns 39 on Saturday, said in a statement. "I feel very fortunate to have the opportunity to work with Brian Burke and Dave Nonis and learn from their experience and knowledge." (USA Today)
The gritty defenseman will always fondly remember his time as an Oiler, the part of his career that was the most memorable to him.
 "When I think back on my career, I mostly think about Edmonton." [Regarding the 2006 Cup run]: "There will always be a hole in my heart that we never finished the deal." (OilersNow)
Staios said that the Maple Leafs contacted him last season regarding his post-retirement plans. He was a member of the Vancouver Canucks when current Leafs GM Brian Burke was employed there.
"Steve Staios was a working man's player — ready to play every night, competed to the best of his ability regularly against the other team's best players and he was an exemplary teammate," said Burke. "Steve has tremendous character and leadership skills and he has a bright future. This position will allow him to provide insight and analysis while developing his understanding of our hockey operations." (USA Today)
Many claim that the character players, the guys who don't get all the attention, the grinders that every team needs in their lineup to be successful, make some the best members of management. And nobody exemplified more what it meant to be one of those character guys than Steve Staios.