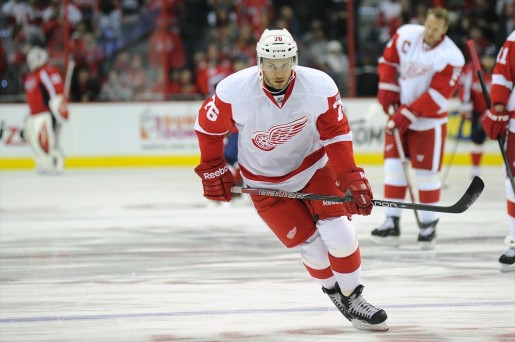 According to a report from Swedish news outlet Expressen on Wednesday, 27-year-old forward Fabian Brunnstrom has signed a three-year deal with the Frolunda Indians of the Elitserien, Sweden's top professional hockey league.
The writing was slathered all over  the wall for the once highly-coveted Swede earlier this month after Red Wings GM Ken Holland told reporters he was looking for players with qualities Brunnstrom lacked.
"I think Brunnstrom is a good player, but we need leadership, toughness down there. We're exploring the market."
Likely more upsetting to Brunnstrom than Holland's criticism of his leadership and toughness was the assertion that, if re-signed, he'd be spending his time "down there" with the team's AHL affiliate Grand Rapids Griffins, the same place he spent the majority of his 2011-12 season.
After offering quips like these to Expressen back in June, it's clear that Brunnstrom wouldn't have been satisfied with such an arrangement for another season.
"I'm quite disappointed with the number of NHL games I received. I definitely think I deserved to play in more than five NHL games."

Brunnstrom was commended for his preseason play, but when Detroit's NHL season began, he was sitting in the stands.

"I lost my rhythm a bit. Then I had to jump in and out and it wasn't easy. It was there, I felt like, and there wasn't much more."

Detroit's management had a meeting with Fabian Brunnstrom after the season.

And even then, he was praised and the club said they were happy.

"Given how they utilized me with the Red Wings, I didn't believe that they were satisfied. But they were very positive anyway and said they believed in me. They want me to come back."

What are your thoughts about that?

"I want to play for the Red Wings, of course. I'm not as interested in the AHL. We'll see."
For all his lack of interest in playing at the AHL level, Brunnstrom did little to prevent himself from winding up there. He failed to take advantage of his (limited) opportunities, quickly finding himself buried behind prospects like Gustav Nyquist and Joakim Andersson on the depth chart.
Even more damning to Brunnstrom's future was Detroit's free agent activity. After signing Nashville's Jordin Tootoo, ex-Wing Mikael Samuelsson, and Swiss star Damien Brunner it's hard to envision a way in which Brunnstrom could have risen to the NHL ranks with the Wings, barring a return to his NHL debut form that is.
Fabian was quickly rendered obscure by better and younger players in Detroit. His 1 point in 5 games and overall underwhelming and ineffective play was easily replaced, and while he performed effectively at the AHL level, the addition of new faces like Riley Sheahan and Tomas Jurco should easily fill any hole his leaving creates.
Once such a promising player, the decision to sign in Sweden likely signifies a complete lack of interest from the rest of the NHL and consequently the end of Brunnstrom's NHL career, that is if this statement from his previously mentioned June interview holds true.
"I don't feel I'm ready to return home. I want to stay abroad for as long as possible. Until the door is closed, I'll work toward it."
But he's not completely closing that door himself just yet.
"The NHL will always be the goal."
Andrew is a passionate hockey fan at heart, and has been since a very young age. Residing in Michigan, he grew up with the team he currently covers at THW, the Detroit Red Wings.