With losses to Tampa Bay and Columbus already stocked in the loss column, Wednesday night's 2-0 shutout loss to the New York Rangers shouldn't come as a surprise. Philadelphia's ninth straight regular season loss on Broadway represents their third straight loss on the current schedule. And with the Flyers following the usual script at MSG, things are getting unbearably ugly.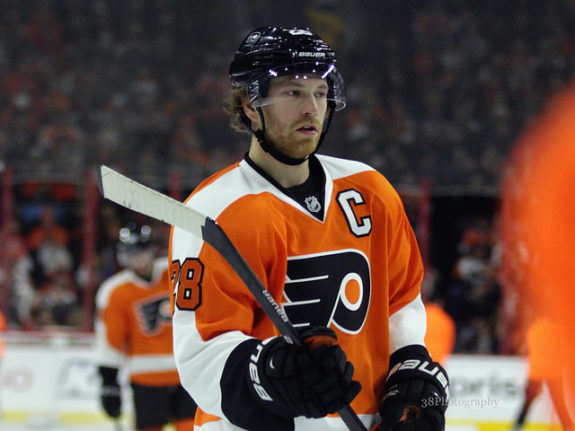 Giroux Gate & Deja Vu
In what can be classified as one of the most bizarre story lines of the young season, Claude Giroux's mysterious lower-body injury had the internet in a tizzy. The saga unofficially named, "Giroux Gate," began Monday evening after Giroux abruptly exited a fan function to be examined by doctors. What appeared to be an epic heel move – big leaguing fans by acting hurt/sick/bored – turned out to be an alleged ankle injury that would keep him out of action for a few days.
On Tuesday, the Flyers announced he would miss the team's upcoming pair of games against the Rangers and Wild, their second back-to-back in a week. That was, of course, after being declared "ok" by doctors later on Monday night. But as game time grew near on Wednesday, conflicting reports of Giroux's participation in the team's morning skate turned a confusing story into a Catch Me if You Can sequel.
For the record, Giroux did not take part in the morning skate according to several insistent Flyers beat writers.
Some weird stuff happened in the lead-up to tonight's game. Following news from the team yesterday that Claude Giroux would miss a couple of games with a lower-body injury, things weren't looking good for the Flyers' odds at ending their chances. And then some more weird news came out, we learned that Giroux may play after all, and next thing you know, Claude Giroux is not only in the lineup, he's playing almost 26 minutes of ice time (by far a season high for him). — Kurt R., Broad Street Hockey
Giroux's season high of 25:45 not only led all players on the ice on Wednesday, not named Mark Streit, it also suggests that either Giroux's tight-lipped injury was clearly not as serious as once thought, or that the Flyers are willing to gamble with their franchise player. Logic, however, leans away from the latter.
But even with the heavy workload, which showed Giroux firing four shots and winning 50 percent of his faceoffs, it wasn't enough to overcome his team's lackluster showing. The penalty kill was abysmal once again, despite killing off three of New York's four power play chances, and the Rangers made five-on-five play look like they had a man advantage for just about the entire game.
Rick Nash's power play goal in the second, which snapped a nine-game scoreless streak against the Flyers, was the carbon copy of P.K. Subban's power play goal scored against the Flyers on Saturday. And judging by Montreal's execution on that particular play, it's no wonder as to why and how the Rangers emulated Montreal's success.
WATCH: Crisp puck movement leads to Rick Nash goal, as @NYRangers lead 2-0 on #RivalryNight http://t.co/VMbrLJ4dTD

— NHL on NBC Sports (@NHLonNBCSports) November 20, 2014
The Flyers had chances of their own, even on three of their four failed power play chances. But Philadelphia's 31 shots on net weren't enough to slip one by backup goalie Cam Talbot, who earned his fourth career shutout on Wednesday.
"We know how to play hockey," said Flyers forward Jakub Voracek, who was held without a point for just the second time of the seasn, "it's just…I wouldn't say we weren't ready. We just were slow. I don't know why. I don't have the answer."
The answer may just be Madison Square Garden, or the Rangers in general. Alain Vigneault's team made an example out of Philadelphia's team speed deficiency in last season's quarterfinal, and stuck to the game plan on Wednesday.
Hextall Explodes
If the Flyers thought the final horn to end yet another disturbing outcome in New York was the end of their woeful night, they soon found out how misguided they were. And if Flyers fans watching at home were disgusted after Wednesday night's effort, they weren't alone. Enter GM Ron Hextall.
"Are you [bleeping] kidding me?" Hextall screamed, loud enough for the media waiting next door in the locker room to hear. "That's [bleeping] embarrassing! Jesus [bleeping] Christ!"

The door slammed, one final time, but not until it sounded as if a wastebasket bounced off the wall deep inside the bowels of Madison Square Garden – where the Flyers have now lost nine consecutive regular-season games. — Frank Seravalli, Philly.com
Say what you will about Hextall's choice of words, but it's hard to disagree with the emotion that drove such action. The Flyers continued to come up short in their overwhelming task of clearing pucks, and spent the better part of the night in their own zone. In other words, the only thing that's changed lately has been the number on the calendar – and oh yeah, the loss column.
"That bothered me a lot," added Hextall. "We didn't come out hungry enough. We didn't play very well. We've got to be a lot better than that. I just said I was very disappointed. Very disappointed."
Hextall teed off on team after game: "Are you [bleeping] kidding me!." He and Berube very upset w/lack of pushback, emotion, competitiveness

— Tim Panaccio (@tpanotchRET) November 20, 2014
Hextall's displeasure wasn't exclusive to the game's result. With Giroux's status in limbo leading up to Wednesday's contest, the Flyers called up prospect Scott Laughton. And even with Giroux's presence in the lineup, Laughton made his first NHL appearance since 2012.
After notching 11 points in 13 games for the Lehigh Valley Phantoms, Laughton saw only 7:00 of ice time in his first NHL game in just under two years. And for Hextall, who plucked Laughton from the AHL to play, that's a problem.
"Even in minor-midget I put up pretty big numbers," Laughton said earlier on Wednesday. "I always thought of myself as an offensive guy. I think my defensive game kind of took over during the draft and stuff like that and people thought I was only defense. I think I bring a little offense to the table. I'm definitely gonna try and show that. It's a 200-foot game and I'm gonna try and show that."
Scott Laughton's ice time through two periods: 3:49. Yep, I'd say that's exactly what Ron Hextall doesn't want.

— Frank Seravalli (@frank_seravalli) November 20, 2014
Judging from his video game-like numbers throughout his time in the OHL (132 points in 176 games), it's not a matter of "if," but "when" Laughton will display his offensive skill set. But with Giroux in the lineup, Laughton's role was minimized as he was pushed to the fourth line, which was still surprising.
With patience running thin with Vinny Lecavalier and R.J. Umberger, justifying their ice time over players like Pierre-Edouard Bellemare, and Laughton himself (on Wednesday), is becoming a task that even the shrewdest political strategist would find difficulty in. Both Lecavalier and Umberger turned in over 15:00 of ice time, while Bellemare and Laughton failed to eclipse 10:00.
Not exactly what Hextall envisioned when he pulled the trigger on bringing up the 2012 first-round draft pick. Especially with the GM's adamant philosophy on player development. But even with Laughton's youth as part of the equation, the real question is, how much longer is head coach Craig Berube, and/or Hextall, willing to stick with the veteran forwards who carry hefty cap hits respectively?
The Tidbits Script at MSG
The Flyers may have thought they were catching a break when the Rangers announced they'd start backup goalie Cam Talbot for Wednesday's matchup. After all, Henrik Lundqvist is 27-13-3 all-time against the Flyers in the regular season. Talbot's 31-save performance on NBCSN's Rivalry Night, though, left the Flyers re-evaluating their thinking.
The Flyers have now been shutout twice on the season, both coming against backup goalies. Chicago's Antti Raanta blanked the Flyers on Oct. 21st for his lone win to date on the season. And with Columbus' Curtis McElhinney downing the Flyers last week in Philadelphia, the orange and black are once again struggling to beat understudies throughout the league.
Here are some of the backup netminders who beat the Flyers last season: Curtis McElhinney, Philipp Grubauer, Justin Peters, Antti Raanta, Dan Ellis, Carter Hutton and Thomas Greiss. Heck, Anders Lindback picked up three victories for Tampa against the Orange and Black in 2013-14. — Tim Riday, CSN Philly
I see the Rangers did their homework. Backup goalies are the Flyers' kryptonite. Cam Talbot in net tomorrow night.

— Tim Riday (@TimRiday) November 18, 2014
And another backup goalie gets a shutout against the #Flyers. Wonder why teams bother starting their #1 goalie against this team. #painful

— Luke Smylie (@Smylie98) November 20, 2014
The Flyers wore their orange alternate sweaters on Wednesday night, despite playing on the road. You have to admit, though, it was a bold strategy. The "new" alternates, which are the 2012 Winter Classic sweaters without the patch, treated them as well against the Rangers on Wednesday night as they did in the very Winter Classic game the Rangers beat them in. Perhaps they were banking on getting at least a single point in the midst of their mini-losing streak since they dropped the 2012 Classic in a 3-2 shootout.
https://twitter.com/mikeoconnell596/status/535231127620182017
Since returning from a lower-body injury on Nov. 11th against Colorado, it's been a rough stretch for defenseman Braydon Coburn. In four games, including his last three since returning, Coburn is scoreless with a minus-two rating. That's actually surprising since Coburn was on the ice for each and every power play goal against throughout their last nine penalty kills.
Add in crashing into goalie Steve Mason on Wednesday night, leaving the goaltender "head hurt," and Coburn could easily be the poster child for a Southwest Airlines add campaign. Wanna get away?
https://twitter.com/ReluctantSE/status/535256743086141441
Michael Del Zotto's return to MSG since being dealt to the Nashville Predators last season didn't exactly turn out how he would've liked. The surprising defenseman snapped a nine-game streak of recording a positive, or even-rating. Del Zotto's minus-one rating came in a game he was unable to finish, though, leaving the game in the third period due to injury.
Given Philadelphia's recent luck with defenseman, the loss of Del Zotto for Thursday's game against Minnesota merely adds to the storm. The less than ideal situation could force either Luke Schenn, or Andrew MacDonald, to return to the lineup, even if they're not completely "ready."
https://twitter.com/BarstoolJordie/status/535267544119402497
The Flyers will honor Eric Lindros and John LeClair on Thursday night, inducting two-thirds of the Legion of Doom line from the 1990's into the Flyers Hall of Fame before their showdown against the Wild. With the two legends in the building, current Flyers and fans alike, are excited for the occasion.
"Always loved watching the Legion of Doom," said Wayne Simmonds. "Those two and Mikael Renberg played the power game to perfection, and I always looked up to them. I even have an autographed John LeClair poster in my basement right now."
Angry Hextall, Lindros/LeClair reunion, heard Zombie by the Cranberries & Everything Zen by Bush back to back on Pandora #toomuch90s #Flyers

— Anthony Mingioni (@AnthonyMingioni) November 20, 2014
Perhaps the presence of greatness will inspire the current squad. Right about now, it's the best strategy to go with.