The Philadelphia Flyers are very excited about their young goaltender Carter Hart, and for good reason. The 22-year-old has already compiled two impressive seasons, and has the potential to develop into one of the league's top netminders.
The growing interest in Hart will cause has backup, Brian Elliott, to fade into the background. Nonetheless, the now 35-year-old Elliott was once, too, a young star with much potential.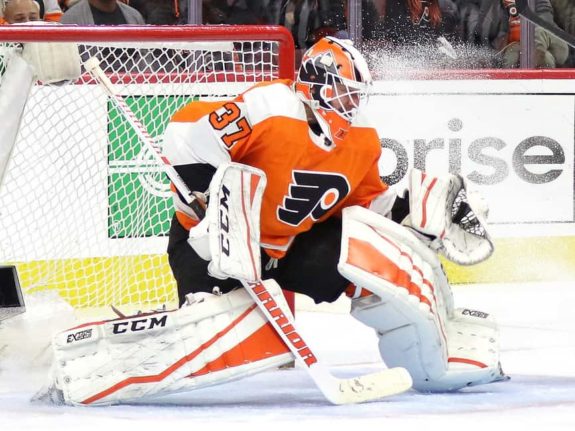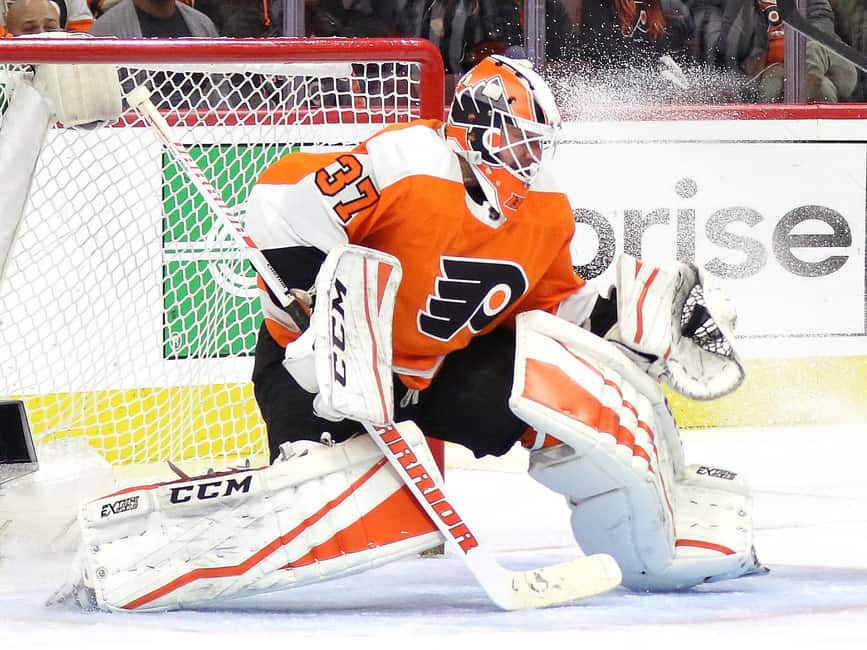 In fact, his 2011-12 campaign was one for the ages. While playing for the St. Louis Blues that season, Elliott amassed an NHL-best .940 save percentage (SV%) and 1.56 goals against average (GAA). He also tallied nine shutouts, one less than league-leader Jonathan Quick. A dive into these statistics will show just how remarkable they truly were.
In the Record Books
An important disclaimer is that Elliott appeared in only 38 games that season. This was because the Blues employed a timeshare between him and Jaroslav Halak. Regardless, the 38 games played were enough to qualify him for the league leader boards. Hockey References requires that a goaltender play in at least 31.25% of a team's games to qualify, and Elliott was well above that rate.
Disclaimer aside, Elliott's .940 SV% and 1.56 GAA that season are among the best results all time. In fact, only one goalie ever recorded a higher SV% in a single season. That was Jacques Plante with a .944 SV% back in 1970-71.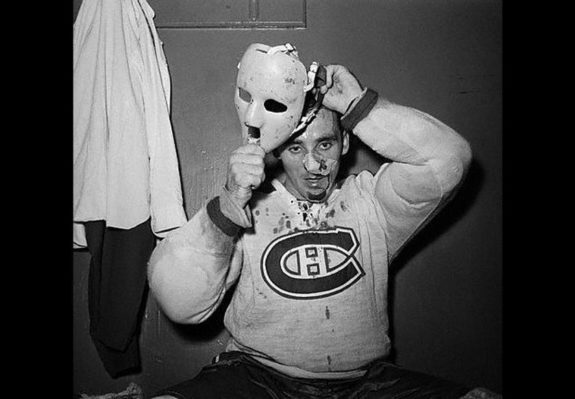 Meanwhile, Elliott's 1.56 GAA is tied for 19th best in NHL history. If that doesn't sound impressive, consider that the 18 goaltenders above him all played in the 1920s or 1930s. That means it had been over 70 years since any goalie recorded such an impressive GAA.
Even Elliott's nine shutouts that season helped him etch a place in NHL history. Together with Halak, the duo combined for 15 shutouts. That is a modern-era NHL record. During one stretch, Elliott compiled a shutout streak of 241 minutes and 33 seconds. That is a Blues franchise record and also 15th best in NHL history.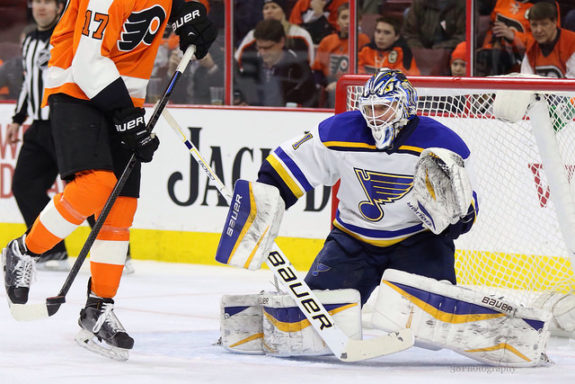 Since this historic season, not many goalies have come close to matching that SV% or GAA. Only Craig Anderson (in 2012-13) has since topped a .940 SV%. Meanwhile, no goalie has since topped a 1.60 GAA.
For his efforts in 2011-12, Elliott was selected to the 2012 NHL All-Star Game, one of two career appearances. He was also fifth in Vezina Trophy voting, which was impressive given that he appeared in under half his team's games. Perhaps the greatest honor was that he and Halak jointly earned the Jennings Trophy. That award is given to the goaltender(s) that played at least 25 games and whose team conceded the fewest regular-season goals.
Brian Elliott in Present Day
It's been a while since that historic season. For the most part, Elliott played well in the years following, and even made it to the 2015 NHL All-Star Game. He spent a few more seasons in St. Louis, before one in Calgary and the past three in Philadelphia. This past summer, the Flyers re-signed him to a one-year contract extension.
Throughout his journey, he has oscillated between starting, playing in a timeshare and more recently, being a backup. Given where he's at in his career, and the emergence of Hart, he will surely be a backup in 2020-21.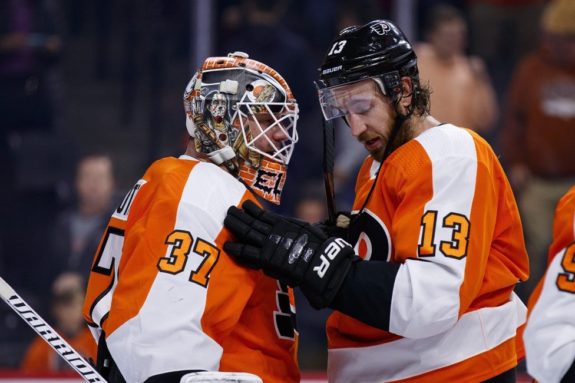 Last season, Elliott recorded a .899 SV% and 2.87 GAA. Though still respectable, these numbers were well-below his career-average .912 SV% and 2.50 GAA. It is unlikely that he will play at that level again. Regardless, he is still a welcome re-addition in Philadelphia.
Though he should provide decent production, his biggest contribution will be his continuing mentorship of Hart. Elliott is a 13-year veteran and can certainly teach a thing or two. Though he may not record another historic season, he just might help his promising teammate do so one day.
---
---