With hockey north of the border still awaiting its start date for most leagues, hockey in Europe is well underway with a number of Toronto Maple Leafs' prospects getting their reps for their respective teams.
On a weekly basis, we'll continue to check in with some of the team's top prospects as we travel down the pipeline to see what the Maple Leafs have coming in the near (or far) future.
With that, here are a few of the Maple Leafs' young players making headlines overseas this week.
Chebykin Stays Overseas
Nikolai Chebykin, a seventh-round pick for the Maple Leafs in 2016 who remains unsigned by the team, has signed a contract overseas. The young prospect signed a two-year deal with Dynamo Krasnogorsk of the VHL after starting with Chelmet Chelyabinsk – a contract that will take him until the age of 25.
Chebykin, who has the size to be a force on the ice, doesn't have a lot of upside when it comes to cracking an NHL roster and is rarely mentioned when discussing the team's prospects. That said, he has started the season off on the right foot in the VHL.
Related: Maple Leafs' Prospect Report – Ovchinnikov, Abramov Taking Steps in Development
In four games this season with Chelmet, he has three assists, including a two-assist performance in a 4-2 win over his new team Dynamo on Nov. 3. In his last couple of games, he saw an increase of ice-time of more than five minutes from his previous game and because of it had two scoring chances in his most recent match on Nov. 5 against Yugra.
Still, his ceiling isn't the highest and with what the Maple Leafs have in the pipeline it's unlikely we see Chebykin make the move to North America, even after his new contract expires in two seasons.
2020-21 Stats:
Chelmet Chelyabinsk (VHL) | 4 GP | 0 G | 3 A | 3 PTS | 4 PIM | +2
Dynamo Krasnogorsk (VHL) | 0 GP | 0 G | 0 A | 0 PTS | 0 PIM | +/- 0
Kara Demoted to VHL
Sticking with the VHL, another Maple Leafs' prospect saw himself demoted to Molot-Prikamie Perm after starting the season with Severstal Cherepovets of the KHL. Vladislav Kara, a 22-year-old winger that the Maple Leafs drafted in the fourth round in 2017, started the year in the KHL with two assists in his first game of the season, but has since only tallied one goal in his last 16 games.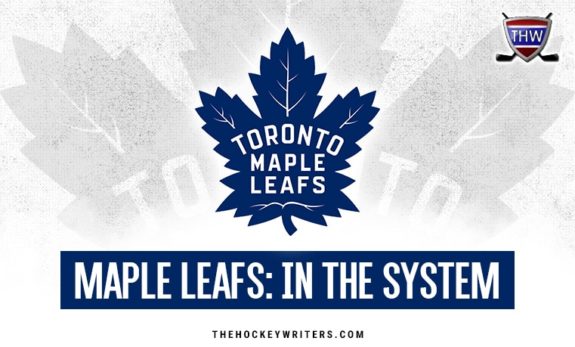 In fact, he went 14 straight games without a point and saw his ice-time decrease to the 10 to 11-minute range and even played a season-low 8:59 on Oct. 23 against Metallurg.
Kara did have 21 points in 25 games last season in the VHL with Bars Kazan, so the ability is there. Whether the circumstances surrounding this season are playing into his slow start or not, Kara will have to get things going again in the VHL if he wants to jump back up to Russia's top league.
When it comes to where he stands with the Maple Leafs, Kara remains unsigned and sits quite low on the team's depth chart. Don't expect to see him in a Maple Leafs' uniform, however, we will keep an eye on his play moving forward.
2020-21 Stats:
Severstal Cherepovets (KHL) | 17 GP | 1 G | 2 A | 3 PTS | 0 PIM | -2
Molot-Prikamie Perm (VHL) | 0 GP | 0 G | 0 A | 0 PTS | 0 PIM | +/- 0
Mac on Full Attack
Finally, as we've seen there are a number of North American players being loaned to European clubs – including Maple Leafs' defensive prospect Mac Hollowell. Hollowell joined TuTo Hockey in Finland's second tier league, Mestis.
While he was held pointless in his debut, he did have a scoring chance and is averaging 4.7 shot attempts over his first three games with his Finnish club. He followed that up with a two-goal and three-point performance in his second game and played 22 minutes in a 5-4 loss.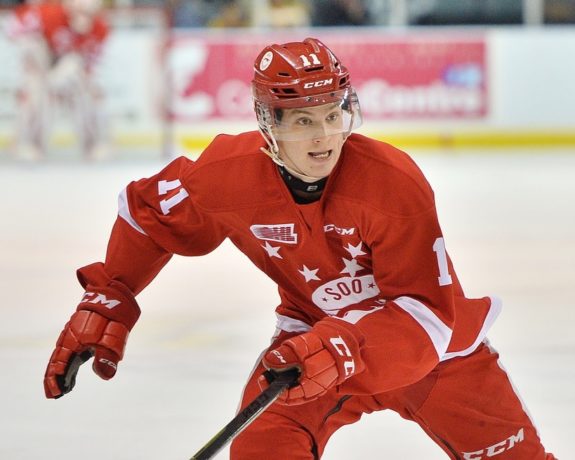 He has a 57 percent shot-on-goal percentage and has earned ice-time both on the power play and penalty kill for TuTo and while the 22-year-old prospect isn't the biggest on the ice, he has joined in on the physical play as well averaging 0.67 hits per game.
He might not be a top-three defensive prospect for the Maple Leafs, but his taking to the European league could help with his development, especially with guys like Timothy Liljegren and Rasmus Sandin not currently playing overseas.
2020-21 Stats:
TuTo Hockey (Mestis) | 3 GP | 2 G | 1 A | 3 PTS | 6 PIM | -1
While we await the start of North American leagues, we'll continue to check in with some of the Maple Leafs' prospects playing over in Europe as they continue their respective seasons and try to work their way up the Maple Leafs' pipeline.
All stats were provided by InStat Hockey.
---
---