The Philadelphia Flyers sit at 18-15-7 for a total of 43 points. That mark places them sixth within the Metropolitan Division and sixth in the hunt for a wild card playoff spot. However, the good news is that the Metropolitan has become the "Washington Capitals and everyone else division" and the Atlantic division while closer, still remains wide open.
Here's a look at the Metropolitan division standings.
Philadelphia's -17 goal differential isn't encouraging, but they're just six points out of second or third place, which results in a playoff berth. Add-on that the Flyers just took down the New York Islanders 4-0 handily for their third win in a row, and things aren't so grim for Philadelphia.
In their last three games, they've outscored opponents by 12-6. There's no better time for the Flyers to hit their stride than the stretch they're about to enter.
Philadelphia Flyers Eastern Division Stretch
Their win against the Islanders was the first of a 10 game stretch against Eastern conference teams. Five of those contests are against Metropolitan division rivals and they play five more games against division opponents in the first half of February.
For a lack of better words, this stretch could make, or break, the Flyers season. There are two ways this can go for Philadelphia, they thrive, beat opponents and climb the standings or the status quo remains.
Head coach Dave Hakstol spoke after the game and had this to say about their upcoming stretch.
Yeah every two points, it sounds like a broken record right, but it's true, every game is pretty important for us.  These games happen to be against eastern conference teams.  I said it the other day, our long term focus is between now and the four day all-star break.  That's long term and short term is just what you saw today, one game, two points at a time.
Hakstol has got the right mindset, every point of every game counts. If the Flyers don't excel and perform well over the next month they'll become sellers at the trade deadline.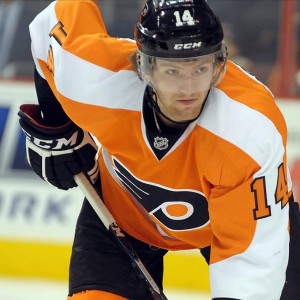 General manager Ron Hextall has done some great work and recently did the seemingly impossible feat of trading Vincent Lecavalier and his huge contract. However, next season both Jakub Voracek and Sean Couturier enter new contracts with significant raises. These two alone will account for $6,583,333 more against the salary cap and at this time the Flyers only have $4,112,501 in cap space.
The salary cap should continue to climb, but that six and half million mark is just enough to account for their new contracts, leaving zero room for their own free agents or those from around the league.
Of course, Luke Schenn's and Lecavalier's cap hits will come off of their books next season, but the point is that Hextall will have to clear more cap space. He'd love to get someone to take Andrew MacDonald and his $5 million cap hit, but that's extremely unlikely. That leaves only one option, trading players and it becomes a question of who to trade and when to do it.
This is why the next month is crucial for the Flyers. They risk losing valuable teammates if they underperform because while the playoffs would be considered a success this team isn't competing for the Stanley Cup this season. They're simply not good enough in all phases to be a serious contender.
The burden now falls on Hakstol and his players to decide what they want the narrative of the season to be. Will it be a surprising playoff berth or another lost season filled with trading players for draft assets? Only time will tell and their fate is in their own hands.
Thanks for reading! Feel free to leave your comments below or tweet me anytime @MPityk_PHI