Superstar winger Jake Voracek has been sidelined for 5 games now with the elusive "lower-body injury" tag. However, that hasn't stopped the Philadelphia Flyers from inching closer and closer to a wildcard playoff spot in the Eastern Conference.
The Flyers have gone 4-1 in their star's absence from the lineup, and minus their one hiccup of a loss, a 4-0 shutout at the hands of the Edmonton Oilers, the Flyers have been winning pretty convincingly, too. They have been averaging 4.75 goals per game in their four wins without Voracek.
In fact, over their last ten games the Flyers as a team are averaging 3.6 goals per in which they have a 7-2-1 record to show for it. Also, through these last ten games they haven't had the services of one or either of their top two centers in Claude Giroux  and Sean Couturier, who both missed three games a piece.
So what does this say about the Philadelphia Flyers heading down the stretch? It's proved they are now capable of putting up wins despite losses to key players. As a result, they now find themselves two points out of the 2nd wildcard and three out of the first wildcard.
with det, pit regulation losses —
phi 3 pts. behind pit, 2 pts. behind det w/ a game-in-hand on both. phi still doesn't play until friday.

— collin mehalick (@collin) March 9, 2016
The key factor for this Flyers team right now is their depth on forward. Sam Gagner has been thrust into a top six role over the last 10 games due to the multiple injuries and has four goals over that span. Also, Dave Hakstol's decision to place Scott Laughton on the wing has been paying major dividends. The former first-round pick in 2012 has seven points over his last nine games to show for it.
The list goes on, players that weren't producing in the first half of the season are beginning to turn it on at the most important time of the season. Michael Raffl has been producing at a point-per-game clip over his last nine games. Nick Cousins has seven points in his last nine, and not to mention Claude Giroux has been playing like the superstar the NHL has been accustomed to seeing during his career with 11 points in his last seven games (two goals, nine assists).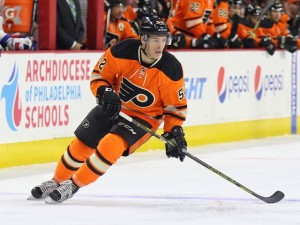 Grasping The System
Another aspect of their recent surge that seems to go unnoticed is the Flyers forwards finally beginning to fully grasp rookie head coach Dave Hakstol's attack-style system.
They no longer have to go out there and think about what they have to do anymore, it's becoming second nature to the players and team is seeing the fruits of their labor.
Right now the Flyers just need to continue what they're doing. They are coming at teams in waves with relentless forechecking, resulting in prolonged offensive-zone time. Even in the two games they've lost in regulation over the last 10 they have been dominating in the offensive-zone, only to run into great goaltending on those nights.
They may have dug themselves too deep of a hole in the standings, but this is what a playoff team looks like, Philadelphia.

— Charlie O'Connor (@charlieo_conn) March 8, 2016
The weekend ahead will make or break this Flyers season. They have a rematch with the Tampa Bay Lightning Friday night, after a dominating 4-2 win over them on Monday. Then they're right back in action against the Florida Panthers on Saturday.
They also have good news coming down the pipe, it seems as though Jakub Voracek could be back into the lineup as early as next Tuesday night against the Detroit Red Wings, the team directly above them right now in the standings.
Voracek's slated return? Next week vs Detroit, says Hextall

— Tim Panaccio (@tpanotchRET) March 9, 2016
However, right now for the Flyers, the playoffs have most certainly already begun.
% chance of playoffs, per https://t.co/XlhcSNBg9e —
pit: 81%, down from 86%
det: 63%, down from 72%
phi: 53%, up from 51%

— collin mehalick (@collin) March 9, 2016
Can't get enough hockey? Want to talk about it with our writers, and fellow fans? Join The Hockey Writers Group on Facebook today for the best hockey conversations on the web!
* Featured Image by Amy Irvin / The Hockey Writers *