The Philadelphia Flyers are beginning their attempts to find a new identity for this team moving forward. They hold a mixture of veteran players leading this roster in terms of their goals as a group and younger players still looking to find where they fit within the organization and the league itself. Morgan Frost signed a one-year contract in July 2022, meaning this season was going to be highly significant for his future with the Flyers, and from what we've seen, he may finally be on his way to securing a long-term deal.
Frost's Pre-NHL Draft Days
Frost put on an awe-inspiring performance in his four years with the Sault Ste. Marie Greyhounds of the Ontario Hockey League. Selected back in the 2015 OHL Draft, he had a good start in his first two years with the team, with 27 points in 65 games in the 2015-16 regular season and then 62 points in 67 games in 2016-17. Not only did the Greyhounds visit the OHL playoffs in all four seasons, but Frost also made the OHL First All-Star Team in 2017-18 and 2018-19.
---
Latest News & Highlights
---
The young forward saw many achievements in the OHL, but two seasons stand out. In 2017-18, he recorded a career-high in points with 112 (42 goals, 70 assists) in 67 games. Although he never surpassed that record, he accomplished another impressive total of 109 points (37 goals, 72 assists) in 58 games during the 2018-2019 season. Aside from two incredibly productive campaigns, he also had great playoff numbers in both seasons and began being described as "an intelligent player who can make quick decisions with or without the puck" and "arguably the fastest rising NHL prospect" by Dobber Prospects in 2018.
He also appeared in the 2019-20 IIHF World Junior Championship representing Team Canada, leading the team in scoring, but they unfortunately lost to Finland in the quarter-finals 2-1.
Frost With the Flyers
Frost was drafted in the 2017 NHL Draft, where he went in the first round, 27th overall. His first season was short and sweet, playing in just 20 games with the Flyers in 2019-20 after being recalled from the Lehigh Valley Phantoms in November 2019. Although he only produced seven points, Frost played with Claude Giroux, the Flyers' former captain at the time, and did well contending beside one of the team's top performers.
In 2021-22, the team saw their first authentic taste of what No. 48 could do. Frost moved up and down throughout the season between the Phantoms and the Flyers; his initial recall came after an injury to forward Derick Brassard. Playing a total of 55 games, he managed 16 points (5 goals, 11 assists) with the team and played 24 games with 19 points (6 goals, 13 assists) for the Phantoms.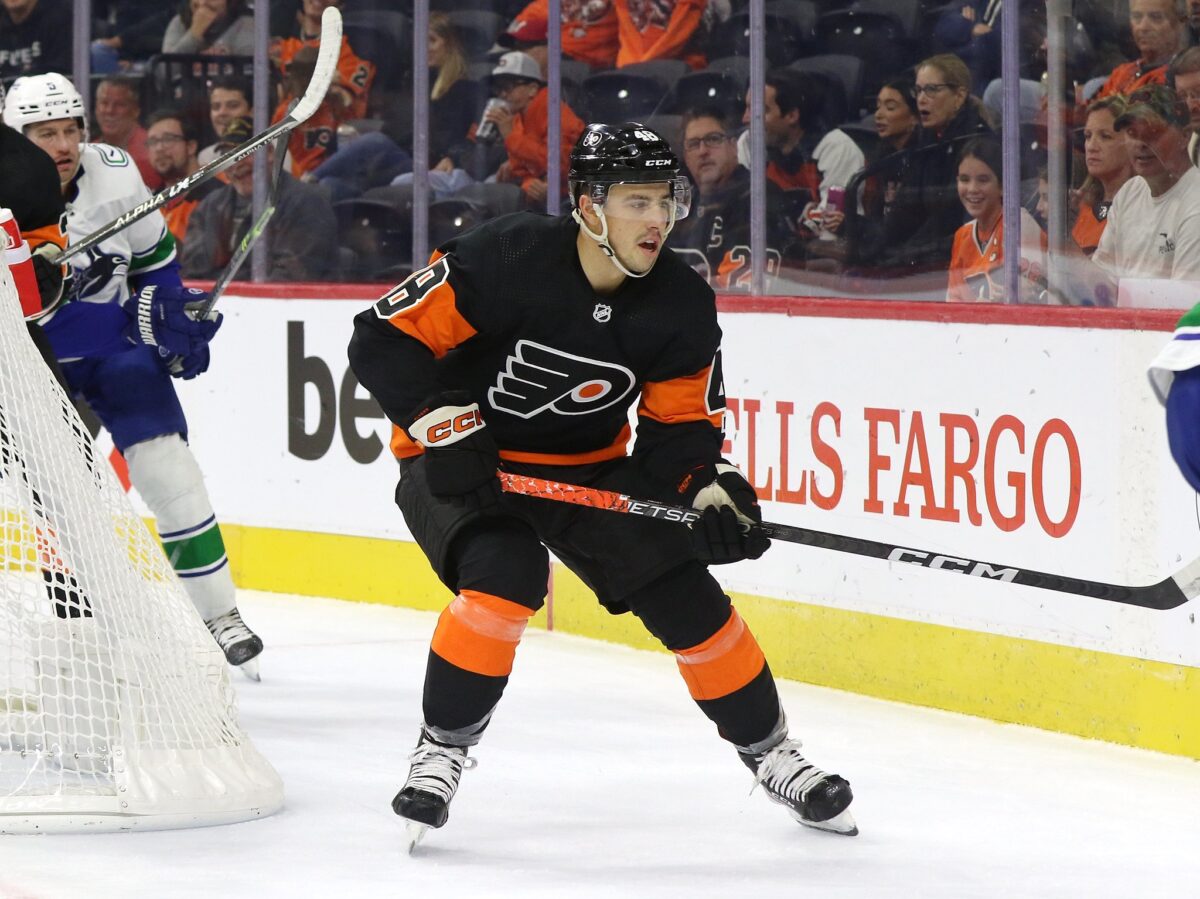 After signing a one-year contract extension worth $800,00 in July of 2022, it's no mystery that this season was crucial for Frost and maybe a last chance to prove he's capable of playing at a professional NHL level of the game. "It's probably the biggest year of my career," Frost said back in October, acknowledging the importance of his performance in the 2022-23 season.
So far, Frost is having the best season of his career, and that's precisely what he needed to do. With 24 points (10 goals, 14 assists) in 48 points just past the midway point of the season, the 23-year-old forward has been consistently centering Owen Tippett and James Van Riemsdyk on the third line, but the trio has seen their time as the top line as well.
What's In Store for Frost's Future
Frost will come out of this season as a restricted free agent, but if he continues to prove himself in the remainder of the campaign, I don't think it's wrong to say that the forward may be on track to a possible long-term contract with the Flyers. He's a part of a young group of developing players who are all looking to find their fit not only as a part of the team but playing a high-performing professional level the NHL presents. Frost may be the critical piece in those players who are finally taking the reigns and finding their identity.
As Frost looks more confident in his game, head coach John Tortorella seems to agree. He commented in a statement on Jan. 5 prior to their game against the Arizona Coyotes saying, "From a coach's point of view, I just think he's fighting harder for pucks. That's the part of the game that he needs to continue to work at" (from 'What do Flyers have in Morgan Frost? 'Those are the things he has to learn," The Athletic, 1/9/23).
However, if the Flyers do sign Frost to a long-term contract at the end of the season, this could not only build confidence in the young 23-year-old but also help benefit the Flyers offensively. Sitting on a line with a quickly developing player such as Tippett and a 14-season NHL veteran such as van Riemsdyk brings depth to the unit. You have one guy who can handle the pressure against the top-of-the-league teams that can help Frost and Tippett find success against those teams, and Frost has to agree.
Related: 4 Flyers With the Potential For a Big Second Half in 2022-23
In an interview with Flyers Nitty Gritty, he was asked if his linemate's style was helpful in his play style; he replied: "Yeah, I've been pretty adamant about that. I really enjoy playing with those guys. I think I've said it before, our three skill sets complement each other very well. They're all very different, and I think we get a little bit of everything there. They're really special players, so I'm thankful to be able to play with them."
Frost has a strong build, can secure the puck in the faceoff circle, and has the quick playmaking abilities necessary for the team to succeed. In the past five games, he has two goals and two assists, including a one-of-a-kind goal passing the puck between his legs to go top shelf against Anthony Stolarz of the Anaheim Ducks on Jan. 17.
Hopefully, Frost continues to further develop, stay on pace and put up more numbers through the remainder of the season. If he does, he'll be rewarded with a long-term deal from the organization.
---
---