The 2016 trade deadline has come and gone. Ron Hextall and company have chosen to stand pat by not selling off valuable veteran pieces to contending teams like they did at last year's deadline. So what does this say about the 2016 Philadelphia Flyers vs. the 2015 Philadelphia Flyers. This season, like last, the Flyers are on the cusp of a playoff spot (three points out of final spot) yet last season Hextall chose to get valuable draft pick assets for a couple of his veteran defensemen in Kimmo Timonen and Braydon Coburn, so why not this season?
The choice to sell those parts to contending teams got the Flyers quite the haul in return. They ended up receiving two second-round draft choices for Kimmo Timonen, who hadn't stepped foot on the ice last season prior to the trade, as well as first and third round draft picks along with Radko Gudas in exchange for Braydon Coburn.
Those deals turned out to be essential pieces in the overhauling of this Flyers organization. The picks gained from Chicago and Tampa Bay allowed the Flyers to move up into the first round to pick number 24 and select what looks to be one of the steals of the entire 2015 draft class, dynamic forward Travis Konecny.
Travis Konecny: Future Star?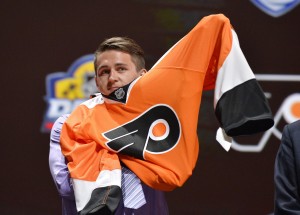 Konecny, 19, is having himself quite the year, making scouts and general managers around the league scratch their heads and wonder how they let this kid fall all the way to the 24th pick of the draft. All Konecny has done this season is score 25 goals and dish out 63 assists for a whopping 89 points in only 54 games played.
That's good for sixth in the entire OHL, behind only the likes of a few over-aged players and a couple of top three draft selections from the 2015 class. Needless-to-say the Flyers look like they have found themselves quite the diamond in the rough for what turned out be the 24th pick in the 2015 draft. The future certainly looks bright for the Philadelphia Flyers.
All Shayne Gostisbehere is doing is setting the bar high for when Travis Konecny, Ivan Provorov and Travis Sanheim arrive in Philly.

— Tim Riday (@TimRiday) February 12, 2016
Can This Team Make A Playoff Push?
So why do nothing this trade deadline? Perhaps Ron Hextall feels this team has what it takes under rookie head coach Dave Hakstol to confidently make a push into the playoffs. At times the team this year has gone on runs that made you believe they were good enough to compete against any team in the league. Then, at times, perhaps due to injuries to key players, they would often find themselves in slumps that would make you believe they were destined for a top five draft pick this summer.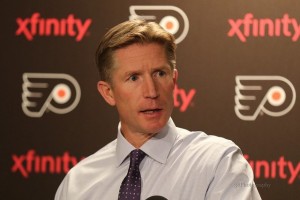 Regardless, injuries or not, which all teams have to deal with, playoff teams avoid lengthy slumps and are able to string together multiple four-six game winning streaks at a time. Those kind of streaks are what distances great teams from the rest of the pack.
There's no doubt the Flyers have struggled mightily when Sean Couturier has been out of the lineup, they are just 4-9-5 when he doesn't suit up.
Like dominoes, once one key player comes back from injury another goes down. They got Couturier back last week but then lost captain Claude Giroux for a couple games, then they got Giroux back and now superstar Jake Voracek will miss a reported two weeks.
Hexy says others will have to step up for Voracek.

— Sam Carchidi (@BroadStBull) February 29, 2016
For this team to make the playoffs they will have to continue their recent play of late. They have won five of their last seven games, grabbing points in six of those seven. They have done this with consistent offense throughout the lineup. Brayden Schenn and Wayne Simmonds have been leading the charge in goal scoring as of late, with 21 and 23 goals on the season, respectively.
Also, the emergence of Scott Laughton and Nick Cousins as viable components to a third scoring line has done wonders for this team. Their ages of 21 and 22, respectively, makes things even brighter for this organization going forward.
 
* Featured image provided by Amy Irvin / The Hockey Writers
Glen Stricker is a Temple University graduate with a degree in Media & Communication. He is the Lead Writer for the Philadelphia Flyers for The Hockey Writers as well as the social media coordinator and contributor for @PHLFlyersNation