Philadelphia Flyers general manager Chuck Fletcher has a unique contract negotiation on his hands this offseason. How do you determine the value of a young player who hasn't suited up in 18 months? That's the situation for 22-year-old center Nolan Patrick, once a top prospect, who missed the entire 2019-20 season with chronic migraines.
Related: Line of the TImes – Legion of Doom
The Flyers selected Patrick with the second-overall pick in the 2017 NHL Draft, behind Nico Hischier. His first two seasons with Philadelphia were solid, but not on par with what teams expect from high picks. It should be noted, he missed most of his draft year with a hernia, so an adjustment period was expected as he got his strength back against NHL competition. Patrick produced almost identical numbers in his first two seasons, posting 13 goals and 30 points as a rookie, then matching that goal total with 31 points in 2018-19.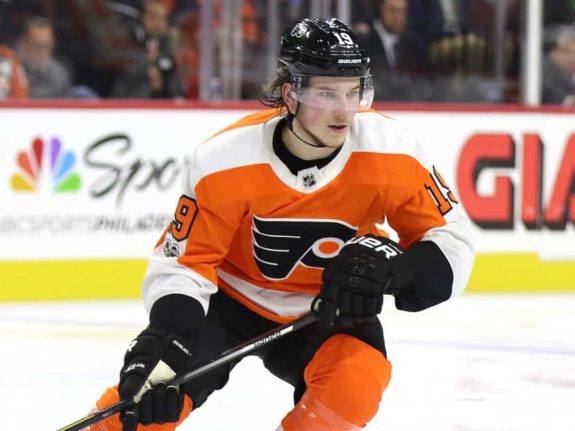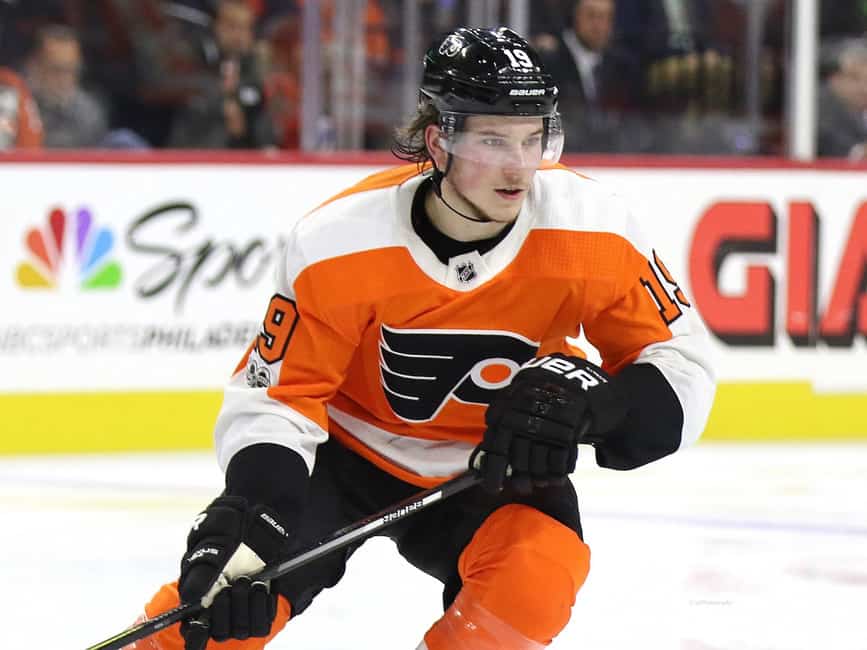 Had Patrick remained healthy, this would likely have been his breakout season. Most players start to hit their stride in their third or fourth NHL season. Very few are able to dominate right away. However, Patrick was diagnosed with a migraine disorder during last year's training camp. Speaking from experience, migraines cause extreme sensitivity to light and worsen with movement, so trying to play hockey was out of the question. He was originally labelled week-to-week, but the pain didn't improve and it became a lost season.
"Nolan's feeling better. He's skating. He's working out. He's golfing. He's living mostly a normal life. I think he's made a lot of progress since March. Until we get him back and get him into a contact situation, it's probably going to be hard to know exactly when he'll be ready to go."

Chuck Fletcher
He was still credited with a year of service, so his entry-level contract (ELC) is up. Fletcher said he believes Patrick will play at some point in 2020-21, although that could be rooted in hope more than reality.
Patrick's Comparables: Mattias Janmark
It's hard to find comparables for Patrick. The closest would be Dallas Stars forward Mattias Janmark who missed the entire 2016-17 season with a knee injury. His two-year ELC, which had paid him worth an average annual value of $800,000, expired that summer. The Stars took a cautious approach, inking Janmark to a one-year deal worth $700,000. He rebounded with 19 goals and 34 points the next season and earned himself a $2.3 million extension.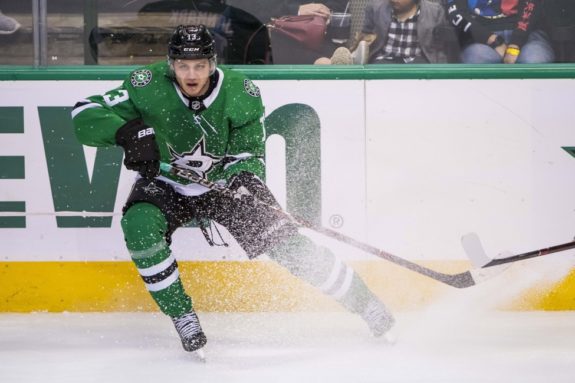 Janmark was 25 at the time and projected to be a role player without Patrick's scoring potential, so he isn't a great comparable. However, he did put up similar offensive numbers before and after his lost season. A migraine disorder is also harder to predict than recovery from knee injury.
Patrick's contract will come down to whether he and the Flyers play it safe with a one-year deal or go for something longer. It's hard to see either side wanting to lock in for longer than three seasons. Patrick's camp knows his value is at its lowest right now, and he could earn more in the future with a healthy breakout season. Philadelphia, meanwhile, won't want to commit term to a player whose future is so uncertain.
Looking to Lindblom's New Deal?
Regardless of the term, Patrick's agents at Octagon Hockey will draw on his first two NHL seasons to try to get the best deal. They should point to the three-year, $9 million extension teammate Oskar Lindblom got in July. Lindblom missed most of the season after a bone cancer diagnosis in December and returned for the Flyers' last two playoff games. He also had similar numbers to Patrick in 2018-19, with 17 goals and 33 points.
The Flyers would argue, however, that there are significant differences in their situations. Lindblom produced 11 goals and 18 points in 30 games last fall before his diagnosis. That's more recent and tangible than anything Patrick's camp can claim. The Swedish winger was also declared cancer-free a few weeks before signing his deal. Cancer can return, but there's more short-term certainty with Lindblom than Patrick. By all indications, Lindblom will be a productive middle-six winger for the next three seasons.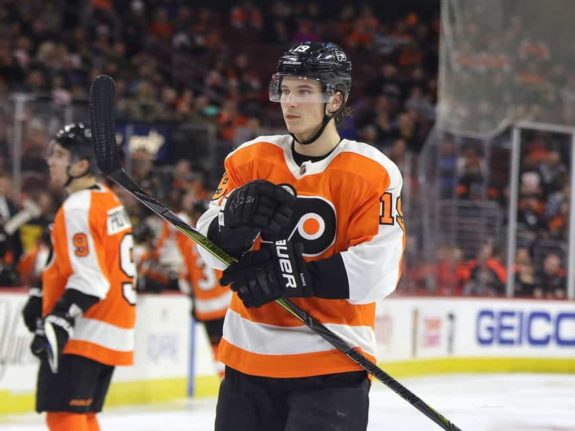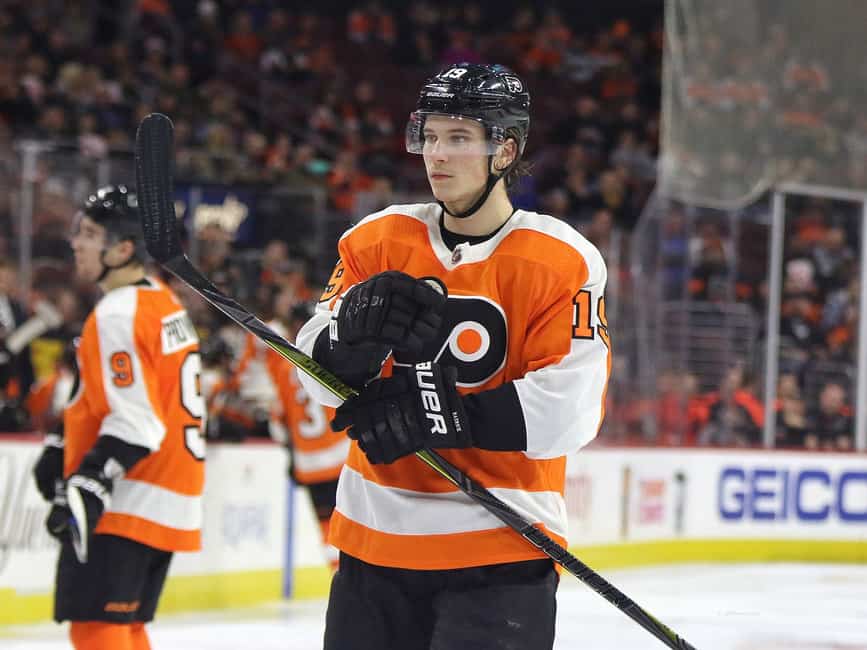 When it comes down to dollars and cents, throwing his draft pedigree out the window, what should Patrick be paid? If both sides pursue a one-year deal, then somewhere around $1.5 million seems right; it recognizes his modest offensive numbers as a rookie and sophomore, without much risk for the Flyers. Patrick could bet on himself and earn a better extension with term, or if migraines keep him off the ice again, he can be placed on long-term injury reserve and not count against the cap.
If Fletcher wants to avoid the possibility of paying Patrick much more next summer when Carter Hart and Travis Sanheim become restricted free agents, he could offer Patrick a two- or three-year deal at a higher AAV. A cap hit of $2 million seems reasonable for three years, which gives Patrick a little more than he's earned, while also protecting the Flyers from paying him a significant raise in the near future.
Flyers Have All the Leverage
Regardless of the term, keep in mind that Patrick has little to no leverage here. He's not eligible for arbitration, and with nothing to show for the 2019-20 season, there won't be much wiggle room to negotiate whatever number the Flyers offer. A new deal for Philippe Myers will be the Flyers' top priority, and if they need to squeeze Patrick a bit to fit him in under the flat cap, they will. Fletcher has already re-signed RFAs Robert Hagg and Nicolas Aube-Kubel since the team's playoff exit.
Related: The First Jeff Carter Trade Revisited
The main concern for Patrick and the Flyers is his health. But a new contract does have to get done and, unfortunately, his migraines will impact what he gets paid.
---
---
Josh Lewis may have grown up in Canada's smallest province, but his impeccable writing skills and passion for hockey have turned heads on much bigger stages. He pursued his sports writing dreams in Western Canada, either winning or nominated for a slew of awards while covering junior hockey and many other sports. In roughly a decade in the industry, his work has drawn raves from colleagues, coaches and fans.
Josh is excited to join the THW team, covering the Philadelphia Flyers!