Before their postseason run ended, the Philadelphia Flyers knew they were heading into what would be a fairly quiet offseason. With only a few deserving players slated to earn new deals and very little wiggle room given the flat cap, general manager Chuck Fletcher and fans knew the organization wouldn't be signing new players in free agency.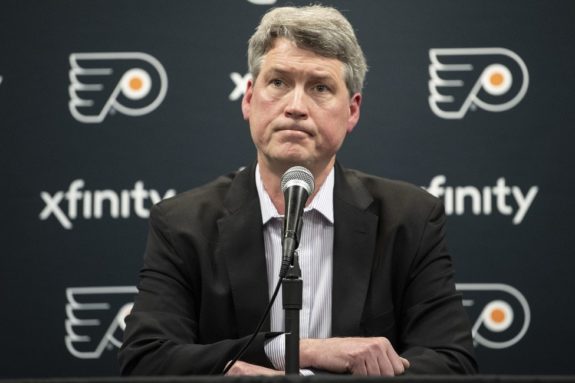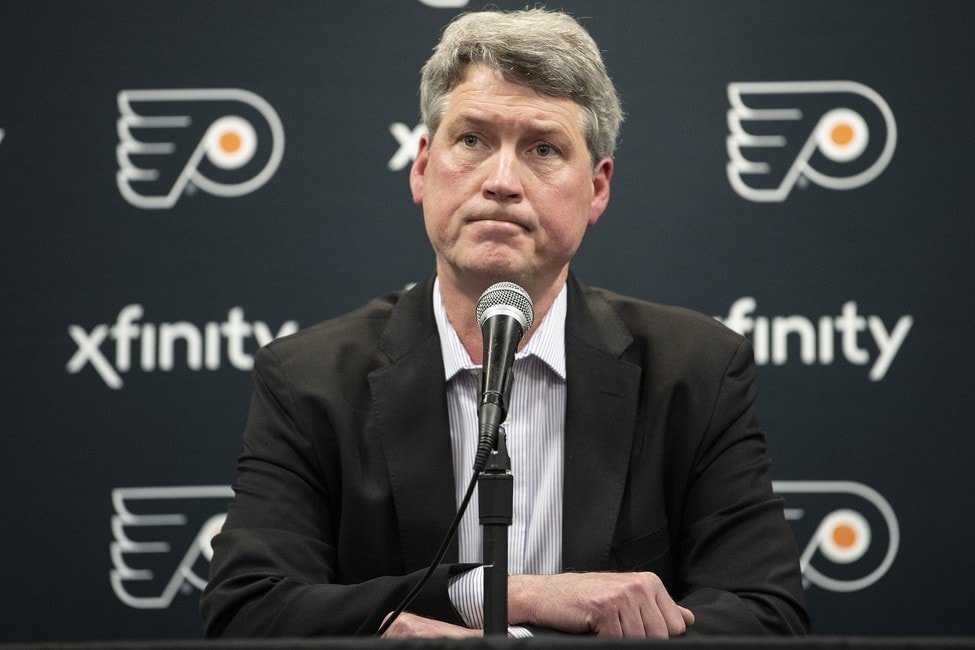 The Flyers had five unrestricted free agents (UFAs) and three restricted free agents (RFAs) who needed immediate attention and roughly $9 million in cap space to work with. To this point, they've stuck with the plan to get most of their free agents signed in a timely manner.
Related: Top 3 All-Time Flyers Goalies
As of Sept. 28, after re-signing 25-year-old depth defenseman Robert Hagg, three players have earned new contract extensions this offseason with a combined cap hit of $3.375 million (based on their individual average annual value (AAV)). Hagg (2-year, $1.6 million AAV) joins 24-year-old forward Nic Aube-Kubel (2-year, $1.075 million AAV) and 27-year-old third-string goaltender Alex Lyon (1-year, $700,000 AAV).
Fletcher's work is far from done, however. He's still facing some pretty substantial challenges balancing the cap space and getting some important deals done. Phil Myers, Nolan Patrick, Nate Thompson, Derek Grant, Tyler Pitlick, and most importantly Brian Elliott are all slated to earn new deals, whether that be with the Flyers or not.
Some of those names take priority and, realistically, only 2-3 of those players will be part of next year's team. For now, Fletcher must find a way to make things work with his remaining cap space, especially after the extensions he's already handed out.
What's Next
Fletcher's priority to date has been to lock up the Flyers' depth. Aube-Kubel established himself as a reliable third or fourth-line option, adding speed and strength to a continually improving forecheck. Hagg has been an interchangeable member of the Flyers' third defensive pair, good for a physical presence and shot-blocking, but lacks solid defensive skills and rarely contributes on offense. Lyon has proved to be a decent third option in net behind Carter Hart and Elliott, and it looks like his role won't change much next season.
The biggest deal still lies ahead for Fletcher. His 23-year-old undrafted free agent turned breakout defensive star Phil Myers is coming off his entry-level deal and looking for a raise. After his strong performance in the regular season and playoffs, he's likely to earn a few extra million a year.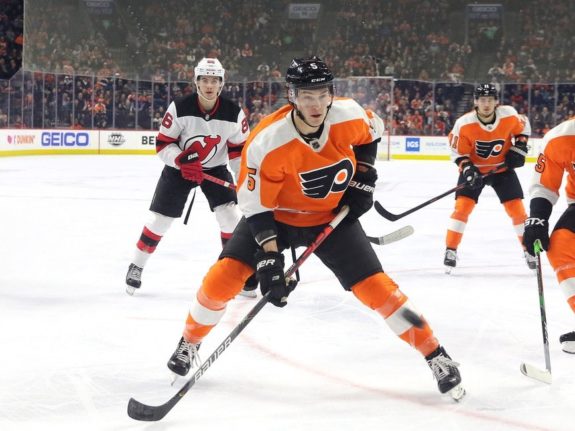 While he still remains the Flyers' biggest free agent, restricted or unrestricted, Myers will not tie up the rest of the Flyers' remaining $6.2 million in cap space. He is likely looking at a bridge deal of 3-4 years. Odds are his new AAV falls somewhere between that of his defensive partner Travis Sanheim's $3.25 million and Hagg's new salary. However, Myers' deal will probably be the biggest contract the Flyers sign this offseason, and with Aube-Kubel, Hagg, and Lyon already signed to extensions, Myers' raise should be coming very soon.
Making the Money Work
The flat cap has posed new challenges for every NHL team, as Fletcher has alluded to. The Flyers were one of the more fortunate clubs heading into the offseason with no players needing deals worth crazy money. Still, working with very limited cap space hasn't been easy for Fletcher and it won't be any easier as we get closer to next season.
The Flyers will likely allocate $6-9 million to Myers over either three or four years. Still speculating, his cap hit could land anywhere between $2-3 million. That will leave the organization with about $3-4 million in cap space. From there, things get a bit tricky.
The Nolan Patrick Situation
Arguably Fletcher's biggest challenge this offseason won't be caused by the flat salary cap. It comes from the second-overall pick from the 2017 NHL Entry Draft, Nolan Patrick. Patrick has spent the better part of the last two seasons sidelined with injury. He missed the entire 2019-20 season with a migraine disorder that has placed his hockey career in the balance.
Fletcher and the Flyers are convinced Patrick will be part of the team's future, and the general manager said he expects Patrick to play during the 2020-21 season. What makes him such a challenge for management, beyond the injures is that, as another RFA, he to is due for a new contract this offseason. It's hard to judge what someone who hasn't played since 2018-19 is worth. As a former second-overall pick, and despite the slew of injuries he's suffered over the years, Patrick still has the potential to become a solid NHL forward.
Whether Fletcher decides to sign Patrick to a contract extension or possibly package him in a trade, the 21-year-old adds another difficult task to tackle this offseason. For the time being, Patrick is on long-term injury reserve and his future with the team is as unclear as ever.
Brian Elliott & Tyler Pitlick
Of the Flyers' five UFAs, there are only two worthy of consideration for extensions: Brian Elliott and Tyler Pitlick. For the past three seasons, Elliott has been a tremendous veteran presence in net and for the team. Recently, he's provided great results in relief of starter Hart, and the two seem to have an excellent dynamic.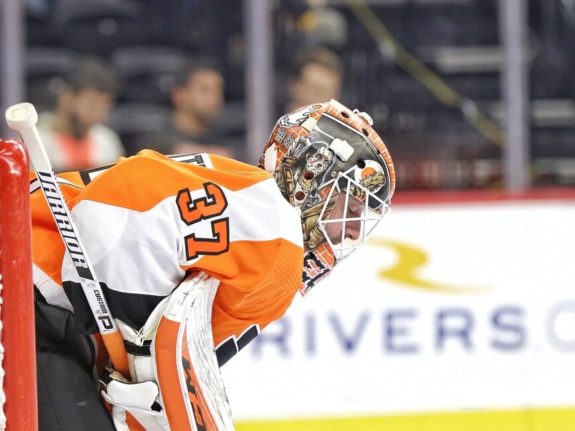 Last year, the Flyers awarded Elliott a one-year, $2 million contract to fill the role of backup. After one of his best seasons, he's earned some consideration to return to that spot. If Fletcher re-signs the 35-year-old, it likely won't be for more than his previous deal. Realistically, if Elliott is back in net next season, his deal should be for no more than one more year, hopefully, with an AAV of $1-1.5 million.
On the offensive end, Tyler Pitlick impressed this season. After being acquired in the deal that sent Ryan Hartman to the Dallas Stars, Pitlick provided excellent depth as a consistent third-line winger. He posted 20 points (8 goals, 12 assists) in 63 regular-season games, and three in 16 playoff games. While his name doesn't appear often on the scoresheet, what he does without the puck is what makes him so valuable. He's quick, an excellent forechecker, and provides the occasional splash of offensive skill to tie it all together.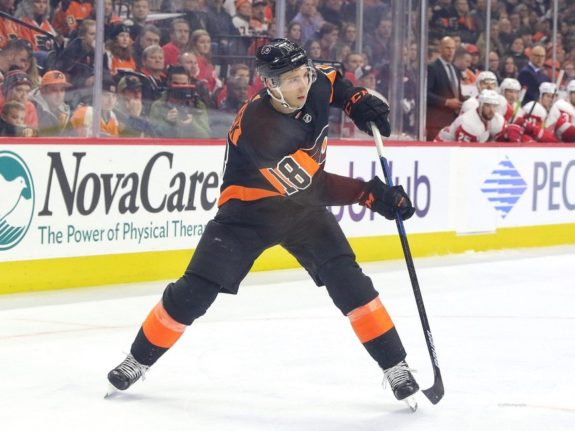 Coming off the last year of a 3-year, $3 million deal signed with the Stars in 2017, he isn't looking at much of a raise either. However, he's probably the top UFA the Flyers should consider re-signing to retain some offensive depth heading into next season. Like Elliott, his deal would have to be for one year and for no more than $2 million if the Flyers want to include him in their 2020-21 plans.
There are obviously more pressing matters for Fletcher before he can get to new agreements with Elliott or Pitlick. However, he should be keeping them in the back of his mind as he negotiates new deals, as both have proven to be valuable to the lineup, and would be next season as well.
Looking Ahead to 2020-21
The 2020-21 lineup for the Flyers is becoming clearer as this unorthodox offseason chugs along. Fletcher has done a solid job of managing the team's cap space, spending only $3.375 million on three players so far.
Based on the deals Fletcher has done to date and the ones he still has to do, the 2020-21 Flyers are going to look very similar to 2019-20. While they might incorporate some new names from within the system, the Flyers won't have a chance to reenforce their roster with stars from other teams.
Related: Broad Street Bullies – More Than Goons, Fists, & Enforcers
If they want to consider available players across the league, they'll have to do it through the lens of a trade. The Flyers have been mentioned as possible suitors for some of the big names on the market, but unless Fletcher is quietly planning a massive trade, it's all just speculation. Heading into next season with a similar roster is far from a bad thing. Their team propelled them to contender status in one of the league's toughest divisions, and after a disappointing playoff exit, they're looking forward to improving on that in 2020-2021.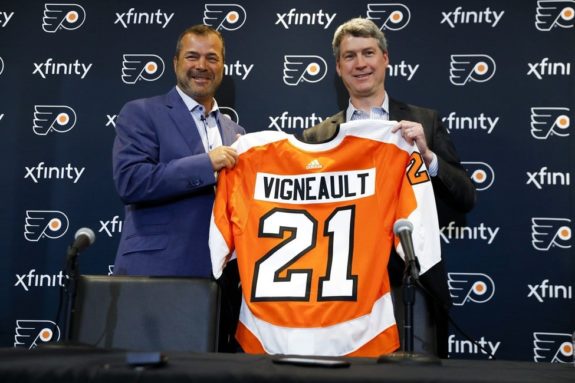 As he prepares for his second full season as the Flyers' general manager, Fletcher has his work cut out for him. The flat cap has not made his job any easier, and after signing three extensions already, his wiggle room is running out. Over the next couple of months, we'll see just how good he is at getting deals done with his remaining free agents with an increasingly smaller budget.
---
---
As a lifelong hockey player and diehard Philadelphia Flyers fanatic, I've always dreamed of covering the team I grew up watching. In my work, I try to combine my knowledge of the sport's intricate and statistical details with my perspective as a passionate fan. Bringing my love for Flyers hockey to The Hockey Writers one article at a time.