In this edition of Toronto Maple Leafs News & Rumors, I'll share a rumor that the Columbus Blue Jackets have shown interest in Andreas Johnsson. Then I'll spend some time looking at two possible defensemen the team might go after.
Related: Maple Leafs News & Rumors: MacLean, Kaskisuo, Abramov & More
One of those defensemen – Shayne Gostisbehere – is a left-shot defenseman and might be a bit of a risk because of his injury history. However, he could turn into the kind of defenseman who'd become a cornerstone of the team going into the future. And he's rumored to be on the market.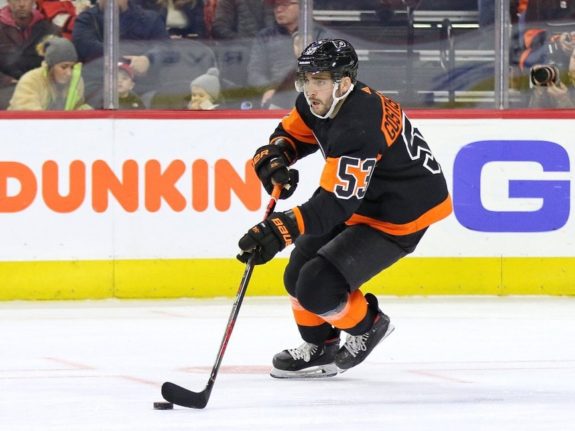 The second defenseman – Travis Hamonic – is more specifically in line with the team's needs. He's becoming an unrestricted free agent (UFA) and might be interested in signing with the Maple Leafs.
Item One: Andreas Johnsson Drawing Interest from Columbus Blue Jackets
In a move that seems totally logical, there are reports that the Blue Jackets have shown interest in Toronto winger Andreas Johnsson. The Maple Leafs have forward depth and need to move contracts; the Blue Jackets have strength on defense. Although no names were tossed around from the Columbus side, conversations between the teams make perfect sense, in general.
The Blue Jackets need scoring and could move a player from their strong blue line – certainly both teams could help each other. It will be interesting to see what Johnsson's trade value might be. Because he had a knee injury in mid-February, he wasn't able to return until Game 5 of the play-in series on August 9.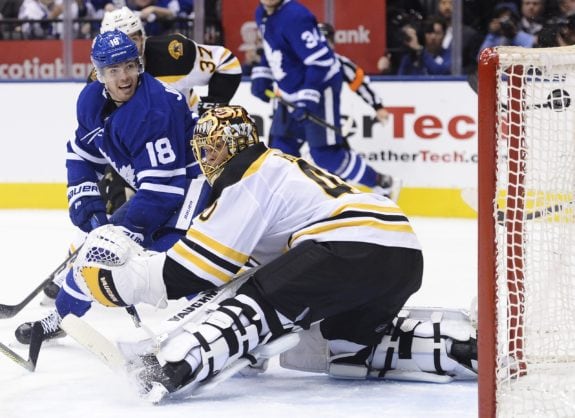 During the 2019-20 regular season, Johnsson scored only eight goals and 21 points in 43 games. With Toronto, he was a bottom-six forward. That wouldn't likely be the case if he moves to Columbus, where he'd be much higher on the food chain. Stay tuned on this one.
Item Two: Might the Maple Leafs Take a Risk on Shayne Gostisbehere?
There must be good defensemen who are easier financial fits with the team than Alex Pietrangelo. There's no doubt he's a strong defenseman; in fact, his presence would seem to be exactly what the team needs to solidify its defense. However, as Maple Leafs fans know too well, the team already has three $9-million men in John Tavares, Auston Matthews, and Mitch Marner. Fitting another salary this high onto the team's current payroll might be extremely difficult.
Related: 10 Reasons Hockey Is the Greatest Sport on Earth
One potential defenseman who might fit the bill would be Shayne Gostisbehere. Although he's a left-shot defenseman, he might offer great value to the Maple Leafs at half the price. In fact, given his history and current situation, he might the kind of player general manager Kyle Dubas sees as a unique opportunity to pick up.
Gostisbehere has played for the Philadelphia Flyers since his rookie season in 2015-16. At 5-foot-11, he can't be called a "tower" of strength, but he's been a strong defenseman since he first took the ice. He has amazing skills – or did have. During the 2015-16 season, he set the NHL record for longest point streak by a rookie defenseman and had 17 goals and 29 assists for 46 points in 64 games.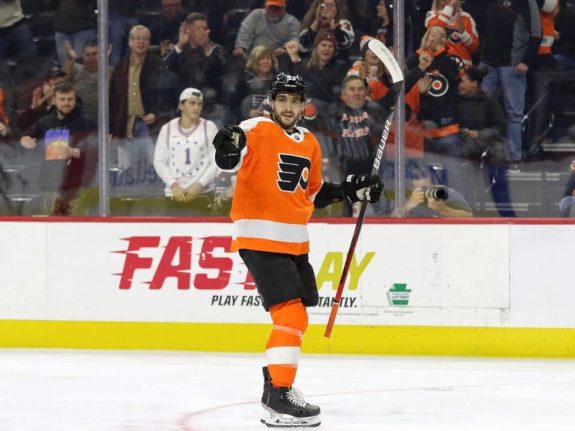 His strong play continued and became one of the Flyers' best offensive defensemen over the last decade. His best offensive season was 2017-18 when he scored 13 goals and 52 assists (65 points) in 78 games. He's also improved his defensive play. The risk is that he's recently been beset by injuries. Gostisbehere has missed time over a couple of seasons because of knee issues and twice has had arthroscopic surgery on his injured knee.
During this season's playoffs, he looked like the player he once was. However, he's slid down the Flyers' depth chart and the team is rumored to be looking to move both he and former-Maple Leafs forward James van Riemsdyk this offseason.
Gostisbehere might be a player that interests the Maple Leafs, especially if the Flyers are proactive in making him available. The tipping point was the Flyers' interest in re-signing defenseman Robert Hagg, who would have become a restricted free agent. Now that the Flyers have re-signed him today, they might want to move Gostisbehere.  
Right now, he's on a pretty team-friendly contract and has what Dubas wants – term. Gostisbehere has three years left at $4.5 million each season. If there's a chance he's over his knee problems, he might be an absolute steal at the price of his contract and could turn into a solid player for the team over the next number of seasons. Basically, he'd cost the same as Cody Ceci did last season and at 27 years old, "Ghost" is exactly Ceci's age.
Item Three: Travis Hamonic Might Be a Great Free-Agent Pickup
Rumors suggest that the Calgary Flames and the Maple Leafs had spoken about moving Travis Hamonic at this season's trade deadline. Prior to this rumor, it was believed that, when Nazem Kadri was on the market last offseason, the Maple Leafs and the Flames had settled on a deal that would have traded Nazem Kadri for Hamonic. However, Kadri desperately hoped to stay in Toronto and wouldn't waive his no-trade clause.
Obviously, nothing became of the trade deadline rumors. Now, Hamonic is becoming a UFA who's unlikely to rejoin the Flames. After choosing not to enter the bubble, his season ended with the regular season's suspension.
Related: Worst Toronto Maple Leafs Trades
Sportsnet's Luke Fox noted that the Maple Leafs have been interested in Hamonic for a while, specifically suggesting that "Toronto has been eyeing Hamonic since he was an Islander and lost a bidding war to Calgary."
Now that Hamonic's a free agent, there's no need to trade for him. However, the Maple Leafs would have to move salary to sign him. Given the context of COVID-19 and its impact on salaries, is there a chance Hamonic would sign for less than the $3.87 he made with the Flames?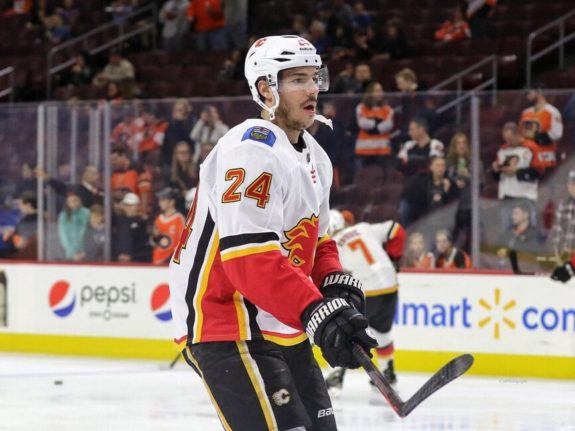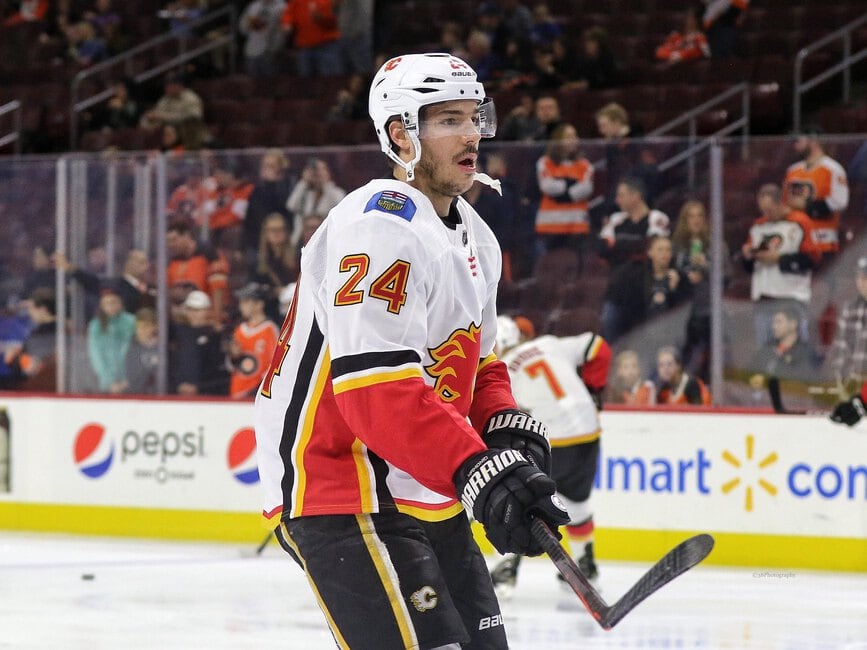 Hamonic isn't flashy, nor is he an offensive defenseman like Gostisbehere. However, he's a 30-year-old, solid, physical, defensive defenseman who's rarely caught out of position and makes few on-ice mistakes. In many ways, Hamonic's similar to Jake Muzzin. He isn't afraid to throw a hit or to lay down in front of a shot. He could be the right-shot defenseman the team needs.
What's Next with the Maple Leafs?
The next big event we know about is the 2020 NHL Entry Draft that's coming in about a week. The Stanley Cup will have been hoisted, and there's likely going to be lots of excitement around moves the Maple Leafs have made or might make.
Related: Maple Leafs News & Rumors: Pietrangelo, Andersen, Clifford & More
I'm interested in whether Dubas moves the team's first-round draft choice picked up from the Penguins. I'm thinking he will. We'll soon find out.
---
---
The Old Prof (Jim Parsons, Sr.) taught for more than 40 years in the Faculty of Education at the University of Alberta. He's a Canadian boy, who has two degrees from the University of Kentucky and a doctorate from the University of Texas. He is now retired on Vancouver Island, where he lives with his family. His hobbies include playing with his hockey cards and simply being a sports fan – hockey, the Toronto Raptors, and CFL football (thinks Ricky Ray personifies how a professional athlete should act).
If you wonder why he doesn't use his real name, it's because his son – who's also Jim Parsons – wrote for The Hockey Writers first and asked Jim Sr. to use another name so readers wouldn't confuse their work.
Because Jim Sr. had worked in China, he adopted the Mandarin word for teacher (老師). The first character lǎo (老) means "old," and the second character shī (師) means "teacher." The literal translation of lǎoshī is "old teacher." That became his pen name. Today, other than writing for The Hockey Writers, he teaches graduate students research design at several Canadian universities.
He looks forward to sharing his insights about the Toronto Maple Leafs and about how sports engages life more fully. His Twitter address is https://twitter.com/TheOldProf