In the world of sports, the 2019-20 season hasn't been easy on anyone for obvious reasons. In a matter of five months, we saw all sports indefinitely shut down and eventually brought back to either complete their 2019-20 season or kick off their 2020-21 seasons.
Throughout that time, 24-year-old Philadelphia Flyers forward Oskar Lindblom fought his own separate battle, that was made significantly more difficult by the global pandemic.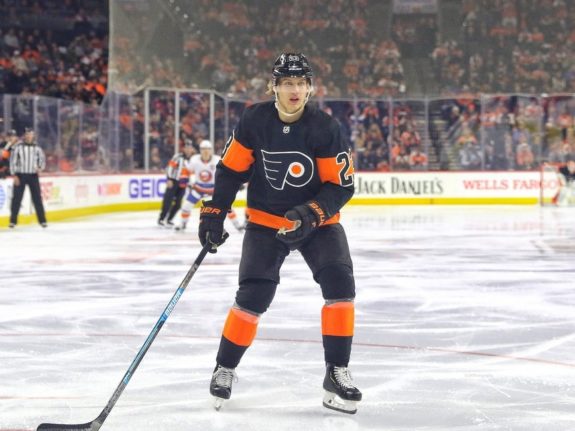 Lindblom's fight with a rare cancer known as Ewing's Sarcoma put a halt on what looked to be a breakout season for the Swede. It sent a shockwave through the hockey community and presented the young star with what would be the most challenging battle of his life.
Related: Ranking NHL Teams By Forwards
Over the course of his eight-month fight, it was incredible to see not just the way he battled and persevered, but the way the entire hockey and sports world rallied behind him. Now that the Flyers' season has come to an end, it's worth taking a look back at the inspirational journey of Lindblom.
A Fast Start
After joining the Flyers full-time during the 2018-19 season, putting up 33 points in 81 games, Lindblom was starting to look like a great top-six option in Philadelphia. He developed a solid 200-foot game, added a skillful and active presence on the forecheck, and brought some production to the Flyers' second man-up unit.
Through the early stages of the 2019-20 season, Lindblom looked to be on the verge of a breakout season just a year after his rookie campaign.
He was one of the clear standouts from the get-go, contributing well at full-strength, finding his touch offensively, and earning almost 20 minutes of ice time each game.
After 30 games, Lindblom had tallied 18 points including a team-leading 11 goals at the time. Less than a week after playing his 30th game, Lindblom's diagnosis shocked the hockey world and brought his remarkable start to a screeching halt.
December Diagnosis
December 13, 2019 is a difficult day to forget for the Flyers, their fans, and for everyone in the global hockey community. Learning that a 23-year-old, let alone one of the game's emerging stars, would begin a battle with cancer was a crushing feeling.
From the very beginning, however, Lindblom was a tremendous inspiration. To see someone so young face a battle of that magnitude head-on with the courage that he did became something for the players, fans, and the city to rally behind.
Philadelphia, as well as just about every other hockey town in North America, immediately flooded social media with support for him. The hashtag #OskarStrong quickly became a way to unite in support as well as to honor the strength Lindblom would go on to show throughout his fight.
Lindblom's first time back in front of the Flyers faithful, barely a month after his diagnosis, was truly one of the most emotionally moving hockey moments in recent memory.
Unsurprisingly, Lindblom was met with a breathtaking standing ovation with dozens of fans bearing signs of support.
Earning a New Contract
In late June, Lindblom finally got back on the ice for the first time since his diagnosis. In the closed practice, he was skating strong and showing that a comeback might be closer than we all expected.
Less than a month later, general manager Chuck Fletcher and the Flyers made sure that upon Lindblom's return, he'd remain in the orange and black for years to come.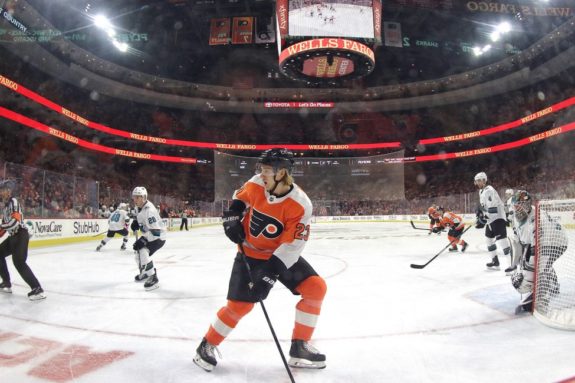 On July 22, Lindblom was signed to a three-year, $9 million contract extension with the Flyers. If he gets back to the same level he started the 2019-20 season at, and especially if he can produce at a similar level, the Flyers are going to have one of their best forwards locked in at a steal of a contract.
Wrapping Up Treatment
Rewind about 20 days before Lindblom signed his new deal with the Flyers. He had just skated with his teammates for the first time in six months and was about to hit the most important milestone of his battle.
Just under eight months since his diagnosis Oskar Lindblom wrapped up his final chemotherapy treatment on July 2, ringing the celebratory bell at the Abramson Cancer Center at the University of Pennsylvania Hospital.
Seeing Lindblom ring that bell, knowing that it signified the end of a long and difficult journey for him, was easily one of the year's best moments.
However, even after all the miraculous progress, Lindblom achieved throughout the NHL pause, he wasn't done providing some incredibly moving moments.
The Final Return to Play
At the time of Lindblom's diagnosis, it seemed nearly impossible that we'd see him back on the ice anytime sooner than 2020-21. Well, after finishing his treatment and joining the Flyers in the Toronto bubble, he surprised us all once again.
After watching the Flyers' first 14 games from the stands, and even taking warmups with them in Game 4, Lindblom's time finally came in Game 6 of the second-round series with the New York Islanders.
His role through Games 6 and 7 was obviously limited by coach Alain Vigneault, but it was simply his presence that meant the most to the Flyers. Just the fact that he was skating in an NHL game with his teammates after beating cancer in less than a calendar year was unbelievable.
Related: Flyers' Top Undrafted Free Agent Signings of All-Time
That's not to say that Lindblom wasn't an important piece in the team's attempt to comeback in the series either. Logging 16:42 of ice time in Game 6 and 17:30 in Game 7, Lindblom was a valuable addition on the Flyers' third line as well as on their second power-play unit.
Lindblom's unthinkable return to the lineup signified the courage, perseverance, and determination he displayed throughout his fight with cancer. It surely gave the Flyers an emotional lift and garnered some stick taps from both his teammates and the Islanders as well.
There are very few stories like that of Oskar Lindblom. Sure, other athletes have shown similar fights in overcoming mental or physical health issues, but very rarely do we see that happen in athletes at such a young age.
Flyers' captain Claude Giroux had one of the best testaments to Lindblom's courage, saying, "this guy's heart, you have to see it to believe it," after the conclusion of Game 7.
His story is one of miraculous strength and one that the world of sports won't soon forget. It was a comeback that earned praise from the entire sports and hockey communities, including a finalist nomination for the Masterton Trophy from the NHL.
He's been, and continues to be, a massive and constant source of inspiration for thousands throughout the world and it'll be a pleasure to see him back in the orange and black once again next season.
---
---
As a lifelong hockey player and diehard Philadelphia Flyers fanatic, I've always dreamed of covering the team I grew up watching. In my work, I try to combine my knowledge of the sport's intricate and statistical details with my perspective as a passionate fan. Bringing my love for Flyers hockey to The Hockey Writers one article at a time.