Over the past few seasons, general manager Ron Hextall and the rest of the Philadelphia Flyers front office has gone out of their way to improve the Flyers prospect core. This effort was on full display at the recent World Junior Championships.
Tied for the NHL lead with seven prospects at the tournament, Hextall spent the week in Finland taking a look at some of his top future Flyers.
Among the Flyers seven representatives, there was no player that had a decidedly bad tournament, although there were higher hopes for a few of the players. Overall, it was an incredibly encouraging week that should have Flyers fans excited for the future.
Radel Fazleev (Fazleyev) – A+
Team: Russia
Drafted: 6th round (168th overall), 2014
Fazleev was incredibly impressive throughout the tournament. He officially registered one goal and three assists through Russia's seven games. However, on Russia's game winning goal in the Quarterfinals, Fazleev had an obvious assist that was credited to Andrei Svetlakov. The play can be seen below, Fazleev is number 19.
Terrific work from #Flyers Ivan Provorov, who sets up Team Russia's OT goal over Denmark in WJC quarter-finals pic.twitter.com/rawQlVduIg

— Brady Trettenero (@BradyTrett) January 2, 2016
As shown in the video, Svetlakov was not on the ice and the secondary assist clearly belonged to Fazleev. Therefore, it is safe to say that he earned four points through seven games in the tournament.
Despite playing a bottom six role, Fazleev was noticeable throughout the tournament. He was trusted with important face-offs and he was tenacious on the forecheck. He was an impressive penalty killer and almost scored a shorthanded goal in the gold medal game.
Fazleev may never be a game-breaking, top six NHL forward, but his solid all-around game was a treat to watch at the World Juniors.
Ivan Provorov – A+
Team: Russia
Drafted: 1st round (7th overall), 2015
Throughout the tournament, Provorov showed exactly why he is such a highly touted prospect. He was the third highest scoring defenseman in the tournament, earning eight assists through seven games.
It should be noted, scoring wise, that he did have a goal waved off due to a crease violation from a teammate and the play below was one of the best offensive chances for a defenseman in the tournament.
Less than 12 hours til we get to see this guy again https://t.co/mNhMmorBgn

— Jake #OskarStrong (@J_Fahringer) January 2, 2016
Not only was Provorov solid at both ends of the ice, but he came up with big plays at just the right time. Provorov set up the overtime game winning goal in the Quarterfinal game for Russia and it was Provorov's solid play at the blue line, and subsequent shot, that allowed Russia to tie Finalnd in the final seconds of the gold medal game.
Overall, Provorov showed why he is the Flyers' top prospect. After witnessing his play in this tournament, it is hard to believe that he will not be an NHL player next year.
Oskar Lindblom – A-
Team: Sweden
Drafted: 5th round (138th overall), 2014
Lindblom, who made a name for himself at this tournament last year, was not quite able to duplicate his previous performance. However, he still had a solid tournament, earning three goals and three assists through seven games.
Throughout the tournament Lindblom played on Sweden's top line, their top power play unit, and even made things happen on the penalty kill. The loss of Sweden's top center, Toronto Maple Leafs prospect William Nylander, likely hurt both Lindblom and his team.
Lindblom, who stands 6'1″, 192 pounds showed improvement in his skating and has all the makings of a budding power forward. He was a beast along the wall and rarely lost board battles. Due to his rugged style of play, Lindblom should be able to make a smooth adjustment to North American hockey when he does eventually cross the pond.
Travis Konecny – B
Team: Canada
Drafted: 1st round (24th overall), 2015
Although two points (1G, 1A) through five games are not exactly mind blowing stats, the tournament was not a complete bust for the Flyers' most skilled forward prospect. Despite his fantastic speed, skill, and tenacity, Dave Lowry, the coach of Team Canada, never had faith in Travis Konecny.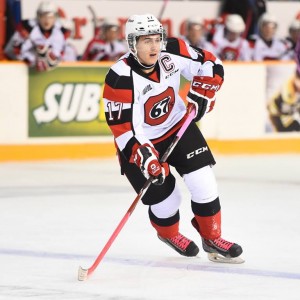 Konecny consistently skated on the fourth line despite being a wrecking ball on the ice and being one of the few Canadian players not named Strome or Marner who could consistently create offensive chances.
Despite his lack of opportunity, Konecny was noticeable on the ice and played well in an "energy line" role. His lack of production had more to due with his lack of use than any lack of will, skill, or ability.
Travis Sanheim – C+
Team: Canada
Drafted: 1st round (17th overall), 2014
Over his last 91 regular season WHL games, Travis Sanheim earned 96 points. His offensive skills are undeniable and have Flyers fans incredibly excited for the future. Unfortunately, much like Konecny, Sanheim was rarely used in the tournament due to his perceived defensive liabilities.
The fact of the matter is, Sanheim does struggle in his own end, but he was worse than many of the Canadian defenseman. When Sanheim was on the ice, he consistently created chaos in the offensive zone and kept his opponents on their heels.
Joe Hicketts, Hadyn Fleury, Thomas Chabot, Brandon Hickey, and Travis Dermott are all fantastic prospects. But the fact of the matter is that Travis Sanheim should have been on the top pairing from day one.
He finished the tournament with one assist in five games.
Felix Sandstrom – C+
Team: Sweden
Drafted: 3rd round (70th overall), 2015
The Flyers selected Sandstrom with the 70th overall pick in the 2015 NHL Draft. Throughout this season, Sandstrom has done nothing but impress. Through his first two appearances at the World Juniors, it looked like he would be one of the best goalies in the tournament. In those games, Sandstrom faced 10 shots and saved all of them. Then, in the bronze medal game the Swedish defense fell apart. Sandstrom was lit up for eight goals on 29 shots.
As awful as that sounds, he was left dead to right on a majority of the goals and even had a few top notch saves throughout the game. The Swedish defense was absolutely awful against the United States, so it is unfair to be too hard on the 18-year-old Sandstrom.
David Kase – C
Team: Czech Republic
Drafted: 5th round (128th overall), 2015
The Flyers' 5th round pick in 2015 had a decent showing in his second World Junior Championships. He earned one assist through five games and proved that he is a shifty, skilled player.
Kase, and the Czech team as a whole, was hurt throughout the tournament by that fact that Pavel Zacha rarely played. Zacha, who seemed to be nagged by an injury, adds an element to the Czech team that is hard to replicate, and not having him around hurt Kase's ability to create offense.
Even so, Kase created plenty of chances and went 13 for 26 (50%) on face-offs. There were not a lot of eye-popping moments from Kase but nor was there anything glaringly bad about his game.