It has become current in hockey circles to denounce the NHL All-Star Game while taking pity on those selected to play in it. Ya know…
Patrick Kane punished for terrific play with All-Star nod.  
Alex Ovechkin, despite dazzling talent, condemned to All-Star game.  
Condolences to John Scott for – oh, wait, never mind, he'll probably have a blast.
It's all somewhat in jest, without a doubt, but the implication remains the same: where competing in the All-Star Game was once viewed as an honor, it is now mocked as a burden.
The argument goes like this: Due to diminishing effort from the players, the All-Star Game has lost its competitive integrity. It is no longer an exhibition of the league's brightest talent, but a burlesque of breakaways, odd-man rushes and lackadaisical defending. Those elected are forced to take part in the charade, while the rest of the league enjoys a nice three-day vacation.
All-Star Game History
It's a fair case, and an unassailable one in regards to the level of on-ice effort. The All-Star Game was launched in 1947 as a showdown between the previous year's Stanley Cup Champs and a collection of stars from the rest of the league. It was earnestly contested – a fight broke out in 1948 (!) – and the scores, at first, resembled those of actual hockey games, not "Slapshot Regatta."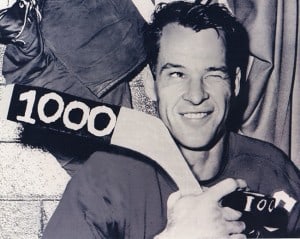 The NHL switched to divisional rosters in 1969, and over the next few years the nature of the game softened. By the time the league introduced the North America vs. World format in 1998, the All-Star Game was still a good batch of fun, yes, but more or less a farce. North America 8, World 7 in '98. North America 14, World 12 in 2001. (Did anyone ever root for World, by the way?)
Those that condemn the All-Star Game as a (commercial) absurdity, then, aren't unjustified. But wasn't it headed there all along? The game, as it's evolved over the years, has taken its cues from the players, and they have decided it should be less showdown, more shinny. It has gradually become what it was always bound to be.
What It Means
Anyway, the latest round of mockery came Tuesday when the 2016 All-Star Game rosters were announced. John Tavares was chosen to represent the Islanders, his fourth all-star selection in his seven-year career, only four of which have actually featured All-Star Games, by the way. Poor guy, huh? The Islanders' captain said all the right things, and certainly doesn't sound like someone who was "sentenced" to a weekend in Nashville.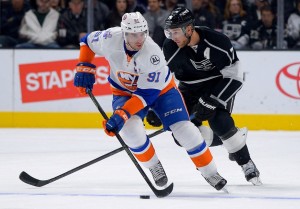 More aptly, he was elected. He was chosen. Fans across the league decided that out of all 20 Islanders – a group that includes All-Star worthy players Kyle Okposo, Nick Leddy and Jaroslav Halak – they wanted to see Tavares the most. That's a tribute to him as a player and as a person. Hockey is a sport steeped in old-school values, and Tavares is a superstar as understated as they come. Fans like that.
The Isles' captain won't be creating an injury to duck out of the event, a trend that has become all too prevalent in recent years. He understands the duty that comes with the honor – and it's hardly a duty at all. Quite simply, just be there.
Beyond that, hardly anything is asked of the players. Show up, enjoy the spotlight (at your leisure), play a game of pick-up. Then head on home. So fans that grumble about the possibility of injury or fatigue to their favorite team's star player need to reconsider the event's implications.
Out of curiosity, I searched the number of injuries that have occurred in All-Star Game history. I found nothing. Is there a non-zero possibility that someone might fall awkwardly and turn an ankle? Sure. But it's not happening.
The new format this year – 3 on 3 for 20 minutes – certainly appears more taxing, but the players will make up for it by cutting corners and taking shortcuts wherever they can. It will most likely devolve into a practice-like drill of continuous 2-on-1 breaks, and man, wasn't that always the best drill anyway?
As for the goalies, they'll be stacking the pads, doing snow angels, and hopefully taking Patrick Roy-like excursions out of the crease, creating their own crazy fun as the rest of us watch on in amusement. When one guy's had enough, he'll call on his counterpart to do more of the same.
What It's Become
The All-Star Game is no longer a competition. It's a piece of entertainment. The players themselves have driven this transformation, steering away from intensity and toward cordiality. They don't bemoan its lack of competitive integrity; they promoted it.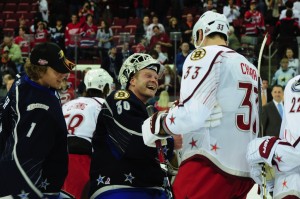 To some, the passive play has made the game seem more like an obligation for those involved than an opportunity. But watch the players as they cruise across the ice, dancing, deking and dipsy-doodling as they go. They're laughing; they're smiling. They're having fun. To say they're kids on a frozen pond again is probably a stretch, but there is boyish delight on their faces that springs from a deep-seated love for the game.
Beneath that is something more solemn. It stems from wearing one's own jersey in the face of many others, representing one's own team on behalf of the locker room, and playing for a fanbase – if casually so – that has bestowed an honor on the player it respects most.
It's pride, and it's the reason the All-Star Game is always worth playing.