While the majority of Flyers prospects have seen their seasons come to an end, a few key prospects continue their deep playoff runs. In the QMJHL, Samuel Morin of the Rimouski Oceanic and Nicolas Aube-Kubel of the Val d'Or Foreurs are locked in a semifinal battle for the right to go to the finals. In the WHL, Travis Sanheim and Radel Fazleev are leading the Calgary Hitmen against the Kelowna Rockets.
All four prospects are key members of their respective squads, and have utilized a second half surge to help propel their teams to these deep runs. Let's take a look at how three key prospects have fared as of late:
Travis Sanheim, D, Calgary Hitmen
When Sanheim was cut from Team Canada's WJC camp, some saw it as a disappointment. Others expected it, pointing towards the 2016 tournament for Sanheim to don the Team Canada sweater. Sanheim appears to have taken the cut as motivation, as he exploded in the second half of the WHL season.
Utilizing his tremendous skating ability, strong vision, and potent offensive instincts, Sanheim established himself as one of the best offensive defensemen in all of Canadian juniors. He led the WHL in points by a defenseman in the regular season with 65 over 67 total games. That includes 35 points over his final 25 games.
In the playoffs, he's taken his game to another level. He currently stands 5th among all players in scoring with 15 points in the playoffs, and has logged huge minutes in all situations for the Hitmen. His Hitmen currently trail the Kelowna Rockets 2-1 in the semifinals.
When he was drafted, many thought Sanheim was a project who had the 4 S's (skill, size, skating, sense), but needed to round out his game. Sanheim has shattered all expectations, and could could get an extended look in training camp next year. It doesn't appear that he has much left to prove in the WHL.
Samuel Morin, D, Rimouski Oceanic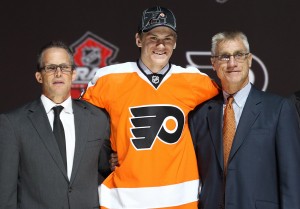 Unlike Sanheim, Morin was able to make the final roster for the Canadian WJC team. He started out on the bottom pairing, but eventually settled in as the #7 defenseman who played mostly on the penalty kill, and occasionally at even strength.
The experience proved useful for Morin, as he returned to Rimouski and played very well. He began receiving more power play time, and responded positively to finish the season with 23 points in 26 games after returning from the tournament.
In the playoffs, Rimouski has proven to be a defensive powerhouse with Morin playing a big part. They've allowed just 20 goals in 12 games (1.67 per game), and hold a commanding 3-0 lead on Val d'Or in the semifinals. Morin has been asked to play a shutdown role in the later rounds, which has hurt his offensive production.
He did put up 4 points in his first 4 playoff games against Victoriaville.
Nicolas Aube-Kubel, RW, Val d'Or Foreurs
After a lukewarm start to the season in which he scored 17 points over his first 24 games, many were left wanting more from the 2014 2nd round pick. Something clicked in the month of December for Aube-Kubel, and he went on a tear.
From December 6th to the end of the season, Aube-Kubel ripped off 57 points in a span of 37 games. That streak included points in 16 of 17 games from December to January, and only four games out of the 37 in which Aube-Kubel did not have a point.
He's played well in the playoffs, where his 15 points are good for 15th in the league in the playoffs, and are 3rd best on his team. It appears his season may come to an end soon, however, as the Foreurs are in a 3-0 hole in their series with Rimouski.
Radel Fazleev, C, Calgary Hitmen
In his second year in North America, Fazleev took a strong step forward in his development by more than doubling his point total from last year. He finished the year with 51 points, and has continued his strong play in the postseason.
https://twitter.com/DubFromAbove/status/584167790820642816
He has 12 points in 15 playoff contests, good for 6th on the Hitmen and 21st in the WHL.
Bill Schoeninger is a Philadelphia Flyers writer and current Boston University student studying business. Coming to THW from Hometown Hockey, Bill follows and writes about the Flyers, Boston University Terriers, and NHL Draft prospects. Follow him on twitter @BSchoeninger17