The Flyers are playing some of their best hockey of the season in the month of January. They have catapulted themselves into the playoff picture from the depths of the Metropolitan Division. They have done so thanks to consistent play across all lines.
When things are going well, teams don't like to make many changes. The Flyers winning success has come at the expense of the young defenseman Travis Sanheim who has seen a considerable drop in playing time since the start of the season. Things are about to change for Sanheim, however.
Sanheim Sent Down to Phantoms
On Monday, the Flyers sent Sanheim to their AHL affiliate Lehigh Valley Phantoms and called up defenseman Mark Alt. This will be Alt's third stint with the Flyers in his career and second call-up this season. The move will allow Sanheim to get back on the ice and play hockey, something he has done only once for the Orange and Black in the last ten games. General Manager Ron Hextall spoke about the defenseman recently saying:
"Like most teams when things are going well, you really don't want to change too much. If you look at the whole year with Travis, I think he's played well with us. He's had his moments, but he's a young player and that's going to happen. I don't like him sitting and coaches don't like him sitting, and I'm sure he doesn't like sitting."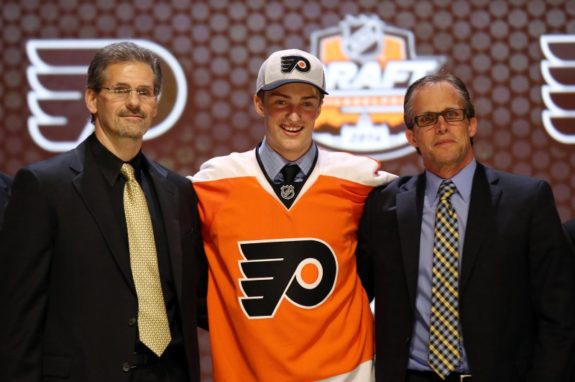 The move will allow Sanheim to play heavy minutes with a team that is in a similar position as the Flyers in terms of fighting for a playoff spot. He will be able to take what he has learned from the NHL and apply it to the AHL game where things are a little slower and players are less talented. It is better for Sanheim's development as a hockey player to be on the ice rather than in the press box.
Sending down top prospects to work on their game has been a formula for success for the Flyers in recent history. Top defenseman Shayne Gostisbehere and rising star Travis Konency were both taken out of the lineup last year when they weren't performing well. The rest and shakeup of getting away from the NHL can do wonders for a young player.
Rough Rookie Season as a Flyer
Right now, the Flyers are fighting for a chance at the playoffs. That is the most important thing and if it comes at the expense of an individual player's development, then so be it. Sanheim is only a 21-year-old rookie with plenty of time for growth. He has made mistakes, as expected from a rookie, but on a team with veterans and youth along the blueline, Sanheim has not been good enough to hold a roster spot.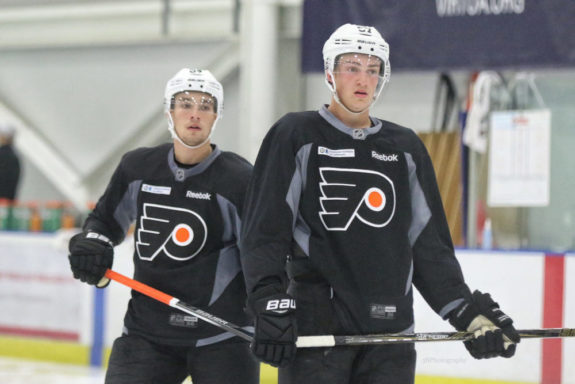 In 35 games with the Flyers, Sanheim has one goal and four assists with 48 shots on goal and a team-low rating of minus-10. His four assists have all been in losses. He has played in 13 wins and 23 losses. It is worth repeating that he has not played in nine of the last ten games and the Flyers have won eight of those last ten.
Critical Mistakes
Sanheim has made several costly mistakes throughout the season. One came against the Arizona Coyotes on Oct. 30. The Coyotes entered the Wells Fargo Center without a victory and left with their first win of the season thanks to a costly turnover by Sanheim late in overtime.
Another critical mistake came on Jan. 13 against the New Jersey Devils. This was his first game since the 3-2 loss to the Florida Panthers in December. Sanheim checked his man against the boards, a good play, but lost his stick in the process opening up space for the Devils. Taylor Hall took it toward the net and Jesper Bratt finished it off to give the Devils a 1-0 lead. The Flyers won the game, but Sanheim lost his chance at getting back in the rotation. He played only 6:02 TOI. Rookie mistakes are one thing. Rookie mistakes that lead to goals and wins for opponents make all the difference.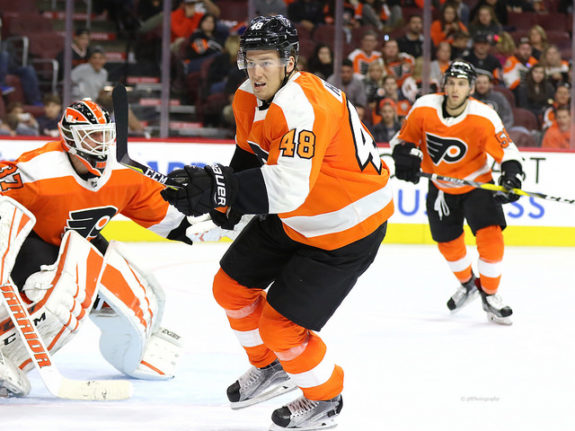 It is unfortunate that Sanheim is playing with Robert Hagg. Hagg has been excellent in his rookie season and it is easy to compare and contrast the two players and see that Sanheim does not match up. It may not be a fair comparison, but one rookie defenseman is flourishing while the other is falling.
Sanheim's Future as a Flyer
It is expected that Sanheim will be back with the Flyers this season. His time in the AHL is meant to help him develop his game and come back with more confidence. He has proven that he can play at the NHL level. He just needs a little more time and practice to become consistent and reliable for the Flyers.
Of course, it is not guaranteed that this will happen. Sanheim has consistently watched from the press box this season and the Flyers have won without him. This Flyers team has four of their defensemen signed through next season with Hagg expected to be re-signed. The team is in need of a right-handed defenseman which Sanheim is not. Players like Samuel Morin, Mark Alt, Mark Friedman, and Philippe Myers are all going to be fighting for a spot. The Flyers want Sanheim to be successful and believe he can be, but there are some obstacles in front of him.
Related Story: Flyers Have a Defensive Problem
Sanheim was Hextall's first draft pick as general manager and will give him time to develop. The question is where will he be developing and in what capacity? The Flyers have a chance at the playoffs. In the NHL, you take that chance because anything can happen once you are there. If that means Sanheim remains in the AHL or in the press box, then so be it. He will be fine.
This demotion to the Phantoms could be the best thing for him. As long as he accepts it as an opportunity to grow instead of getting down on himself for not playing well, then he will be back wearing orange and black before you know it.