Spencer Foo was the talk of the town in Calgary towards the tail-end of the 2017-18 NHL season. A bidding war had erupted earlier for the Union College prospect, with both the Edmonton Oilers and Calgary Flames in the mix. While many expected the Oilers to snatch the hometown kid, it was ultimately Calgary who won the day.
Perhaps Foo, from St. Albert, Alta. was hoping to emulate similar success from another (recently retired) St. Albert product who etched his name into Calgary Flames lore wearing the 'C' for the flaming C's for so many years. Foo was a finalist for the Hobey Baker award in 2017, so a familiarity of fraternity with fellow Hobey Baker finalist (and 2014 winner) Johnny Gaudreau may have added an off-hand allure to Foo's decision to join the Flames, as well.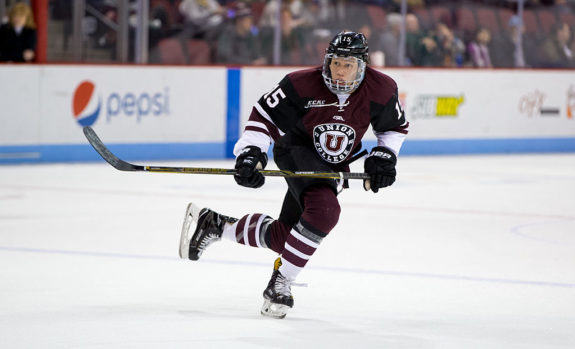 A Solid Audition for Foo
In any case, it's safe to say the NHL audition was a successful one for the 24-year-old, as he was able to contribute almost immediately. The 6-foot, 190-pound forward appeared in four games with the Flames in 2017-18, scoring two goals and posting a plus-2 rating. Foo was given ample opportunity to show his stuff, averaging approximately 16 minutes of ice time per game.
But perhaps just as impressive as his nose for the net was the way Foo was able to impact the game on seemingly every shift. He showed great speed through the neutral zone, skating with a confidence that didn't suggest his rookie status. On top of that, he wasn't afraid to shoot the puck. It was suggested on multiple occasions that Foo was possibly, if not assuredly, the most effective player on the ice for Calgary during that span. But that was last season, so what can the Flames' brass expect to see from their highly-touted college prospect this year?
"It's such an exciting thing, to go grow the game."

In an exclusive interview, Spencer Foo talks about next month's #NHLChinaGames and the NHL's work in expanding hockey's reach on a global scale. pic.twitter.com/JceZYJg7SP

— Calgary Flames (@NHLFlames) August 21, 2018
The Stables Are Stocked in Calgary
With the offseason acquisitions of forwards, James Neal (right wing), who signed a five-year deal, and Elias Lindholm (center), who was inked to a six-year stint, the stables are a bit more crowded in Calgary this season. It's fair to assume that the Flames top-six forward group is, for the first time in a long time, fairly set. As to where the two new veteran additions will slot in, that remains to be seen. Time will tell how Flames head coach Bill Peters will arrange his roster come opening day, but with many capable candidates competing for a spot, there may only be a few slots available for Foo to fill.
Possible lineup combinations:
J. Gaudreau        S. Monahan         E. Lindholm
M. Tkachuk         M. Backlund         J. Neal
S. Bennett           M. Jankowski       S. Foo
M. Frolik              D. Ryan               G. Hathaway
Prospects Knocking on the Flames' Door
In 62 games with the Stockton Heat (AHL) in 2017-18 Foo notched 39 points (20 goals, 19 assists) and added 41 PIMS. Pro-league experience and his four-game, two-goal tryout with the Flames at the end of last season should provide the right-winger with added confidence heading into 2018-19.
Andrew Mangiapane, 22, split time between Stockton and Calgary last season, appearing in 10 games with the big club. Although he failed to register an NHL point in that span, the Flames' 2015 sixth-round pick registered a respectable 46 points (21 goals, 25 assists) in 39 games with the Heat in 2017-18.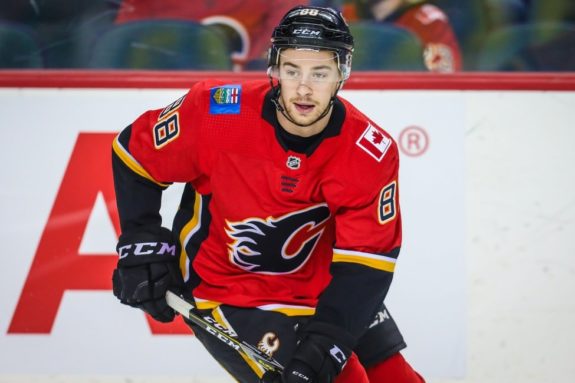 Former Swift Current Broncos captain Glenn Gawdin, should not be overlooked. Signed by the Flames last year, the 21-year-old Richmond, BC native posted 125 points (56 goals, 69 assists) in 67 regular-season games. He lead the Broncos to a WHL Championship, posting 32 points (14 goals, 18 assists) in 24 playoff games and was named WHL Playoff MVP in 2018.
Another not so dark-horse that will be vying for opening-day honours is 20-year old, Dillon Dube. Dube racked up 84 points (38 goals, 46 assists) with the Kelowna Rockets (WHL) last season and added four assists in six games with the Stockton Heat in 2017-18. He also captained Team Canada to a gold medal at the 2018 World Junior Championships.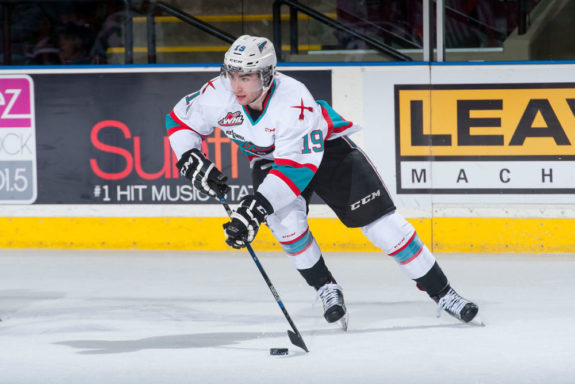 Internal competition is the driving force behind any successful franchise, and a wealth of thoroughbreds on the farm is a good problem to have, but for Foo and the rest of the Flames' hopefuls, it is vital to start strong out of the gates when preseason kicks off in September.