"Our goal is still to make the playoffs. We need to pull off some huge wins." ~ Columbus Blue Jackets Captain, Rick Nash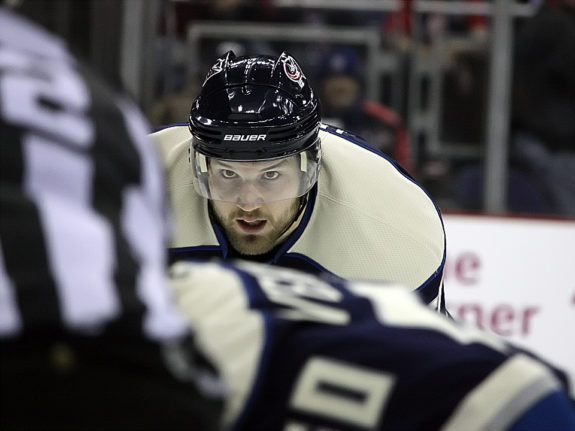 With just 14 games to go in the regular season and 8 points back from the 8th (and final) playoff position, the Columbus Blue Jackets still have an upbeat attitude about them. In deference to Yogi Berra, they know it ain't over till it's over.
They have at least one game in hand, if not more, on every team in front of them. That means nothing if they don't win those games, though. They've proven that they can compete, and beat, any team in the Western Conference. They have the skill and the work-ethic; it's been seen this season. The issue has been mainly mental, at least from where I sit. The slumps that they've gone through have seemed to coincide with them "over-thinking" the game.
When they go out on the ice and just "play their game", they play with a relaxed confidence that sees them win more than they lose. This confidence is front and center with defenseman Kris Russell. As the season has wore on, he's become more relaxed (confident) in head coach Scott Arniel's system of uptempo hockey.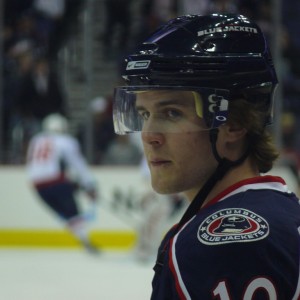 "I think it's that I'm recognizing that when I move my feet and jump up (in the play)," said Russell, "that's when I'm successful. That's what works for me. We've got to be smart about it (jumping up in the play). If we can have an extra guy jump up for added pressure, that's what the coaches want."
     Russell is using his speed to get the puck up the ice more often, which is helping the Blue Jackets gain and keep possession in the offensive zone. He's 4-17-21, -1 on the season. He's 1 point away from tying his career best of 22 points (09/10).
     The Boys in Union Blue need to win and they need to win now. Arguably, it will take them winning approximately 11 of the remaining 14 games to make aplayoff appearance. It's sure to be a wild ride.
~ Extras ~
     ~
Marc Methot on Boston Bruins
captain Zdeno Chara
and his hit on Montreal Canadiens Max Pacioretty: "I think he's just guilty of being too big, almost. You can argue it both ways. He doesn't have a history being a dirty player and getting suspended. He's a victim of his size. Could he have held up maybe? I don't know. That's up to him. It can happen so quickly and the game is so fast."
     ~ Rick Nash also addressed the Chara hit on Pacioretty: "You can see it from both sides, at least I can. I don't think it was a lack of respect. I know Chara pretty well and I think he's a guy that plays with respect.