To say that Anthony Beauvillier has been the talk of the New York Islanders season thus far would be an understatement. Hitting, drawing penalties and creating opportunities, thanks to his play away from the puck, he's been more than a pleasant surprise. Even with virtually no power-play time and a third line niche role, he's established himself as a speedy skater that the puck seems to always be around.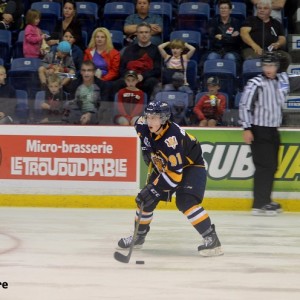 Still just 19-years-old, the former first-round pick has made Islanders general manager Garth Snow look like a genius for not going after another depth scorer or veteran to fill a role on the third line.
But what exactly should the Isles expect from him offensively this season?
So Far This Season
Through his first five games, Beauvillier leads the Islanders with four assists and is tied for the team lead with five points. With all of his points coming during even-strength (Beauvillier only has 12 seconds of power-play time in 2016), his potential for even more offense is a definite possibility. Coming off of two consecutive 40-goal seasons in the WHL, Beauviller has the ability to score, but only has four shots. A lot of that has to do with a paltry 9:29 time-on-ice average. Playing with two natural centers in Alan Quine and Ryan Strome, Beauvillier will get the puck more as the season goes on, but it has been his play away from the puck and ability to hit that has kept him in the lineup over the highly touted Mathew Barzal.
"He just plays with tenacity, grit, determination in his game and that's the way he has to play," Islanders head coach Jack Capuano told Newsday on Monday. "He shifted to wing and he's accepted the position. Wall battles are the biggest thing for a winger in this game and I think he's done real well."
Expectations
The Islanders coaching staff will be happy with Beauvillier enough to keep him on the team for the remainder of the season as long as he hits, plays smart away from the puck and chips in offensively when he has the opportunity. It's definitely safe to say the Isles haven't set any type of expectations in terms of his offensive production, but they want to see him finish when he can. Scared to rush his development the way they did with Josh Bailey and Nino Niederreiter, the reins have been tight on Beauvillier this season. Regardless, with a lack of depth on the forward lines, Beauvillier is going to have every opportunity to prove himself unless they trade for a more experienced winger or Mikhail Grabovski is magically cleared to play.
The fact that Beauvillier can kill penalties, has speed and can play both wings gives him more versatility than almost any other forward on the team, sans Strome, who mans the point at times with the man advantage.
---
Complete Islanders Coverage From THW
---
Projections
He's not going to put up Auston Matthews numbers, but expect Beauvillier, if he plays the entire season with the Islanders, to score 15-20 goals and add 25-30 assists. With Quine's ability to shoot and Strome's possible dynamic dangling, Beauvillier has the potential to become an important piece of the Islanders' gameplan. If Andrew Ladd's struggles continue or there's an injury to a player on the top two lines, Beauvillier can become an even more important member of the team.