If you've ever watched a New York Islanders game in the past, Matt Martin's presence on the team was virtually priceless. Leading the league in hits for the past five seasons and being one of the team's leaders in the locker room, the loss of Martin was not an easy one to replace.
Coming off a 20-goal season at 37, the Islanders signed Jason Chimera to a two-year deal to be the guy to fill Martin's roster spot. Although a physical player, Chimera is known as one of the fastest skaters in the NHL and a guy that can kill penalties. Although Chimera is considered by many as an upgrade, he is someone who changes the team's chemistry as well.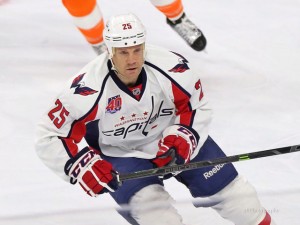 "Jason Chimera was an interesting signing,' Islanders statistician Eric Hornick told TheHockeyWriters. "Yes, he's 37, but he did score 20 goals last season for the second time in his career.  Only eight players from his 1997 draft class have played in 1,000 NHL games; Jason is 49 games shy."
The big question now is, will Chimera's role on the fourth line hurt the Islanders? And, in what will be a reduced-role for him from last season, will he still be an offensive presence?
Last Season
Chimera's numbers are deceiving, but they tell a few tales and ones that can convince Isles fans that Chimera can and will be productive this season. Chimera scored 14 goals during even strength in 2015-16, spending most of his time with Tom Wilson and Jay Beagle. On a team like the Capitals, that had so much offensive firepower, Chimera created a niche for himself and thrived. Because of that, he got opportunities with the man advantage (more than ever before in his career) and had four goals and 10 points. Chimera also scored two short-handed goals. While his 103 hits seem paltry compared to Martin, Chimera is a far more diverse player that can eat up minutes in a variety of situations.
Expectations
Although he's probably not going to get the power-play opportunities he got last year in Washington, Chimera will be a force on the Islanders' fourth line that can and will get more responsibility in all situations, thanks in part to his versatility. While Chimera won't score 20 goals again, seeing him with 12-15 in his first season in Brooklyn, with just as many assists, is not a stretch at all.
Over the past ten years as a working journalist, Patrick Hickey Jr. has covered the New York Islanders, New York Rangers and New Jersey Devils, as well as the Brooklyn Aces of the former EPHL, contributing pieces and/or holding Editorial positions at NBC, New York Sports Day, NY Sportscene Magazine and the New York Times. During that time, he has interviewed NHL stars the likes of Brendan Shanahan, Bernie Nicholls, Bob Probert, Martin Brodeur and Zach Parise. He is also the first winner of the New York Islanders Blog of the Year Award, for his work on TheDriveForFive.com in 2008.