It is a Friday night. The arena is still empty as the players arrive. Soon the sound of music and pregame warm ups will be heard. The place is Hawkesbury, Ontario. It is where former Buffalo Sabre defenseman Shawn Anderson now spends most of his time as the coach, and part owner, of the Junior 'A' Hawkesbury Hawks in the CCHL.
Things were much different 26 years ago when, in 1986, Anderson made his anticipated debut for the Sabres. Anderson, originally from La Salle, Quebec and former member of Canada's National Men's Team, before the inclusion of NHL players, had tremendous hype behind him heading into the 1986 draft. Originally projected to go second, he slipped to fifth, where the Buffalo Sabers nabbed him.
"I never actually met with Buffalo, in pre-draft meeting," recalls the now 44-year-old Anderson. "Detroit had the first selection and made it known that they would take Joe Murphy. I met with Los Angeles and New Jersey who were picking second and third."
Anderson admits that he didn't know if either of those teams would select him as he was too caught up in the experience. On draft day, June 21, in Montreal, Quebec, Anderson himself didn't even realize what had happened. "It was more the reaction of my friends and family that I noticed when I didn't get picked in the second, third or fourth spot."
Then, Anderson heard his name called by the Sabres. "I had no clue what was ahead of me. I had to meet everyone, get a contract signed and get into training camp."
Despite the Sabres initial considerations of sending Anderson to junior, the team elected to keep him on the pro squad hoping he could help turn around their fortunes.
The Rookie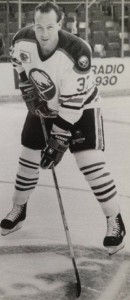 The year before, the Sabres finished in the bottom of the Adams Division and eighth in the Prince of Wales Conference. During the 1986-87 season, they were transitioning they would lose Gilbert Perreault to retirement as well as Scotty Bowman who stepped down as coach and general manager.
Anderson saw many players in and out of the line up. After playing nine games, he too sat for three weeks. He was owed a signing bonus upon playing in his 10th game. When he finally did get to play his 10th game, he scored his first NHL goal.
"I never realized the pressure (of being a high draft pick) it was more of a fear of not getting in the line up. It just took one mistake, there was no room for error and I played with this fear for the first five years of my career."
Still, Anderson does have memories of that first year in Buffalo and particularly of Bowman. "He was so smart. He could identify what needed to be done, even if it contradicted what he had said before. Now as a coach, I find myself doing the same thing."
In his early days in Buffalo, Anderson admits it was a tough adjustment. "I bought a house after my second year, but I never felt like I had arrived. I was always back and fourth between the big club and Rochester."
During his four seasons with the Sabres, Anderson played a total of 113 NHL games and 107 in the AHL.
While Anderson admits he can't glorify his time in Buffalo, or career in general, he does look back with some fondness. "Playing games in the NHL, there is nothing like it and when you step on the ice, no one can take it away from you. I enjoyed my time in Buffalo. I liked living there, met good friends but I really matured during that time. I went from a boy to a man and I did it on my own. Anyone who says that older guys are there to help the young ones along doesn't know what it is like. The older guys are protecting their jobs."
The Traveller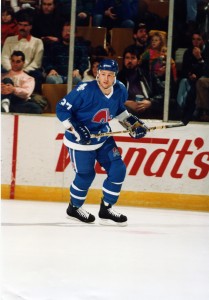 After a while Anderson became just a number and was eventually claimed in the waiver draft by Quebec during the 1990-91 season. "I was excited. I knew I'd play a minimum number of games and I'd get a chance to play my game as an offensive defenseman."
However, Anderson broke his hand later that season and decided to step away from the NHL to play in Germany. After 22 points in 38 games overseas, Anderson got a call from the Washington Capitals. He went into camp and believed he had secured a spot on the team, that's when another unfortunate injury occurred, a shattered finger. Anderson thought he was destined to stay in the AHL, but after 10 games he got the call and spent the next two years with the Capitals.
With the lockout of 1994-95, Anderson, who had then moved on to Philadelphia where he played one game, decided to head back overseas where he would finish his career. He did make one more run at the NHL with the Dallas Stars, but another injury ended that return.
"I loved the game in Europe. I loved the lifestyle and above all I was finally able to play my game."
From 1996 to 2004, Anderson spilt time with teams in Germany (DEL) and Austria, with stops in the IHL before his retirement.
The Coach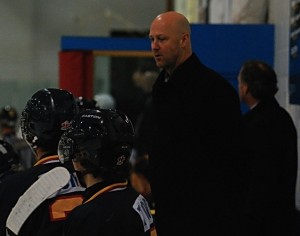 After his NHL Career, Anderson became a fitness enthusiast and created his own training academy: Hockey Specific Training in Hudson, Quebec, half an hour west of Montreal.
Through one of the players he was training, came an opportunity to coach at the junior level. "One of my players' father mentioned an opportunity with the Hawks. I came to see a game and soon enough we had an agreement."
During the 2009-10 season, Anderson took over the team. In 2010-11, he got them back to the playoffs, after they failed to qualify the previous three years.
His time in Hawkesbury has given Anderson a chance to also reconnect with his son. After his first season, the team brought in Holden Anderson. "When I went to play in Europe my family didn't come with me. I missed my kids growing up. When we got Holden here it all came together and now I get to see him five days a week and be a full time father."
Anderson took the family affair one step further at the start of this season as Shawn's brother Chris joined the team as an assistant coach.
Now Anderson is focused on teaching the lessons he learned to his young players. Anderson aims to help the players make the best decision for their career. When he was that age, Anderson chose playing in the NCAA, at Maine, over major junior, a decision he now says was a mistake due to his immaturity at the time. He tries to present all options to his guys. "I've been down the avenues that not many people have travelled and can speak on any level. I try to use that as a good influence on the kids."
Anderson is enjoying the work he does now, but still has more goals in hockey. "I would like to move up the coaching ranks but for now I am content with what I am doing and feel like I am doing a good thing here."