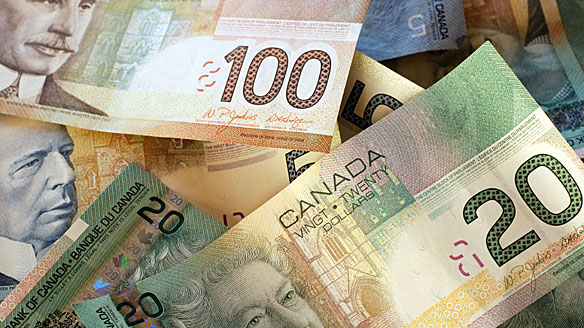 The great Billy Beane is known for transforming the once salary-driven Major League Baseball into a league focused on sabermetrics and all the intricacies of statistics. Advanced statistics are beginning to take over the hockey world but the NHL has yet to experience a change quite like the one Beane provided MLB.
Let's face it, although stats play a large part in which players teams elect to chase in free agency and the trade market, money is the deciding factor in most cases when it comes to where a player signs. But what people fail to see is that the relationship between money and the success of teams and individuals is actually very weak.
First let's take a look at the players. In order to maintain a smaller sample while also keeping our focus on those who are supposed to be the biggest game changers, we'll only look at the ten highest paid forwards. Defencemen are not included because the comparison between forwards and defencemen is too drastic.
All statistics are based off the 2011-2012 season.
[table id=77 /]
On a graph (note the cap hit found on the X-axis is in reverse order):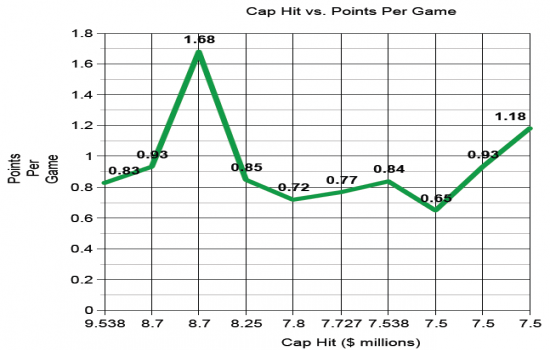 As mentioned, it's not too hard to notice that the relationship between average salary and points per game isn't very strong. In fact, the points per game totals have a tendency to go down as the average salaries remain the same or decrease.
The one major spike on the higher end of the cap hit scale is thanks to Sidney Crosby, who managed 37 points in just 22 games during the 2011-2012 season. It's interesting to note Crosby's relatively low salary cap hit of $8.7 million, which falls below Alex Ovechkin of the Washington Capitals and is equal to his Pittsburgh Penguins teammate, Evgeni Malkin.
There's no doubt the reason Crosby agreed to not become the league's highest paid player─something he easily could have done─is because he wanted to give the Penguins a chance to succeed. This, of course, is something we rarely see players do. With all do respect to both of them, just take a quick glance at what Zach Parise and Ryan Suter did when they signed with Minnesota.
From Sean Leahy of Puck Daddy:
Crosby's cap hit of $8.7 million is the same that he had on his last contract. Not asking for more than that — something he could easily get under the current CBA rules and on the open market — allows (Penguins GM) Shero to build a perennial contender, something he said Crosby said was important to him.

"Once the landscape was in place we were talking and it was important to Sidney to have a friendly AAV [average annual value] and to be in that ballpark was very important to him," said (Crosby's agent) Brisson.

"When we started the discussion, Sidney wanted to be a Penguin forever."
Then there is Ovechkin. The 27-year-old may have been an outstanding all-star at one point in his career, but was it worth a $9.5 million cap hit? Probably not.
Now, based on what is being reported out of the CBA negotiations, the Capitals, who barely qualified for the post-season in 2012, will likely find themselves with little wiggle room under the cap when hockey resumes and an almost $10 million cap hit that doesn't expire until 2021 to deal with.
Where exactly did the Capitals stack up against their NHL counterparts in 2011-2012? Let's look at the relationship between team spending (as defined by Cap Geek) and season points. Similar to the information above, the chart and graph below only show the ten biggest spending teams in the league.
[table id=78 /]
On a graph (note the team spending found on the X-axis is in reverse order):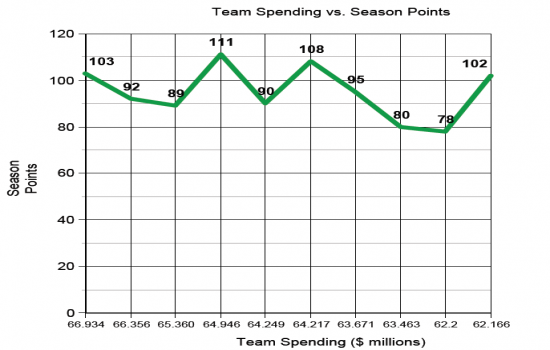 Again, the relationship is weak. One could attempt to make the argument that each team is coached differently and have their own mix of player types, but there is no denying the fact that spending more money than half of the league doesn't ensure success.
So just how are Billy Beane and the NHL related? The answer is actually rather simple.
It's time for a new breed of general manager in the NHL. Not one who has the guts to offer up a lucrative contract to entice a big-name free agent to sign with his team or pull a few strings to bring in a big-contract player via trade. What the NHL needs is a general manager that can build a team based on what really makes the word team; not only goals and assists, but support, player roles and leadership.
Unfortunately, millions upon millions will continue to be spent on hockey salaries alone each year. That may never change, but the overall amount can.
As the relationships (or lack there of) shown above attest to, money doesn't make you better in the NHL.
All salary and team spending information provided by Cap Geek.
Twitter: @LukasHardonk | Email: lukas.hardonk@gmail.com | Lukas' archive
For every Leafs article on THW, follow @THW_MapleLeafs on Twitter.
Check out Maple Leafs Central, a THW Network site.
Lukas, a student at the University of Ottawa, covers the Toronto Maple Leafs on a part-time basis for The Hockey Writers. Contact Lukas at lukas.hardonk@gmail.com or follow him on Twitter, @LukasHardonk.