There is a buzz in Nashville regarding their hockey team and the Predators are both anxious and excited to get the 2016-17 NHL regular season under way. After being only one win away from the Western Conference Finals last spring, the team feels that they have the necessary tools to contend for a Stanley Cup this time around.
In order for the Predators to truly contend for a Stanley Cup this season, four key players must have a great year. Without fantastic production from all of them, Nashville will find it hard to accomplish any of their goals this season.
Filip Forsberg
Simply put, Filip Forsberg has been fantastic for the Predators since his first full season in 2014-15. In 182 games, the 22-year-old winger has already recorded 60 goals and 73 assists. Forsberg scored 33 of his 60 goals last season and led his team in that category.
Nashville is going to need Forsberg to continue his greatness if they want a legitimate shot at being the team that hoists up the Stanley Cup in the Spring of 2017. The Predators were an average team when it came to lighting the lamp last year which is something they hope to improve upon this season. The team will rely on him to be their most productive scorer and 40 goals for Forsberg this season is a definite possibility.
Pekka Rinne
Every team at every level of hockey needs their goaltender to be great. The Predators have had the luxury of knowing that one of their strengths resided in net with Pekka Rinne. However, the team is no longer certain that the 33-year-old netminder from Kempele, Finland is an elite goalie in the National Hockey League. Besides for his spectacular 2014-2015 season, the numbers suggest that Rinne is on the decline.
With Carter Hutton now with the St. Louis Blues, the backup goaltender situation in Nashville is a big question mark. The Predators have to count on Rinne to get back to his dominant ways or things can really get ugly fast.
P.K. Subban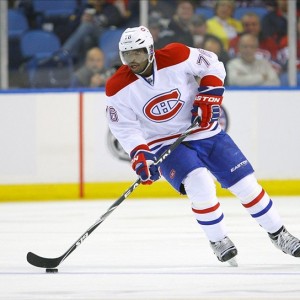 The Predators participated in the biggest trade of the summer when they sent Shea Weber to the Montreal Canadiens in exchange for P.K. Subban. Weber was the face of the franchise in Nashville but David Poile is hoping that the addition of Subban will get his team one step closer to his ultimate goal, bringing a Stanley Cup to Nashville.
Blockbuster trades are always under a microscope as people dissect every game hoping to determine which team won the deal. Subban needs to have a great year with the Predators to reassure the team's management and fans that the correct move was made (which I believe will happen).
Ryan Johansen
Last January, the Predators achieved their goal of acquiring a number-one center when they traded Seth Jones for Ryan Johansen. Parting ways with a talented defenseman such as Jones was not an easy thing to do but was necessary in order to bring in more offense up front. Johansen racked up 26 points (8 goals and 26 assists) in 42 games for Nashville last season.
Overall, 2015-16 was a down year in the scoring department for the 24-year-old center after recording 26 goals in 2014-15 and 33 goals the season prior. Although setting up scoring chances for the likes of Forsberg and James Neal will be Johansen's primary job, adding 20-plus goals himself would help the Predators out tremendously. Nashville wants Johansen to be their number-one center for both the present and future. A great season would go a long way in reassuring the franchise that he will be.