With the 2013 Stanley Cup Playoffs only a few days old there are four players in particular that need to have great performances. Their jobs may rely on it. Whether a new contract is on the horizon or a need to re-right recent playoff wrongs, these NHL stars must step up and prove their worth in the playoffs to help their teams succeed.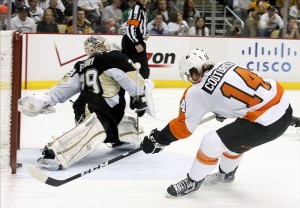 Marc-Andre Fleury, What Have You Done For Me Lately?
This is a tough one. Fleury is a Stanley Cup winning goaltender. Fleury has played good enough to make the Stanley Cup Finals twice already in his career, something most goalies will never do. All that being said, what have you done for me lately Marc Andre? The answer is, Fleury has struggled in three straight playoffs, each one causing his Cup winning performance to become more of a distant memory than an annual expectation.
Since the Penguins' Cup victory in 2009 Fleury has consistently struggled in the playoffs. He has posted a save percentage of less than .900 in three straight trips to the post season. All of them ending in first or second round elimination for the Pens. How many more chances does Fleury have to prove he is still the guy?
Well, he definitely has this playoff tournament to prove it to his teammates, coaches and general manager. But the pressure is on. If Fleury has another terrible Spring it will be four in a row. The doubts and question marks will only get bigger and Fleury's job as the hands down starter in Pittsburgh could be in jeopardy.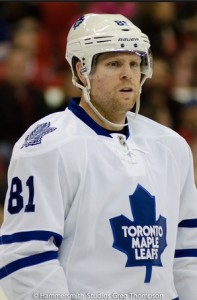 Phil The Thrill Kessel Needs To Show His True Worth.
Since joining the Toronto Maple Leafs in 2009 Phil Kessel has done exactly what he was supposed to do. He has scored at an elite level. In other markets that may be good enough. Kessel's regular season success as a Leaf won't mean anything in the world's biggest hockey market if he doesn't carry his scoring ways into the playoffs when it really matters. The Leafs organization and their fans have waited nine long years to see post season action. No one expects the Leafs to win now, but people want to see signs that there are pieces in place to bring home a Cup in a few years.
Following next season Phil Kessel will be up for a contract renewal and his 30 goals a season may not be worth the bigger dollars he will command if he can't help the Blue & White do damage in the playoffs. It's a salary cap era. Teams want good contracts not big ones. If Kessel can't prove himself in the playoffs then what is he worth to a franchise that is Cup starved? The answer – maybe not much.
Kessel is an elite talent in the NHL. It shouldn't be difficult for him to make his mark on a playoff series. If he just plays his speed game and uses his great shot, maybe steps out of his comfort zone a little bit and gets himself situated in traffic areas he will produce. It's all on him now to do it. He should be able to. However, if he can't the Leafs have a difficult decision to make about the type of team they want to build. Building a Cup winner is different than building a Presidents Trophy challenger. Look at the Canucks, Sharks and Capitals for evidence of that.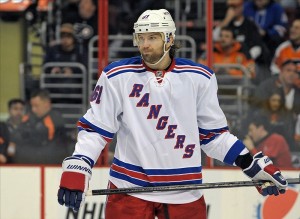 Rick Nash Is A Playoff Nobody.
The New York Rangers completely revamped a very promising and successful roster to make room for big scoring winger Rick Nash. Last summer the Blueshirts traded away important depth pieces to acquire the Blue Jackets' power forward only to spend most of this season trying to deal with that loss of depth. This is a depth wins league.
We won't really know until we see how their first round series against the Washington Capitals plays out but one thing is for sure. Without Nash the Rangers were a conference winning, three rounds of playoffs team. With Nash, they barely squeaked into the post season. A first round exit could lead some to wonder if the Rangers should have left well enough alone and gave last season's group another kick at the can before making a big trade in the off season for a winger with no playoff experience.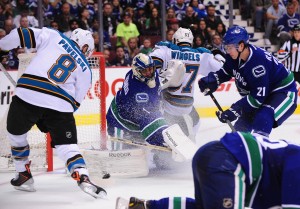 Roberto Luongo Has Been Thrown To The Sharks.
Not in my lifetime have I seen a player be so good and receive so little respect. The former Gold Medal winning olympic champion and Stanley Cup finalist has had a rough year. Many people feel for Lou no doubt. He lost his starting job in Vancouver even though there is no evidence he's been at fault for any of their playoff struggles in recent years. He was actively shopped by his general manager but no trades could be made because of his massive long term contract. Now, he finds himself in the net for the Canucks in the playoffs once again and he's down 2-0.
Most goalies could feel like it's them and their team against the world. Luongo must feel like it's just him against the world. His organization will move him in the summer and he knows that. He probably really hopes for it too. His current situation is a nightmare. Playing well now makes a Luongo trade easier to do. How this unfolds is anyones guess but it can't be denied that Luongo is under pressure to prove himself once again and a solid playoffs would be a perfect opportunity to do so.
Featured Writer | Contributing Leafs Writer for TheHockeyWriters.com | Editor & Founder at TheHockeyDaily.com | FOX Sports affiliate | Yardbarker Network | Follow on Twitter @S_Ientile & @TheHockeyDaily for daily hockey featured stories and discussion.