Nobody said that this would be easy. And the Pittsburgh Penguins certainly added to that theory on Friday night at Consol Energy Center.
As I have said many times this past season, to anyone who would listen, this Penguins team is very Dr. Jekyll and Mr. Hyde. One one hand, you have Dr. Jekyll, who showed up Wednesday night. "He" dominated the New York Islanders, befuddling them and looking very much like the best team in hockey. But Friday night was Mr. Hyde's time.
In a game eerily reminiscent of games one and two in last quarterfinal series against Philadelphia, the Pens took silly penalties, turned the puck over far too often in their own end (or simply couldn't clear it), and Marc-Andre Fleury looked lost on Kyle Okposo's game winner.
All told, this is a game not for the Penguins to forget, but rather to keep fresh in their minds, as a reminder of how not to play Stanley Cup Playoff hockey.
The goal scorers
Oh yeah, Pens captain Sidney Crosby returned to game action tonight for the first time in 13 games, after having his jaw broken by a Brooks Orpik slap shot. And he didn't disappoint.
After Evgeni Malkin opened the scoring just 43 seconds into the game (on a nice play by Beau Bennett, too bad he didn't receive an assist), Crosby tallied two. The second of which came just 18 seconds after the Islanders had cut a 2-0 deficit in half. His first was a power play goal after an Evgeni Malkin shot ricocheted off the end boards, to Jarome Iginla who then slid the puck across the top of the crease to a wide open Crosby at the left post for an easy tap-in.
In between Crosby's goals, however, New York's Matt Moulson (former Pens draft pick) tried to feed a puck across to Brad Boyes on an Islanders' power play. The puck glanced off of Penguins' defenseman Paul Martin and past Fleury to trim the lead.
After Crosby's second goal of the night, the Islanders clamped down and began dominating their Atlantic Division rivals. By the end of the first period, the shots 20-12 in favor of New York. Despite the score, the Penguins were not happy with their first period performance.
And oh how momentum is a fickle lady in these playoffs.
At five minutes into the second frame, the Pens Matt Niskanen dropped the gloves with Kyle Okposo. Okposo caught Niskanen clean under his left eye and opened up a wound. From there, it was all Islanders, all the time.
Then just 14 seconds later, Colin McDonald scored on a backhander that somehow, inexplicably beat Fleury, after Keith Aucoin won the puck from Paul Martin. Then, just over five minutes later, Matt Martin (agitator extraordinaire) found a Josh Bailey rebound that somehow, again inexplicably, found it's way past the Penguin netminder.
Kyle Okposo finished off the scoring for the night when he, with his back to Fleury, turned and fired the puck wide, but when it bounced back to Fleury at the side of the net, he bumbled the puck and knocked it in to his own net. A sight that Penguins fans remember all to well from last year.
Lessons to be learned
For starters, it's the playoffs. Bad penalties are a major no-no. Derek Engelland was guilty tonight of two such infractions. Taking back-to-back minors for cross-checking and interference respectively. In all, the Penguins took five minor penalties tonight, and fortunately only gave up one power play goal.
But, as Penguins' head coach Dan Bylsma will tell you, his team never got to their game. Pittsburgh spent far too much time in it's own end, chasing the Islanders (and the puck) all over the ice. When a Penguin actually got his blade on the puck to clear it, he made some bone-head play going in the complete opposite direction, leading to more Isles' zone time.
In the neutral zone, the Pens were back to trying to make the fancy, unnecessary pass. Instead of carrying the puck through center ice, with time and space, they simply got too cute. Once again blind passes to no one in particular, especially Crosby and Malkin. And if the Penguins were able to enter Islander real estate, then someone from New York was back to win a puck battle and help clear the zone.
On Wednesday night, the Penguins put on a clinic on how to play defense. Keeping traffic in front of Fleury to a minimum. Clearing pucks when the opportunity arose, and winning one-on-one battles for loose pucks all over the ice. Tonight, they simply made too many bad decisions with the puck, and could not overcome what I can only describe as possibly their own ego.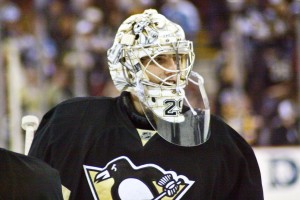 And Fleury has to be better.
There was no one player who represented the "Jekyll and Hyde" stigma more than him. Wednesday night, Fleury stopped all 26 Islanders' shots. Tonight, he allowed three very soft goals that I am quite certain led to his refusal to speak with media afterwards.
Credit where credit is due
Look, the Islanders were the better team tonight. They worked harder, and made adjustments to play a better game. Head coach Jack Capuano did a marvelous job not only at preparing his team for this game, but making sure that going down 2-0 and then 3-1 were not impossible mountains to climb. Bottom line, when you outwork your opponent, good things will happen.
That said, if the Penguins play the way they're capable of playing, evidenced by Wednesday night's game, then this really won't be much of a series. But the Islanders may have just fired a hole into the proverbial boat of hope that are the Pittsburgh Penguins Stanley Cup dreams.
Now it's up to the Penguins to right the ship. As a Penguins fan, I hope I get to see Dr. Jekyll on Sunday afternoon.
(Side note: call me crazy, but I wouldn't be surprised to see Tomas Vokoun take a turn in net in Game three Sunday on the island.)
I will have recaps of every Penguins playoff game right here. You can keep up with my work on Twitter, and if you're not following me already, shame on you for six weeks. Please do so here: Follow @TDT_Pens4Life
Despite tonight's loss,
"It's a great day for hockey!!"
Pittsburgh, Pa. Class of 2000 graduate from Robert Morris University with a B.A. in Mass Communications. Full-time objective sports fan.