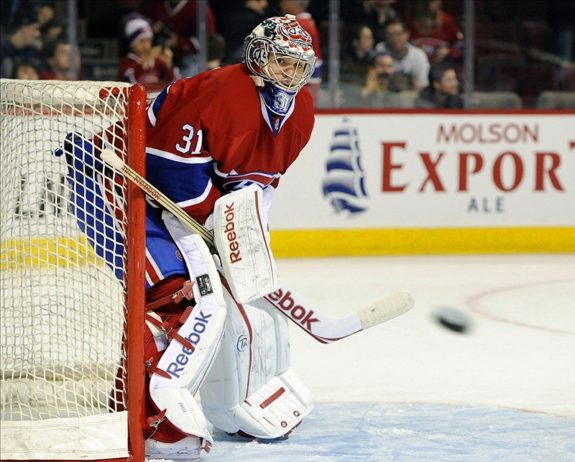 Canadiens GM Marc Bergevin likes players with character. Players that bring that something, that je ne sais quoi to a hockey game.
Once onboard, Bergevin quickly signed players like Brandon Prust, Francis Bouillon and Colby Armstrong. Plus, he re-signed Travis Moen.
And he discovered players already on the roster who have plenty of character too. Guys like Ryan White, Rene Bourque, Max Pacioretty and captain Brian Gionta. He also found two ripe, rookie players mature beyond their age and inexperience in Alex Galchenyuk and Brendan Gallagher.
Ultimately though, the guy on the Montreal Canadiens with the most character may just be the guy manning Montreal's net, Carey Price.
Lost in all the histrionics in the fallout from the hit and subsequent injury of Lars Eller and the death-defying play of Sens goalie Craig Anderson in the Canadiens' Game 1 loss was this: Carey Price got beat and outplayed in his own barn. Beat bad. Price watched as Anderson put up save after save, then blinked first by allowing a soft goal to let Ottawa tie the game. Price knows he can be better. He knows he has to be better.
In Game 2, he was better. Much better.
Price came back with an all-star performance making the key saves when he had to, buoying a team riddled with injuries to all three of their top lines. Along with Eller, Max Pacioretty and Brian Gionta were sidelined with "upper body injuries" forcing Coach Therrien to call on his depth players to fill the void. Jeff Halpern, another character pickup at the trade deadline by Bergevin, played a solid game along with Colby Armstrong and Ryan White — a player who at one point had his ticket out of town signed, sealed and delivered. This line gave the Canadiens a much-needed jolt of energy which reverberated throughout the lineup.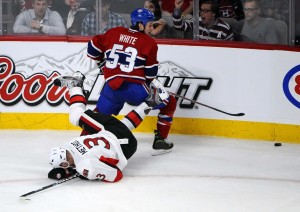 Ryan White proved in one swipe that hustle, perseverance and effort can make the difference while also showing that both Erik Karlsson and Craig Anderson are indeed beatable. Skating hard on the forecheck, White scored possibly the biggest goal of his NHL career by forcing a turnover off of the stick of Karlsson to then poke the puck between the legs of a startled Anderson. The Canadiens never looked back from there.
Price was then tasked to come up with some major saves, especially on the penalty kill. Then on the Canadiens' next two goals by Gallagher and Michael Ryder, he did what winning goalies at all levels do: he made a big stop, allowing his team to then head down the ice and score.
And if anyone doubted this man's character, one need only to look at how he reacted when Jarred Tinordi fell into him, crashing his head back and knocking him down. Price calmly gathered himself, skated to the bench mouth bloodied and deposited something into the hands of the trainer:
Carey Price lost 2 teeth tonight. #canadiens #RDS

— Renaud Lavoie (@RenLavoieRDS) May 4, 2013
And no matter how many shots Ottawa's Anderson faces or how many this or thats going on between the pipes, know this: the goals against are tied 5-5 apiece between both goalies over the first two games.
Character. It's how playoff hockey works folks. It's the way the Canadiens have found success this season and it's the way the Canadiens will continue to have success in the 2013 Stanley Cup Playoffs. Bergevin knows it. Now you do, too.
I'm a goalie — apparently that says a lot. Writer, producer and bon vivant I'm from Montreal but live in Toronto and write from that perspective on HabsFanInLeafLand.com. Young enough to be hip; old enough to remember where I was when Guy Lafleur scored against the Bruins in the infamous "too many men" game in the '79 playoffs. Can you say that?
You can contact Ari Grief on Facebook or on twitter @habsfanleafland