The New Jersey Devils will return to the comfort of Prudential Center in Newark, New Jersey after a five-game road trip that saw them post a 3-2 record.
However, the trip ended on somewhat of a down note, as the Devils dropped a 3-0 lead to the Florida Panthers on Monday night in Sunrise and ended up losing 4-3.
New Jersey's record currently stands at 10-8-1 for 21 points. They are in fourth place in the Atlantic Division and 10th place in the Eastern Conference, which puts them two points away from the conference's last playoff spot.
While some players were outstanding, posting multiple points and positive plus/minus ratings, others had performances that left a lot to be desired.
Here are four players that need to be better when New Jersey plays the Columbus Blue Jackets on Wednesday night.
Johan Hedberg, Goaltender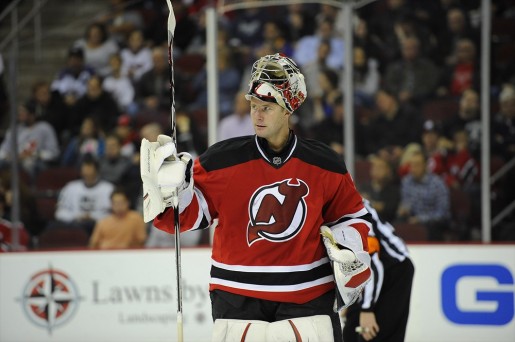 Hedberg has proven he can be a solid backup when Martin Brodeur is out of the lineup or when he's otherwise called upon, but his starts lately have been nothing to write home about.
The 38-year-old netminder went 1-1 on the road trip with a .887 save percentage and a 1.13 GAA while playing against the Washington Capitals and Boston Bruins.
His GAA in those two starts is impressive, but the fact that he has lost three out of his last five starts is a black mark on the stat sheet.
Hedberg will need to turn around his fortunes if he gets called upon again. There's a chance it could happen as soon as Wednesday, as Brodeur was in goal during Monday's collapse against Florida and could be partially blamed for the loss.
Brad Mills, Center
At 28 years old, Mills has finally managed to stick with the Devils and has played in each of the team's 19 games this season.
However, he is hardly noticeable. In addition to having just one assist and a minus-six on the season, he had no points and a minus-two during the road swing.
Mills does bring some positives, as he is eighth on the team with 20 hits and third with a 58.2 percent faceoff win percentage. But, he is capable of scoring at least 20 points a season, as he did twice with the now-defunct Lowell Devils of the AHL.
He will have to have more of an impact if he hopes to stay in the NHL.
Mattias Tedenby, Right Wing
Tedenby had a solid rookie showing in 2010-11, as he had 22 points in 58 games.
But so far, he has been slow out of the gate. He was scoreless over the last five games and had a minus-three rating. This did nothing to help his current totals of three points and a minus-five to start the year.
He also only played in four out of five games on the trip, missing last Wednesday's matchup against the Buffalo Sabres.
Tedenby has the talent needed to get the Devils some offense, but he needs to start showing it as New Jersey tries to get back into playoff position.
Anton Volcheknov, Defenseman
This is almost a little unfair, as Volcheknov sustained a head injury in Monday's game and his status for Wednesday night is unknown, according to Devils beat writer Tom Gulitti.
However, assuming Volchenkov is able to go, he needs to get it together.
He had no points and a minus-one to go with eight penalty minutes on the road trip and has two points and a minus-six rating on the season. To make matters worse, he has not played close to a full season since he played 78 games with the Ottawa Senators in 2006-07.
That six-year, $4.25 million a year contract is looking like a huge mistake for the Devils right now. If Volchenkov can't get healthy or put his game together, it will be extremely hard to find  a team to take him off the Devils' hands.