Jim Neveau, Senior NHL Correspondent
After starting this season out with consecutive losses to the San Jose Sharks and Dallas Stars, the Phoenix Coyotes were trending toward becoming what just about every hockey pundit had predicted them to be: a bottom-dweller with little hope either in the standings or to stay in the desert past this season. Despite being written off after those two lackluster performances, the team, especially goaltender Mike Smith, didn't take themselves quite that lightly.
Now, they are sitting in seventh place in the Western Conference, and have picked up some significant victories over teams like those same Sharks and other contenders like the Predators and Kings. Starting a week and a half ago, however, they were subjected to a difficult five game road trip that saw them both on the West Coast and out East. This trip could be described as a make-or-break journey, even this early in the season, but the Coyotes handled it with the same aplomb that they've handled all of the relocation rumors that have followed them over the years.
In the five games that they spent away from Glendale, the Coyotes displayed a lot of qualities that could serve them well in the future, but there were also a few traits that could spell trouble for the Desert Dogs. Will they be able to overcome those and make their way to a third straight playoff trip? That will play out over their next 63 games, but this road trip definitely gave us some clues as to what to expect from this bunch, as well as some other interesting tidbits about the club:
Despite Losing Bryzgalov, the Coyotes Still Are Strong in Net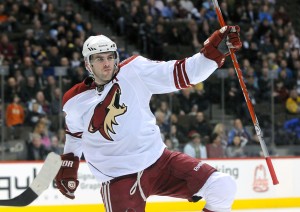 When Ilya Bryzgalov signed a huge contract with Philadelphia in the off-season, the Coyotes were pretty much left for dead by hockey pundits. When they brought in Mike Smith to be his replacement, those write-offs turned to derisive laughter. The soon to be 30-year-old (he hits the milestone in March) may have seemed like an odd decision because of his vagabond status in the league, but the joke has been on his doubters ever since the season started.
After stumbling early, Smith has had a great campaign thus far, going 9-3-3 with a sparkling 2.16 GAA and an excellent .936 save percentage. He ended up playing in four of the five games on this trip (Jason LaBarbera got the start on Monday against Washington), and he was largely effective. He faced a barrage of shots in nearly every outing, especially the final two against Philadelphia and Buffalo. In those games he made 40 and 43 saves, respectively, and even though the Coyotes only won one of those games, it showed that Smith's success isn't merely a reflection of the defensive attitude in front of him, but rather about his own talent in the crease.
It isn't likely that Smith can keep saving the day for the Coyotes in every single game, but if there is one thing that has been proven conclusively so far, it's that Smith is no pushover in the crease. It will be fascinating to see whether head coach Dave Tippett continues to ride him at this rate, or if he tries to get him rest as often as possible. Striking that perfect balance could be the difference between a playoff berth and a return to NHL mediocrity.
Could Their Defensive Style Be A Problem? 
Speaking of that defensive style, it has been a hallmark of the system that Tippett has employed while he's been in Phoenix. Given a team without many offensive weapons (although Radim Vrbata and Keith Yandle have been solid in that department), Tippett decided that he needed a chippy attitude in his club, and one that focused more on preventing other teams from getting quality scoring chances, and to take offensive chances if the opportunity presented itself.
This season, the Coyotes seem to have regressed in their ability to keep those shots off the net, as they are currently ranked dead last in the NHL in allowing 33.6 shots per game. They still aren't allowing a tremendous amount of goals, but they are certainly giving their opposition too many opportunities.
This inability to keep the puck off of Smith was never more apparent than it was against Philadelphia on Thursday of last week. Shot after shot found its way on net as the Coyotes tried to chase the Flyers all over the ice, but all that kept them from still getting a point was a late goal by Philly with about 18 seconds left.
This bend-but-don't-break philosophy may have worked in the past, but when the team is playing opposition with the kind of high-powered offenses that squads like Chicago, San Jose, and Philadelphia bring to the party, then they are going to have to do a better job of responsibly back-checking and clearing the puck from the zone. If they can't, this good start to the season is going to reverse itself in pretty short order.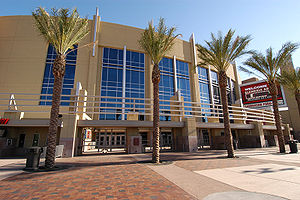 Is Lack of Coverage Hurting the Yotes' Status in the Desert?
Carl Putnam of the Coyotes blog Five for Howling had an interesting piece that came out on Sunday. In it, he discussed emailing the sports staff of The Arizona Republic, Phoenix's primary newspaper, about its policy of not sending its reporters, notably beat writer Jim Gintonio, out to cover the Coyotes on the road. While newspapers across the country have made policy changes in terms of travel budgets for their scribes, most of them don't take the time to reveal the reason why, but the Republic did. Here is an interesting blurb from that response, of which you can read the whole thing here:
"We value the Coyotes and know they have loyal fans. But we have to make tough decisions about how best to use our resources to cover a myriad of sports in a crowded sports marketplace. At this time our policy with the Coyotes remains the same – we don't expect to be able to travel with them. As the end of the regular season nears, and they appear headed toward the playoffs, then we will re-evaluate."
This crowded sports marketplace includes the Arizona Diamondbacks (who are currently in their off-season), the Phoenix Suns (who are currently locked out), and the Arizona Cardinals (who are out of town for two days at a time eight times a year). This doesn't include the Arizona State Sun Devils, but the point remains this: the Coyotes aren't getting enough quality coverage by the Republic due to budget concerns, and is that a factor in the team's seeming lack of popularity in the area?
Youth hockey is still surging in popularity in the state (as Chris Peters of United States of Hockey revealed), but the notion of not getting quality coverage and relying on wire services and phone-call interviews does not seem like a method conducive to getting coverage that will pique sports fans' interest in the game.
Don Maloney Shows His Skill Again in Handling Turris
One of the biggest stories facing the Coyotes this season hasn't even been one that's taking place on the ice. Forward Kyle Turris, the third overall pick in the 2007 Entry Draft, has been holding out for a trade or new contract since the end of last season, and the Coyotes up until today had insisted that they would continue negotiating with him and would not trade him.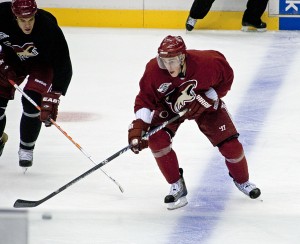 That speculation is sure to continue even after today, as Turris signed a deal that will pay him an average of $1.4 million over the next two years. Some early reports suggested that the deal was designed to make him a trade-able asset, but team General Manager Don Maloney insisted that this isn't the case. He sees Turris as playing for Phoenix for at least the next two years, and said "we look forward to having him in our lineup so he can contribute to our team."
The handling of Turris has been questioned by those in nearly every corner of the hockey world, but in the end, Maloney got his way, and Turris is not only still a Coyote but is also paid at a very reasonable rate. He will likely try to make every effort over the next two years to earn a bigger payday next time, but in an era that sports executives seem overly excited to cave to a player's demands, the Coyotes held their ground and came out on top.
Best and Worst Signs Of the Trip
Over the past five games, there have been some positive and some worrying signs displayed by the Coyotes. Here are the most important ones for Coyotes fans to keep in mind:
Positive: The Coyotes may have ended up picking up six of the 10 possible points on the trip, but the real important thing to keep in mind is that they are a team that simply doesn't know when to quit. In what has been a hallmark for them in the Tippett era, the Coyotes keep playing hard regardless of the score, as they evidenced in their game against Washington on Monday, and throughout the rest of the trip. Despite being outshot by a wide margin on this voyage, the Coyotes still were in every single game, and whether they were down or up, the intensity stayed up, and that is something that cannot be underestimated in a league plagued with teams taking an off-night.
Negative: Despite this willingness to continue fighting, the Coyotes simply don't seem to have the offensive weapons needed to sustain possessions or overcome deficits. Outside of Yandle, they don't really have a player who can single-handedly lift the offense, and even though hockey is a team game, it is necessary to have a guy who can put the puck in the net. Unless someone else can step up and assume that mantle, the Coyotes are going to keep putting a ton of pressure on their defense and on Smith in net, but ultimately one of those facets of their game will crack. That we can be sure of.