Jim Neveau, Senior NHL Correspondent
Throughout the history of professional sports, scores of athletes have demanded trades from their respective teams, and the responses that those clubs have given vary widely. Some, like the Texas Rangers after infielder Michael Young requested a trade, make every effort to make the move happen, while others, like the Cincinnati Bengals with quarterback Carson Palmer, take a different approach and reject the notion outright, but acquiesce at a later date.
In the case of the Phoenix Coyotes and General Manager Don Maloney, whether they cave or not remains to be seen, but one thing is for certain: Group 2 Restricted Free Agent Kyle Turris has requested a trade from the organization, and the Coyotes have said that they will not deal him. Turris and his camp believe that he is entitled to a hefty pay increase and that he is a potential breakout star who deserves some serious cash, while the Coyotes are content to point at his statistics and beg to differ.
"We've respectfully requested that the player had the opportunity to move forward in his career by having a fresh start," said Turris' agent Kurt Overhardt in an interview with ESPN.com published today. He insisted that Turris' motives have nothing to do with money, and that his client simply wants to be able to pursue other opportunities elsewhere.
These statements were met with stubborn resistance by Maloney, who in an email to ESPN said:
"The CBA gives us certain rights to Turris and we are exercising our rights. There will be a point in the future Turris will have the right to decide who he wants to play for and how much he will accept. He is not at this stage, given his age and experience. If he wants to play in the NHL this season, he will re-sign with us. We will not trade his rights under any circumstances and are prepared to live with the consequences if he decides to sit out this, and future, seasons."
In response, Overhardt went on to make a couple of interesting claims. "I know that the Coyotes' organization can benefit significantly by moving this asset. As a Group 2 free agent and speaking to several teams — which I won't name — I know that there's a number of clubs that have put forth significant offers to the Coyotes' organization which include valuable assets which would benefit Phoenix."
With all of the facts laid out, there are a couple of questions that have to be asked. The first one, and most importantly, is whether or not the Coyotes have been erring in their handling of the whole Turris situation. Also, should they swallow their pride and deal him away if that's really what he wants? Finally, is Turris getting a little too big for his britches on this one, and should he accept a 1-year deal and prove that he is worth the money that he supposedly wants?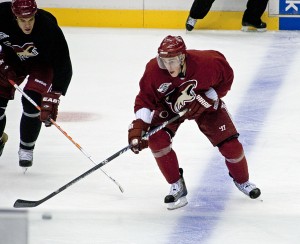 For the first question, there isn't much of a debate as to whether or not the Coyotes have been handling this situation properly. They are an organization that has made the playoffs in each of the past two seasons in large part because of getting great value for their money. They have never been big free agent spenders, but the guys that they bring in like Ray Whitney and others have great intangibles and can also produce effectively on the ice, a combination that makes them perfect for a cash-strapped organization. Their team-first mentality that's built more around a solid core rather than a couple of superstars has been their recipe for success, and they aren't very likely to treat a player like Turris with the kind of star treatment that he and his camp seem to think he's entitled to.
As for their mentality to refuse to trade Turris, they are absolutely spot on. Not matter what Overhardt has to say, the fact of the matter is that teams likely aren't beating down the door for a guy who has 46 points in 131 career NHL games. 25 of those points came last season, and he also spent the entire 2009-10 season, a campaign in which the Coyotes stunned everyone and finished 4th in the Western Conference, with the San Antonio Rampage.
The number three overall pick in the 2007 Draft, Turris seems to believe that he should be getting paid like the highest rated player by NHL Central Scouting instead of the reality that he hasn't had much of a career to base such contract demands on. He's been thoroughly outplayed by a slew of members of that Draft class, including Patrick Kane, James van Riemsdyk, PK Subban and Logan Couture, among others. The fact of the matter is that Turris has failed to impress just about everyone, and what should have been a blessing for the Coyotes (getting the highest rated player in the #3 slot) hasn't turned out to be much more than a royal headache.
What Turris needs to do is to accept the fact that he has very little leverage over the decision making of the Coyotes, and to play hockey at a decent price for this season. Precious chances to prove that he is as good as he says he is are being wasted right now with this wanting to be traded nonsense, and he needs to try to get on the ice as soon as possible.
With the ownership situation in Phoenix seemingly at a standstill, there is some sympathy that can be felt for Turris not wanting to continue his career there. Whether that sympathy ends is at the point where a guy who is drafted that highly is supposed to be able to help guide the direction of his club, as Kane has in Chicago, and even if the pieces around him aren't as great as those in Chicago or Philadelphia, there are still chances for this club to make the playoffs if they can continue to play the team-oriented hockey that they have exhibited in the last several seasons.
December 1st is lurking closer than any of us (especially those of us who have tons of Christmas shopping to d0) would like to admit, and after that date, Turris will not be able to play in the NHL in the 2011-12 season. Will he continue his silly holdout and risk losing an entire season of his career just to make Phoenix suffer? Maloney has laid his cards on the table, and it is clear that he isn't bluffing. Now the question becomes whether Turris is going to fold his hand and try to do better on the next one, or if he's going to keep throwing his bets away that Don will crack. Knowing Maloney and the gritty style that he and head coach Dave Tippett have developed in the desert, Turris shouldn't bet on that.