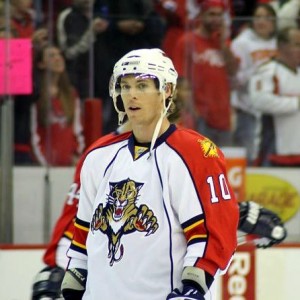 The newest member of the Vancouver Canucks has yet to make a significant impact on the ice. Since arriving, in 43 shifts over 32:13 of ice time against the Edmonton Oilers and St Louis Blues, he has zero goals, zero assists, and is a -2 skating on the second line. The only noticeable thing David Booth has really done thus far in Vancouver is generate seven shots on goal – that's more than twice the number of SOG that new Panther Marco Sturm managed in six full games before the trade.
Even though his addition coincided with consecutive losses, Booth brought with him a couple of good things: short-term, it took some attention away from the ridiculous storm brewing over Roberto Luongo's early season numbers. Long-term, it showed increasingly impatient Canucks fans that GM Mike Gillis can and will make changes when it makes sense to his franchise. Mikael Samuelsson was enormously popular in the Canucks dressing room, but his ever-streaky performance and ever-creaky body was deemed expendable to get a younger, faster, potentially more dangerous scorer to play with Ryan Kesler.
7 Things about David Booth:
Born on November 24, 1984, Booth was drafted 53rd overall by the Florida Panthers in the 2004 NHL Entry Draft in Raleigh, North Carolina. Note that he was not drafted at 18, in part because he took an unusual route to the bigs. After a year with the US National Development Program (with whom he won a gold medal at the IIHF U18 tournament in Slovakia), Booth elected to do a full four years with the Michigan State Spartans in the NCAA Division 1 Central Collegiate Hockey Association. He majored in Supply Chain Management.
Booth has suffered two major concussions in his career, both of which resulted in controversy for the lack of suspension to the men who hit him. On October 24, 2009, then-Flyers captain (and current LA King) Mike Richards leveled Booth with a shoulder to the head after the Panther forward had released the puck on a backhand pass at the Flyer blueline. Booth was knocked unconscious, and lay motionless on the ice for several minutes. Richards received a five-minute major penalty, but no suspension – Booth missed 45 games before returning to action with the Panthers. This would turn out to be one of the early high profile hits to inspire today's more stringent punishments for hits that target a player's head. Mike Richards concusses David Booth (YouTube)
To his credit (if you support this sort of thing), David Booth fights his own battles, quite literally. On March 3, 2010, the Panthers met the Flyers for the first time since Booth's return to the lineup post-concussion. He fought Mike Richards in the first period before putting up a four-point night – one goal and three helpers – to lead Florida to a 7-4 over Philadelphia.
On March 25, 2010, the blindside hit rule was passed by the NHLPA and NHL Board of Governors to penalize players who hit opponents from a direction that is not visible to the target player, and ostensibly to protect players from being struck while in a vulnerable position. That same day, Booth was concussed for the second time when Montreal Canadien Jaroslav Spacek's shoulder collided with his head. The hit did not ignite the furore of the aforementioned hit from Richards – largely because it was not a blindside hit, nor did it seem to target the head. Booth missed the remaining nine games of the season. Jaroslav Spacek concusses David Booth (French language, YouTube)
Booth's best NHL year thus far is almost universally considered to be 2008-09, when he had career highs in goals (31), assists (29), points (60), and penalty minutes (38). It should be noted that this total was good for second in team scoring, just one point behind Stephen Weiss. However, considering the concussion problems outlined above, it is perhaps the full 82 games played last season that could be considered tops in his career thus far. He put in 19 minutes of ice time on a terrible team – the Panthers were dead last in the Eastern Conference. He scored 23 of Florida's dismal 195 goals, but his meager assist total of 17 speaks more to an abysmal supporting cast than to Booth's playmaking ability.
Perhaps Mike Gillis has other things in mind – like the fact that David Booth likes to hunt big-game with a bow and arrow (yes, just like some other guy the Canucks saw a lot of last June). He apparently picked Tim Thomas's brain about the latter's run ins with bears, so who knows? Gillis might hope Booth came away with the secret to unlocking the reigning Vezina and Conn Smythe trophy winner.
Booth wore jersey number 10 for the Florida Panthers, but pulled on number 7 with the Canucks. The new guy credits little sister Rachael for inspiring the choice, as she wears the lucky number on her women's team – but it's not the first time Booth has worn it. He wore #7 while playing for the US National Team at the 2008 IIHF World Championship in Halifax and Quebec City (a tournament won by the Russians in which the States finished a disappointing sixth). Former Canucks to wear seven include Brendan Morrison, Cliff Ronning, Andre Boudrias and Barry Pederson – yes, the same Barry Pederson that was famously traded for a bag of pucks named Cam Neely.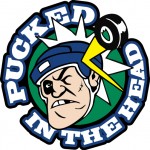 Jason Kurylo is the creator and co-host of Pucked in the Head, a hockey podcast with listeners on four continents and blog that balances knowledgeable hockey analysis with an admittedly bent sense of humour. When he is not memorizing useless hockey trivia, Jason can be found making googly eyes at his wife Nadia and young daughter Milla. He is almost certainly eating a chewy nougat-filled treat at the very moment that you read this.
Jason [at] puckedinthehead.com
Recent articles here at The Hockey Writers by Jason: