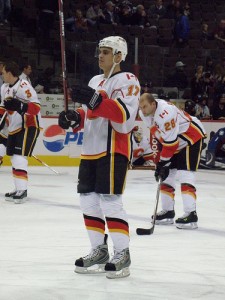 The Calgary Flames got back on the happy side of the ledger on Wednesday night at the Scotiabank Saddledome, beating the Colorado Avalanche by a 4-2 score. While the Flames were content to beat a divisional rival, particularly one that had been undefeated on the road prior to their visit to Calgary, Flames head coach Brent Sutter noted that the team's effort wasn't quite perfect.
"We found a way to win a hockey game and that was the most important thing," said Brent Sutter. "We played 40 pretty good minutes and the last 20, we got off our game a bit and let the game come to us, allowed them to dictate the way the third was going to be played. Other than that, I think we played a pretty good game. We did a lot of good things and our goaltender was very good obviously, especially in the third."
Celebrating his 35th birthday, Flames netminder Miikka Kiprusoff turned back 34 pucks for the victory, including 19 saves in the third period alone. Rookie Roman Horak chipped in with a goal and an assist and veteran winger Rene Bourque scored twice in the victory. While the head coach was complementary regarding Bourque's offensive skill, he noted that consistency is something he needs to address over the long-term.
"It's not about the scoring," said Sutter. "It's about the things we need from him. He knows. The start of this year hasn't been the way that he would have liked it to be, just with the consistency level. To be looked at as a top player in the National Hockey League, that's what they have [to be], consistent in everything they do."
Boasting five goals in just eight games thus far, Bourque has gotten off to a strong offensive start. He noted that while he enjoys helping the team on the score-sheet, he would be more satisfied with lower personal numbers and more team success.
"I want to improve every year and that's my goal," said Bourque. "Obviously everyone's sick of [not] making the playoffs, so if I don't score 25 and score 20 and we make the playoffs, I'll be even happier."
Reflecting on the season to date and the Flames' 3-4-1 record, Bourque expressed that the team hasn't quite given a full 60-minute effort quite yet. He shared that a consistent effort from every player is the key to success, although occasionally, individuals need to step in and break open a game.
"I think every game, there is going to be that guy that's going to step up and you need that to win a lot of games," said Bourque. "You need guys stepping up every other game. It doesn't matter who it is as long as we're scoring goals. We haven't been rewarded as much as we'd like, and we probably should have beat Nashville, but we just couldn't get the puck in the net. There's going to be games like that where we get outplayed and we score two goals, so it kind of goes both ways."
The head coach's comments largely fit with Bourque's assessment, pointing at group consistency as a product of individuals and a consistent work ethic throughout the team.
"It's a thing that we need to keep our focus in on our group that our work ethic is where it needs to be," said Sutter. "For your group to have a good work ethic you need individuals to have a good work ethic, obviously."
The Flames have two games remaining on their current home-stand; hosting St. Louis [5-4-1] on Friday night and Vancouver [4-5-1] on Tuesday night.
NOTES:
The Flames' prospect group got a bit of a boost on Thursday as the Western Hockey League announced that Kootenay forward Max Reinhart, Brandon forward Michael Ferland and Tri-City forward Patrick Holland will represent the league in their two-game series with Team Russia as part of the Subway Super Series on November 16 and 17. Reinhart will play on November 16 in Regina, while Reinhart, Ferland and Holland will play on November 17 in Moose Jaw.
Ryan Pike has covered the Calgary Flames and the NHL Draft extensively since 2010 as a Senior Writer for The Hockey Writers and Senior Contributing Editor of FlamesNation.ca. A member of the Professional Hockey Writers Association, he lives in Calgary.