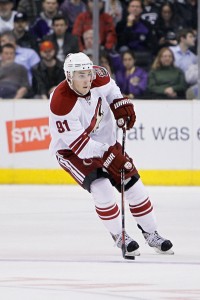 There is no secret to center Kyle Turris's lack of faith in the Phoenix Coyotes organization, as seen by his summer trade request and holdout to start this season.  The former #3 overall pick of the 2007 NHL Entry Draft has not lived up to the hype that accompanies a top-3 pick, with just 46 points in 131 NHL games.  For the Coyotes they were able to sign their former franchise center, and at a reasonable $1.4 million/year cap hit for two years, he suddenly becomes their latest trade asset.  For the organization as a whole the Turris situation is all too familiar.  Blake Wheeler, Peter Mueller and Viktor Tikhonov are all young players drafted highly that have lost patience with the organization and left for greener pastures.  What would a player like Turris, considered a draft bust by most of the hockey world, command in a trade?  And which team would invest in his potential?
The Man in Charge
Don Maloney is the General Manager of the Phoenix Coyotes, and will decide what to do with Turris.  Maloney has shown incredible poise running the tumultuous franchise, guiding them to a 99 point season last year.  What Maloney has also shown is that he is not a pushover, and will stand by his word.  He stated many times during the past months that Turris would not be dealt unless he was signed to a contract, where there was a very real threat of Turris missing this entire NHL season in the holdout.  If and when Turris is dealt it will be for Maloney's asking price, regardless of what other GM's offer.
The Player
Kyle Turris, 22, was drafted 3rd overall in 2007 out of the Junior-A Burnaby Express of the BCHL as a playmaking #1 center.  He played one year at the University of Wisconsin, scoring 35 points in 36 games before turning pro in 2008-09.  His first season with the Coyotes was one to forget, as he scored just 8 times in 63 games.  The next year he spent in the AHL, posting 63 points in 76 games, with 60 PIM's.  Last year he stuck with the Coyotes but again struggled, ending the season with 25 points in 65 games.
The Trade Market
At the 2007 draft it was widely reported that the Vancouver Canucks had attempted to move their 1st round pick (25th overall) and goalie Cory Schneider to Phoenix to select Turris.  There was speculation the Edmonton Oilers had considerable interest as well.
4 years has made quite a difference in Turris's value on the trade market, however he will be pursued nonetheless.  Teams such as the Calgary Flames, Toronto Maple Leafs and Ottawa Senators lack high-end offensive prospects, which Turris still is.  Any team that feels he is an upgrade over their current young players is sure to make a phone call to Don Maloney.
Of the players drafted in the first round in 2007, 7 players have been traded (Jakub Voracek, Ryan McDonagh, Lars Eller, Kevin Shattenkirk, Alex Plante, Angelo Esposito, Riley Nash).  With the exception of Nash, all the players were dealt to upgrade their organization's current rosters.  Voracek yielded Jeff Carter, McDonagh brought Scott Gomez to Montreal, Eller got St. Louis their current starting goalie Jaroslav Halak, Esposito was dealt in a package for Marian Hossa and Plante for Ryan Smyth.
With Phoenix playing well but perhaps looking for more offense (ranked a healthy 14th in the league, but a powerplay well below league average), Turris being packaged with another asset (1st/2nd rounder or prospect) is very conceivable if it brings back an immediate return.  If the Edmonton Oilers are out of the playoff race in February and feel Ales Hemsky will test the free agent market, perhaps the Coyotes will offer a similar package to Steve Tambellini.  Filip Kuba of the Ottawa Senators could be a Coyotes target as well if they need a puckmover on the powerplay.  Turris would, on the surface, yield Kuba plus another Senators asset.
Riley Nash was the only player traded from the 1st round of the 2007 NHL Entry Draft that did not produce a significant roster upgrade.  Nash was in a similar situation with the Edmonton Oilers, refusing to sign with the team that drafted him.  At the 2010 NHL Entry Draft he was traded to the Carolina Hurricanes for the 46th overall pick.  Turris was ranked far higher than Nash (who was considered a big reach when the Oilers drafted him 21st overall in 2007), and has produced more at both the NHL and AHL levels.  Turris is worth more than a 2nd round pick, but few teams would be willing to risk their 1st round pick on a player whose stock is low.  A 2nd round pick plus mid-level prospect would be a reasonable return.  From the Oilers perspective (only because Edmonton is my hometown) a 2nd round pick plus prospect Curtis Hamilton would be a fair proposal.  From the Toronto Maple Leafs, a team lacking quality prospect, two 2nd round picks would be reasonable.
Conclusion
Kyle Turris has been written off by much of the hockey world as another draft bust.  Don Maloney, like any good business executive (which Maloney has proven he is), will seek to extract as much value as he can from his depreciating asset.  The days of Cory Schneider and a 1st round pick being offered have long passed, however Maloney will get decent compensation for Turris, who is still young at 22 years old.  My prediction (based on pure speculation) is that Turris goes to the Detroit Red Wings, a team lacking an elite offensive talent, in exchange for a 2nd round draft pick and Landon Ferraro, a prospect who has not developed as planned but still a project worth developing.
Follow Salim Valji on Twitter
Like Salim Valji on FaceBook