The Devils played an almost perfect first period last night against the Florida Panthers. They played sharp, aggressive hockey and were rewarded with a 3-0 lead heading into the first intermission. Unfortunately, NHL games are three periods, not one.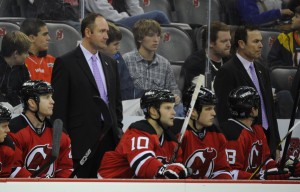 By the time the final seconds ticked off the clock, the Panthers had scored four unanswered goals, storming back and stunning the Devils in the final game of their five game road trip. It would be nice to call this an aberration, but the fact is, the Devils are making a habit of jumping out to a lead and then giving it back late and suffering a loss. It's puzzling, but head coach Pete DeBoer offered a clue as to what the problem is in last night's post game press conference:
"It's disappointing. I think we stopped playing after the 3-0 lead, so it was a good lesson learned and a credit to them. They didn't stop and we probably got what we deserved at the end."
Indeed.
During this road trip, the Devils allowed nine goals in the third period, a disturbing trend that includes three in the third to Boston in a 4-3 loss on November 15 and leading by three goals in the third period last Wednesday in Buffalo, but holding on for a 5-3 win. They nearly blew a 3-0 lead last Saturday in Tampa Bay before pulling things together and beating the Lightning 4-2. If the Devils can't find a way to close out opponents, a playoff run will be out of the question.
Several players had theories on what the problem is, including Patrik Elias, who acknowledged that the Devils have not played with the same fire once they secure a lead and felt that his misplay off a blocked shot on a Devils power play which led to a shorthanded Florida goal was to blame:
"Our intensity drops a little when we have a lead, and we have to keep pushing. Obviously, we made some mistakes on the power play, I have to be more poised and back off when a shot is blocked. It was a stupid mistake that cost us the game."
Simply put, when a team stops playing hard, it's up to the head coach to motivate them. Whether by positive motivation or benching players who are under-performing, DeBoer is responsible for getting the players to play hard. It's inexcusable that a head coach would acknowledge that his team basically sat back and cruised as they coughed up a huge three goal lead and not take drastic action. With the Devils heading home to face the NHL-worst Blue Jackets and then playing a home-and-home with the last-place Islanders, the issue needs to be corrected immediately. Losing any of the next three games could send this team into a tailspin.
DEVILS NOTES
– Defenseman Anton Volchenkov left the game in the first period after suffering a facial laceration on a hit from Florida's Shawn Matthias. Volchenkov received about a dozen stitches. NHL Player Safety reviewed the hit and declined to discipline Matthias.
– It was the first time in Panthers' history they came back from a three-goal deficit to win in regulation.
– The Devils ended their five game road trip with a 3-2 mark.